Why every girl should be watching Fleabag
'Angry, pervy, outrageous and hilarious' is how she, and we, are described
Wanking to Obama, antagonising your awful stepmother, sleeping with people you shouldn't, having a questionable attraction to a priest, wanting some sort of direction in your flailing business and life, hurting friends who have done nothing but love you, having a therapist who thinks she understands you. Fleabag is all of us, and the woman we need on our TV screens in a world of Love Island and reruns of The Chase.
If you've never watched Fleabag before, it's a dark comedy that follows an angry, frustrated, problematic sex-addict by the name of Fleabag, as she navigates running a café, dating and sex, family relationships, and the death of her best friend.
But what does writer and Fleabag herself Phoebe Waller-Bridge get so right? Here's all the reasons you should be watching the series Twitter is obsessed with. Spoilers ahead.
She's an awful, awful person
Fleabag lies and cheats. She is vulgar and takes advantage of dumb-witted boyfriends. She hurts people and only thinks of herself. She is everything we as millennial women are told not to be. One of the recurring jokes in series one is her ex-boyfriend Harry's inability to move on from her, no matter how poorly she treats him. Should it be a joke? Probably not. But we would be lying to ourselves if we said that we don't all keep hold of ex-boyfriends we're not actually into for our own gratification.
Fleabag is unapologetic about her orgasms
Whilst masturbating to videos of the former president might not be an anecdote everyone can relate to, Fleabag has brought female masturbation and sexual pleasure onto our screens in a raw light. For years, male masturbation has been normalised enough to be punch lines in shitty American comedies, and now female masturbation is a relatable in the form of an intelligent BBC Three series written by a woman.
She narrates her own life
On Instagram, especially Finstas, people upload everything from screenshots of awkward conversations with exes to vlog-style videos of them talking about their nights out. In many ways, Fleabag's breaking the fourth wall is the same as uploading a photo of your banging outfit from last night to your public Instagram and posting a video of your Insta crying last night's make up off. Also, the priest being the only character able to see her breaking the fourth wall is genius writing, as we realise that he is the only person who sees her.
Fleabag has complex family relationships
Fleabag doesn't present nuclear or perfect families like other shows do. Her "super high-powered perfect anorexic super sister" and her creepy husband, her father who's now engaged to her dead-mum's-best-friend-and-her-evil-godmother are not like the families we see in other series. In potentially one of the cleverest pieces of writing the BBC has produced, the first episode of season two sees a painful dinner party celebrating her father and godmother's engagement, complete with forced conversation and a fist fight. Realistic? Maybe not. Relatable? For sure.
It has frank discussions about grief
From the get-go, we know Fleabag is grieving. Her mother and best friend are dead, her relationships are loveless, and she doesn't like herself. In the dinner party episode, a character has a miscarriage. But unlike any other on-screen miscarriage, the woman cleans herself up and returns to her meal. Fleabag also struggles with her part in Boo, her best friend's, suicide, revisiting the incident pretty much every episode.
She also asks other important questions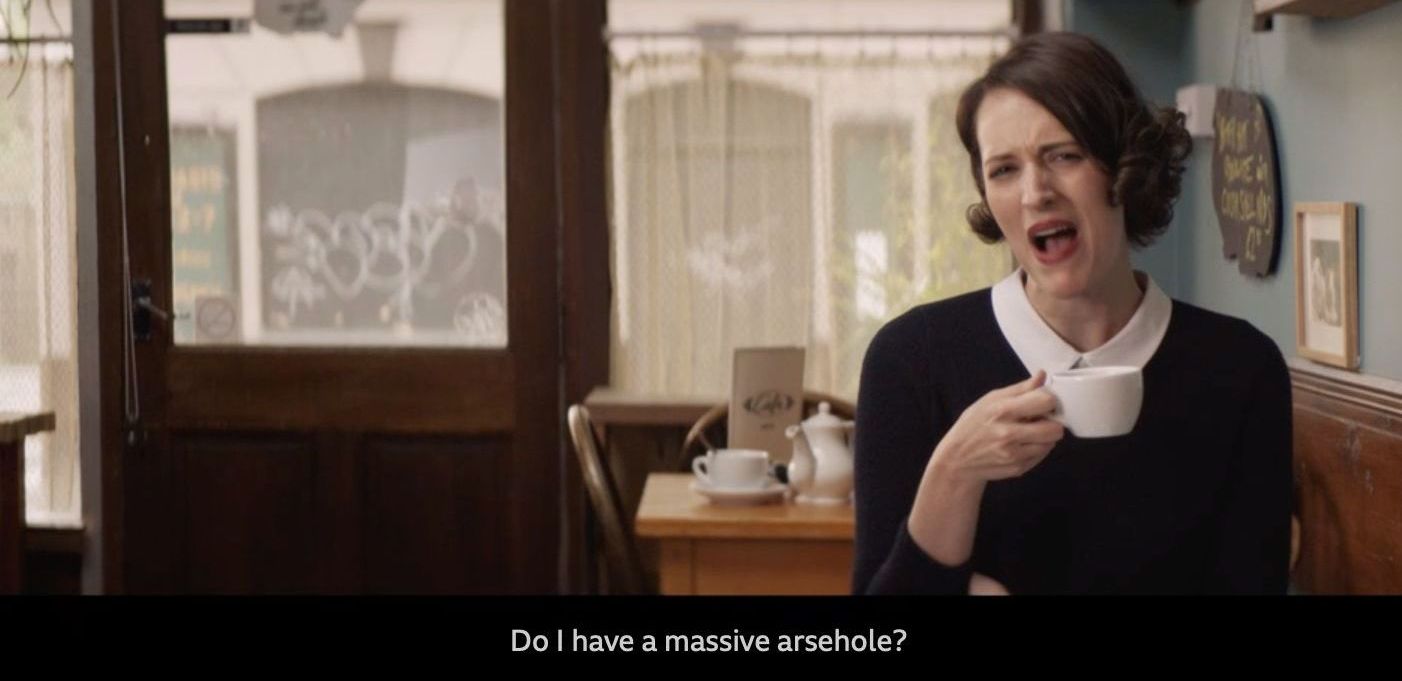 Whilst it may challenge misconceptions and issues facing women, Fleabag is still a comedy, and a relatable one at that.
It discusses female pain and what it means to be a woman today
Just please watch this clip.
And explores the boundaries of consent and vulnerability
Fleabag and the priest. We all want it to happen. We all cheered when they started aggressively making out in the church. But then we stopped. Because Fleabag had just had her break-through, she had just laid herself bare and vulnerable to the only person she could trust, and next he was sacrificing his vow of celibacy to sleep with the woman who had just admitted to being lost following the death of her best friend and all that followed. Are we accessories in Fleabag's breaking?
She normalises therapy and not being okay
After being given a series of therapy sessions by her father as a birthday gift, Fleabag goes along and tries to make sense of her feelings. She is guilty, heartbroken, confused, and she fucks up. And that's what makes her the TV character we need now.
You can watch Fleabag on BBC iPlayer.
Related articles
I looked back at the weirdest Jacqueline Wilson books and honestly what did we even read
26 books every feminist should read before the age of 26
Noughts and Crosses is being made into a TV series and Stormzy is in it