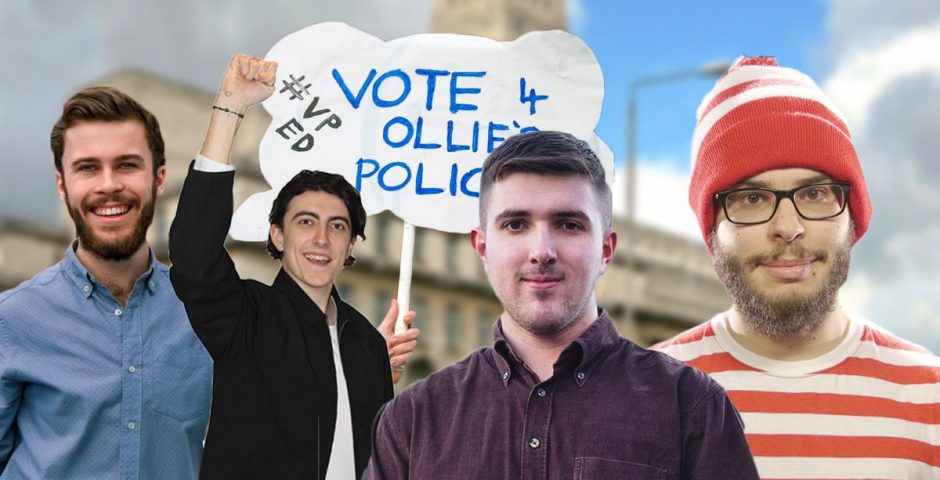 Here are all of this year's cringiest SU election campaign videos, now let me die please!
Seriously, how many Ariana Grande references do we really need
After January and February seemed to last forever, we finally find ourselves in the month of March. March brings with it the joys of Pancake Day, St Patrick's Day, but most importantly, it's SU elections time.
SU elections bring with it a vast array of the good, bad and ugly campaign videos. Obviously, we did the digging to find them, so you don't have to. So here are all the cringiest, weirdest and downright idiotic SU election campaign videos of 2019, from all across the UK.
Charlie Steele, University of Leeds
We're kicking off 2019 election season with a bang, which can come in no other form that that of Charlie Steele's campaign video – a sight to behold like no other.
In what can only be described as a Tom Harwood NUS style meme fest, Steele pledges a range of faux promises, such as "personal crying boxes in the union", changing the university motto to "pizza 2 for 1" and a promise of the "end of world hunger" – interesting.
Although thoroughly entertaining, and clearly trying to make a point or two about the state of SU politics – whatever that may be – the video fails to mention what Steele is standing for and is purposefully very cringey indeed.
Louis Connor, University of Nottingham
It wouldn't be a list of cringey videos without an appearance of the Venga Boys at some point. Louis's campaign video features him dancing along to "We Like to Party" by the Venga Boys, while swiping at various pledges he has to put across.
Some solid campaign pledges, but put the Venga Boys on top and we have next level cringe.
Abi Brown, University of Lincoln
In this third election video from Abi, she pokes fun at different societies with the help of a friend, in a sort of funny, sort of cringe, but definitely memorable vid.
Must have worked though, as Abi was successfully elected VP Activities last week! Congrats!
Oliver Copleston, Cardiff University
Here, Oliver carefully curated some lyrics to go on top of "In my feelings" by Drake, featuring one of his friends with a horse mask on… sure, why not, anything goes in election season right?
He reminds you to vote for him "because I love ya, and I'll be on your side always" – cute!
Derya Khalilpour, UWE
The classic "let's drink a VK in the vid because it'll be really funny", with some outtakes of him sliding into position at the end, make for a cringeworthy performance from Derya in this campaign video.
He is president of the university's wine and cheese society though, which does actually sound like a hoot.
Ellen Fearon, Queen's University Belfast
One of many Ariana Grande/Thank U Next inspired campaign videos you're bound to see this year. Ellen Fearon starts her video with the classic Mean Girls inspired montage "Ellen Fearon punched me in the face… It was awesome" sort of vibes, but no one wants an SU officer that's punched people before they've even been elected, that just screams scandal.
She does have some good policies though
Brian "Wally" Terry, University of York
Although the contents of Brian's manifesto seem pretty solid, we have no idea why he decided to dress up as 'Where's Wally', Brian can you explain please? Also, is there glitter in his beard? We may never know. The full video can be seen here.
Jake Verity, University of Sheffield
Another "Thank U, Next" inspired election video (come on guys, it's getting old now), Jake Verity promises to give "an app, cheap transport" and…"a music festival" in a very questionably dubbed campaign video that you can't help but cringe over.
Joe Leam, Goldsmiths
Joe Leam, Joe Leam, Joe Leam, I'm begging you please stop with the unnecessary puns.