The story of Louella Michie and Ceon Broughton: How a night at Bestival ended with a death and a jail sentence
On Friday, Ceon Broughton was sentenced to eight years in prison for killing his girlfriend
In the woods on the Sunday of Bestival 2017, Louella Michie had just taken some 2C-P. "I never expected anything like this in my life. This is sick. This is amazing. This is real shit, bruv. Make sure you are recording," she told her boyfriend Ceon as she started tripping. Ceon started filming, and six hours later Louella was dead.
Ceon was sentenced to eight and a half years for manslaughter, last week. This is the story of how they met, and how a Sunday night at a festival ended with Louella dead and Ceon being jailed for manslaughter.
"The girl who was friends with everyone"
Louella and Ceon were part of the same North London scene. It was a group of people into art, music, yoga, who all wore good clothes. Louella's Instagram is a collage of travelling, festivals, and pictures with the mates who described her as "the girl who was friends with everyone".
Louella's dad is Corrie and Holby City actor John Michie. The "Holby star's daughter" tag followed coverage of her so much that the jury were asked if they were Holby fans before the trial into her death.
But people who knew her described her apart from that tag. Writing a tribute piece for The Tab just after her death, Louella's friend Morgan Elliot said: "Just because she's got a famous dad, that doesn't mean she was privileged, middle class, or posh. In reality, Louella was just as ordinary as you, me, or any other person".
Louella often hung out at the Hoxton Art Gallery in East London, where she led yoga classes, and was well-known around North and East London. She went to festivals with her brother, Sam, and she had a sister, Daisy.
Otherwise known by his rapper name CEONRPG, Ceon Broughton was mates with Skepta and had 22k followers on Instagram.
He worked at the Supreme shop in Soho, and in 2015 modelled for their collaboration with Stone Island. At the MOBO Awards, he was pictured alongside Sadiq Khan.
Ceon's music was released on the Laigon Life label, and he hung out with Lil Peep.
Lil Peep even gave Ceon a shoutout on his Instagram – a month after Louella's death and a month before Lil Peep died from an accidental drug overdose.
In June 2016, Louella and Ceon met on Hampstead Heath. By the end of the year, they'd done loads together and were official – partying at Bestival, Ceon coming over for Christmas, climbing Ben Nevis together.
At a Halloween party together, they both dressed as elves. At Louella's dad's 60th, Ceon was there with the family.
Louella was into him, so much so that she painted "Laigon Life" graffiti on her bedroom wall.
Suddenly, after Christmas, Ceon broke up with Louella. She didn't really know why and was "heartbroken", according to her mum. "I have to get away, mum. I can't keep bumping into him in the street," she said, and went to LA.
Ceon also headed to North America at the start of 2017, but went to Toronto. There, he filmed a girl in her underwear as he gave her a spoon of white powder. In the video, he tells her to do "more", and when she replies hesitantly, he says: "No, no, you have to do more."
The video, held up as an example of an obsession, wasn't shown to the jury in the trial as his lawyers argued it would prejudice the case.
After LA, Louella had a summer full of festivals, going to Gottwood, Ibiza, Wilderness, and Secret Garden Party. Ceon and her were back on, and they went to Glastonbury together with another friend. Ceon took some 2C-P to the festival, which they did with their friend. In November, after his arrest over Louella's death, Ceon also pleaded guilty to a charge of supplying Louella and a friend with 2C-P at Glastonbury, as well as at Bestival.
In July, he released a song called Duracell, produced by Skepta, and the video was directed by Louella's brother Sam. In it, Ceon's dressed as a knight in a forest, posing with a machete.
A month before Bestival, Ceon got a suspended prison sentence for two counts of carrying knives. The fear of activating this sentence played a part in him not helping Louella later, argued the prosecution.
Louella wasn't planning on going to Bestival but went because Ceon was, according to her mum.
"I bumped it up a bit"
Driving down from London to Bestival's site in Dorset on the Friday, Louella set up her tent. In the early hours of the morning, she WhatsApped Ceon complaining about a friend taking her pills, and Ceon said he'd bring some with him. The Tab has recreated those messages.
When Ceon arrived late on Saturday he stayed in her tent, and they stayed up until 5am. A video shows Ceon and Louella in a tent. They're laughing, and Louella's hair is in plaits with a green cap on backwards as she plays with some fairy lights and shows the camera her wrist full of festival bands.
Over the weekend, Louella had been taking recreational amounts of MDMA, ketamine, and Valium, with Ceon also taking cocaine. Bad weather meant the festival's main arena was closed at 4pm.
Whilst most people returned to the campsite, Louella and Ceon walked around, going to a toastie stall before heading to the edge of the festival. CCTV pictures show them walking around together.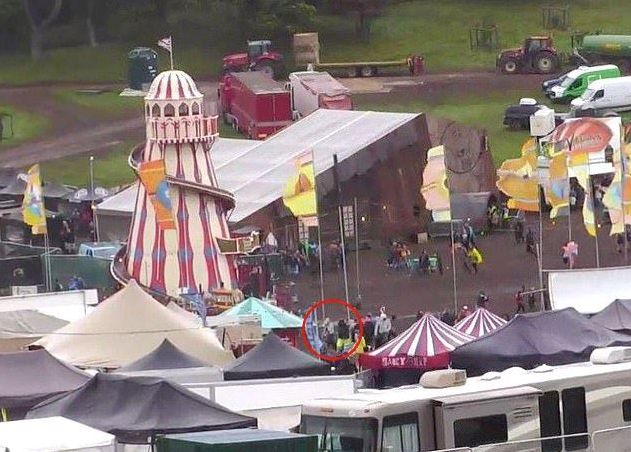 In the CCTV pictures, taken just after 4pm, Ceon's wearing hi-vis trousers and a black jacket, while Louella's wearing black trackies and a grey hoodie.
Louella took some 2C-P, a class A synthetic psychedelic similar to 2C-B but stronger. Nobody had ever died from it before, the court heard.
Louella's dose – "bumped up" by Ceon – was six times stronger than usual. She'd already taken ketamine and MDMA that weekend. When the 2C-P kicked in, the pair had climbed over a fence, into some woods 30 metres outside the festival's perimeter.
"I never expected anything like this in my life. This is sick. This is amazing. This is real shit, bruv. Make sure you are recording," Louella told Ceon at about 5pm.
Soon, things took a turn. Louella rolls around, eats thorns and cries out, and Ceon laughs and keeps filming. Overall, he took 51 minutes of footage of her trip. As she shouts at Ceon to call her mum, Ceon tells her to put her phone away.
At 6:48pm, Ceon calls Louella's family and says she's having a bad trip. Her sister, Daisy, had the phone on loudspeaker, and the family could hear Louella screaming. Daisy takes the phone upstairs, and Ceon says: "I didn't want to tell your mum" that Louella had taken drugs.
After hearing the screaming, Louella's dad, John, and her mum, Carol, set off on the 130-mile journey from North London to Dorset in an attempt to get to Louella.
As they drove down, Louella's dad and brother texted Ceon, asking if he'd tried to get her medical help. Ceon told Sam to "call back in an hour".
Sam asked if Louella had taken 2C-P. Ceon replies: "Yeah, but I bumped it up a bit".
According to the prosecution, Ceon also sent a text to a friend saying: "I can't get bagged".
Security wouldn't let Louella's parents into the festival when they arrived. John told the court he begged them to let him in and find his daughter. Carol said: "They probably thought, 'here are some hysterical parents'."
Ceon was sending them Google Maps pins to try and help them find her. He also went to security just after 11:24, telling them Louella was having a bad trip, but the search couldn't find her. John convinced a security guard to take his phone and use the pins to help find Louella.
At around 11:30pm, Ceon took a live photo of Louella which shows her lying still, with cuts and blood from rolling around in thorns.
By this point, she was probably already dead. When a paramedic found her body at 1am, they thought she had henna tattoos. Ceon was led away by security and arrested at 4:10am for supplying drugs.
It would have been Louella's 25th birthday.
"All we want is to hear you say sorry"
Ceon was criticised for not helping. At his trial, an expert said Louella had a 90 per cent chance of survival if she had been given expert help. Louella was found 400 metres from the festival's medical tent.
Ceon's defence argued that he'd tried to carry her out of the woods, but that thorns, hills, and nettles had stopped him.
On September 13th, Ceon was arrested for Louella's murder and supplying a class A drug.
A friend of Louella's told The Times they had some sympathy for Ceon. "That could have been me or any of my friends," he said. "People say he watched her lying on the floor, looking as if she was dying but every time I go to a festival I see at least one of my friends lying on the floor, looking like they're dying. You don't really acknowledge it as a life-or-death situation. Everyone is doing that. It's just festival antics. Ceon is being portrayed as some kind of drug-dealing gangsta rapper but he's a very nice, honest guy. He wasn't a drug-dealer. It was literally unlucky."
He was released under investigation, and then rearrested in February 2018 for manslaughter.
That summer, he was pictured backstage with Skepta at Parklife, wearing matching tracksuits.
His trial began on February 4th this year, where he pleaded not guilty.
The trial made headlines, with Louella's parents giving evidence and the video Ceon made as Louella died being shown over and over. Ceon didn't give evidence.
During the trial, Louella's family confronted Ceon outside the courtroom. Her dad called him evil and her sister Daisy said: "All we want is to hear you say sorry." Ceon smashed a water cooler and a table and had to be restrained.
Ceon was sentenced to eight and a half years for manslaughter and supplying a class A drug.
Speaking after the verdict, Louella's dad John said: "We began our life sentence on what would have been Louella's 25th birthday. Ceon's life sentence is knowing he didn't help Louella to live.
"Regardless of the outcome of this harrowing trial, there were never going to be any winners."