This is where The Apprentice 2018 candidates went to uni
Awks one went to Manchester and another Manchester Met
The Apprentice 2018 is officially here and we're already investing in the candidates. We've met them all, seen Lord Sugar get started on his firing, and accepted that The Apprentice might not actually be cancelled, and we're ready to get into this series. But, the questions everyone wants answering are where did The Apprentice 2018 candidates go to uni? What do their LinkedIns say they do?
Here are those questions answered:
Daniel Elahi
Daniel Elahi went to University of Leicester from 2008 – 2011 and got a First in Economics.
He is listed on LinkedIn as the CEO / Founder – Revival Shots … "Seize the Night – Save the Day".
"Work, play and party harder with Revival!" he says.
Daniel's only skill is investment banking, but three people obviously agree with him as he's received that many endorsements. Better to have just one skill but do it well amiright?!
Sabrina Stocker
https://www.instagram.com/p/BmYfketBVnm
Sabrina graduated from Edinburgh Business School at Heriot Watt University as a Master in Business Administration, specialising in marketing. She was there from 2015 – 2017.
She has 437 connections on LinkedIn – obviously none are from Edinburgh Uni, they'd never connect with a Heriott Watt grad.
Her LinkedIn is pretty impressive. It describes her as an "excited and fast learner, thriving in an upbeat and dynamic environment, professional graduate from Edinburgh Business School."
It also says she got three As in her A-Levels and has completed a Zumba course!!
Camilla Ainsworth
Camillia is a Law grad from the University of Manchester. She studied there between 2013 and 2016.
She 100 per cent looks like she's downed a few vodka cokes in Antwerp Mansion in her time.
Her LinkedIn says she is a "strong business development professional, graduated from University of Manchester."
She only has three endorsements, her header doesn't even fit the page and her picture is a selfie. She definitely put this profile together 10 minutes before the show started.
Jackie Fast
Jackie attended the University of Fraser Valley in Canada and studied Psychology, Visual Arts and Business. She was there from 2001 to 2005 and achieved a 4.2, which is equivalent to a very high first in the UK.
She then moved to the University of Westminster to study a Postgraduate Diploma in Financial Management.
She loves calling herself "Wackie Jackie" and her profile is pretty whacky too with that header.
Referring to herself all in third person she says she's "no stranger in utilising change to amplify growth." Whacky.
Kayode Damali
Kayode went to Manchester Met and got a First in Psychology. He studied there between 2010 and 2013.
When Camilla finds out he's from MMU the scenes could get nasty.
His LinkedIn lists everything he did at university – and links a video of him graduating.
He wants everyone to know that he did EVERYTHING he could of done at uni, he is definitely the guy that comes up to you in the library with a flyer asking you to vote for him in the union elections.
Khadija Kalifa
Khadija attended Middlesex University where she got her degree in Law. She was there between 2008 and 2011.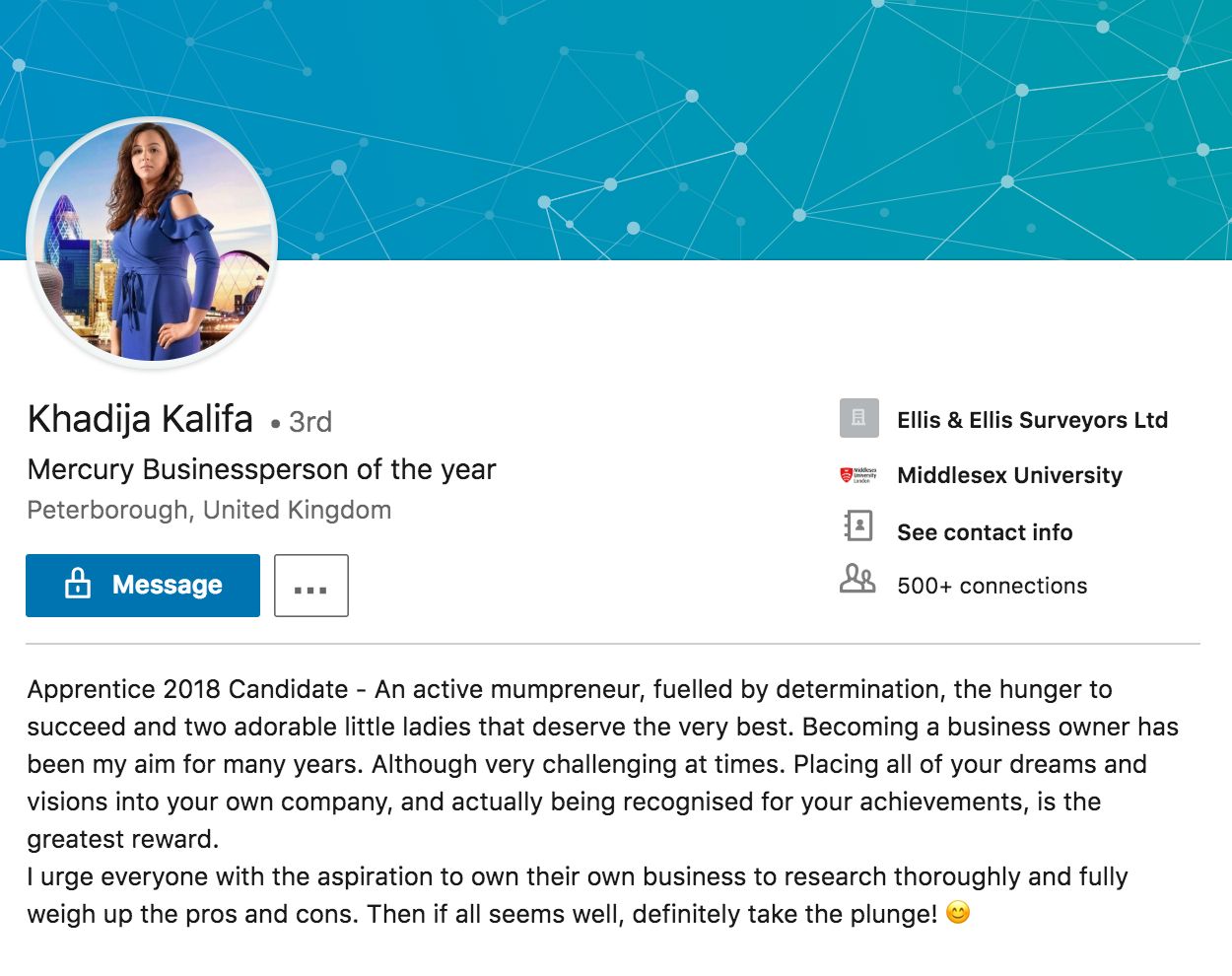 She uses the term "mumpreneur" a lot on LinkedIn and is definitely winning the award for most mumsie profile ever. After Khadija said to "take the plunge!" in her bio I felt instantly inspired to start up a business venture.
Kurran Pooni
Kurran is a Law grad – he studied at the University of Law in Guildford. He literally is the everyboy at uni.
The only other thing listed on his LinkedIn is his Instagram – which doesn't really sell him to future employees.
He says he's "always looking for auditions in theatre and film" which begs the question, why are you on The Apprentice then??
Alex Finn
https://www.instagram.com/p/BnOmj-3joyh
Alex didn't go to university, but he still has an impressive LinkedIn listing four previous professional roles. Looking through his profile will make you feel awful about yourself.
He has 500+ connections, countless endorsements, a recommendation from a very "impressed" man called Jim and five certifications.
His roles include being a service desk analyst and a director and co-owner of his company. And he's only 21. Sigh.
Sarah Ann Magson
Sarah is from Teeside, and attended Teeside University.
Her LinkedIn describes her company that specialises in luxury nursery furniture and equipment.
Despite having listed 11 skills, she's only had a single endorsement, and she didn't even say what she studied at uni.
Sian Gabbidon
Sian attended The University of Huddersfield from 2011 to 2014.
She received a first class honours degree in Fashion Marketing with Design and Production.
Her LinkedIn doesn't even have a picture, but lists her as the owner of Sian Marie Fashion.
You'd think someone who studied marketing would know that marketing yourself without a picture is dumb, but apparently not.
She's listed 14 skills on her page, none of which she's been endorsed for.
It literally looks like she's applied for The Apprentice, thought shit I need a LinkedIn profile, and rustled up whatever she can.
Related stories recommended by this writer:
• Here come the Islanders! Oh wait, it's the candidates of The Apprentice 2018
• Iconic The Apprentice candidates and winners: Where are they now?
• RIP The Apprentice (2005-2017): Another iconic British show gone but not forgotten
• What the cast of Love Island 2018 actually do, according to their LinkedIns