These are officially the poshest halls in the country, according to Tatler
From the former love nest of the Duke and Duchess of Cambridge, to your personal Norman fortress, Tatler have published their selection of the "smartest" aka most beaut halls in the country.
Far from the dingy single bed with a squeaky mattress and a coffin's worth of floor space, these are actually, you know, nice.
So here they are, the eight best halls in Britain:
Christ Church, Oxford
Christ Church's hall, built in the 1520s, is renowned throughout the world as the inspiration for the Harry Potter franchise's Hogwarts Dining Hall.
The most sought after rooms come with double beds, en-suite bathrooms and stunning views overlooking Christ Church Meadow.
In the past, the college is more often than not home to members of the Oxford University Bullingdon Club.
A history student's wet dream, the roof beams were built by Henry VIII's chief carpenter, and its walls are lined with portraits of famous figures from Cardinal Wolsey to Prime Minister William Gladstone.
St Salvator's Hall, St Andrews
Otherwise known as "Sallies", this St Andrews accommodation is where Will and Kate made the magic happen during their first year as freshers in 2001.
Built in the 1930s, the hall has a grand oak-panelled dining room with stained glass windows for formal dinners. All the rooms are seriously spacious and have spectacular views over either of the front lawn or St Andrews Bay.
The painfully posh residents consider themselves the crème de la crème on campus.
Often seen dressed up on the red carpet at the Sallies Hall ball, or scooting off for some late-night Reeling – you'll be lucky to catch one in lectures wearing something other than Barbours or Uggs, even in May.
University College, Durham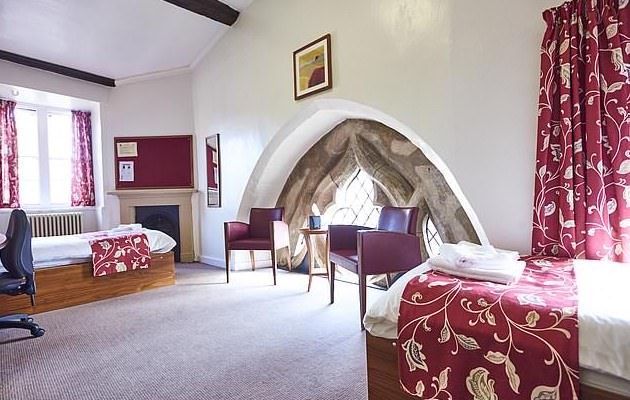 The rooms in this student digs are located in an actual castle, yep.. a castle.
Home to 850 lucky students, the rooms in Durham's oldest college are located in the city's Norman fortress and overlook Durham Cathedral.
The hall is a UNESCO World Heritage Site and its medieval banqueting hall hosts Castle formals where students must be dressed in black tie and gowns.
The morning routine of residents involves red chinos, loafers, a signet ring and a conspicuously southern accent. How surprising.
Founder's Tower, Royal Holloway
Every student at Royal Holloway would kill for the right to boast about how beautiful the place they live in is, and how proud they are to live in such an iconic Victorian building.
Opened by Queen Victoria in 1886, the hall is home to 500 students with a mix of shared and single bedrooms.
The hall overlooks 135 acres of exquisitely mown parkland, has a grand dinning hall, cafe and a famous chapel and picture gallery.
With the building's Hogwarts-like aesthetic and lack of students from state school, the hall feels like a giant boarding school.
Mylne's Court, Edinburgh
Far from freshers shag pads, this hall is a classy spot as rooms are reserved strictly for post-grad students.
Flawlessly located, the hall is slap-bang in the middle of the Royal Mile and just two minutes away from Edinburgh Castle.
A historic beauty that sits on one of Edinburgh's first open squares, the hall was built in the 17th century and is one of the university's most popular places to live with applications going through the roof each year.
St John's College, Cambridge
Although the famous song goes, "we'd rather be at Oxford than St John's", frankly with a room like this, I don't see much to complain about.
The Cambridge website itself says its "rooms, food and facilities are reckoned to be some of the best in Cambridge", once home to famous alumni, such as William Wordsworth, Douglas Adams or Paul Dirac.
Kitted out with oak-panelled walls and grand fireplaces, the rooms immediately transport you to socials of Etonians sipping whiskey and chuffing on cigars.
The hall is also home to the famous St John's "triple set", an accommodation that takes up two floors consisting of three bedrooms, a ginormous bathroom, kitchen and living room.
The hall's dinning room is breathtaking with a college menu that serves your bog-standard lobster bisque for dinner.
Holland Hall, Exeter
Next on the list and starring at the top of Exeter's food chain, Holland is a hall with modern en-suite rooms and a sun terrace overlooking the jaw-dropping Exe Valley.
Just a seven minute walk from campus, the sexy glass-fronted restaurant with a sizeable terrace is the place to be in the summer sun.
A breeding ground for boarding school kids, Holland residents stand on their balconies laughing at the other students, whilst their RayBans protect them from the sunlight beams that gleam off their signet rings.
Churchill Hall, Bristol
Last but certainly not least, Churchill – the hall often described as Bristol's "poshest" hall.
The vast country building is home to 2,000 students. Its annexe, The Holmes, sleeps only 20 students and is surrounded by the unis beautiful four acre botanical garden.
The hall contains almost 70 per cent of residents enjoying the luxuries of a private school background, with only about 109 residents coming from a state school background.
Other articles this writer recommends:
1) Parties, living together and a break up: Everything we know about Kate and Will's relationship at St Andrews
2) Don't worry, here are some hot single royals you can still marry
3) These are officially the best smoking areas in the country, as voted for by you