There are 11 types of girl housemates and I'm gonna tell you which one you are
If you've ever lived with girls, you'll know a few things. You'll know that your plugs will be full with hair, the bathroom will be littered with cheap reed diffusers and sanitary products, but most importantly you'll know that there are many different types of girl housemates you can live with.
While you may think it impossible to quantify the entire spectrum of female roommates, we've given it a go. We've classified 11 different types of female housemates you will have at some point, so read on to find out once and for all which one you are.
The one with a boyfriend
The girl with the boyfriend is just the dream. She's kind, has the best advice and is the ultimate wing woman. She may have found her prince in shining armour, but it doesn't mean she'll ever give up on you. She knows how easy it is to fall into the trap of spending all her time with her boyfriend, so she'll always make time for you. But if there's one thing she could work on, it's to not want to go home at 1am every single time you go out. You love her, but her stamina has really wavered recently.
They message the WhatsApp group: "Girls, is it alright if Max came to the party on Friday?"
They always watch: Soppy movies on Netflix that remind them of their boyfriend.
The hoe
She'll make Sunday evenings ten times more fun thanks to the post-mortem stories of the guys she's shagged that week – and she doesn't spare on the details. The hoe will never fully take off her mascara, will always be asking for a make-up wipe, and functions off about five hours sleep per day. She's run out of swipes on Bumble, twice.
They message the WhatsApp group: "Can someone call me and pretend there's an emergency so I can get out of this date???"
They always watch: Love Island, it's their religion.
The mum
The mum of the house oversees everyone's activities, knows exactly who's coming in and out and runs the joint. She uses Find My Friends to make sure everyone's getting home safe after a night out, and will often pay for emergency Ubers. The bills all go out of her account, obviously, and she's not scared to have an argument with the landlord regarding the slug infestation. Will always have spare tampons.
They message the WhatsApp group: "Thinking about making a roast on Sunday, will everyone be home for 5? 🙂 x"
They always watch: Loose Women.
The sad girl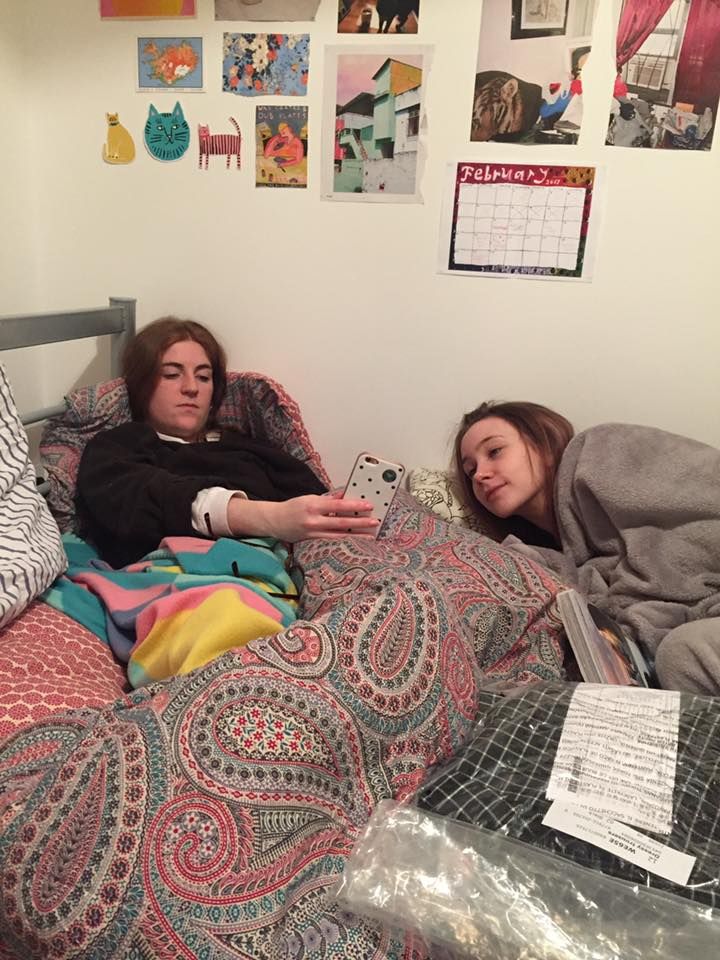 Upon moving in, there was only one thing on the sad girl's mind, and that was to decorate. They're responsible for the fairy lights, Cath Kidston bunting, 'live laugh love' poster and the wicker heart awkwardly resting on the wall above the TV. Their vision was Urban Outfitters, the reality is more Home Sense. They'll spend their day drinking cups of tea on the sofa, with damp hair and a big dressing gown. They have some kind of a vanilla candle on their bedside table.
They message the WhatsApp group: "Anyone fancy staying in and baking a cake on Saturday?"
They always watch: The Chase and Pointless, back to back.
The baby
The baby needs constant attention and looking-after. They would probably die without the help of the other housemates. They manage to burn pasta and still not understand how the washing machine works. Although you might feel like you do everything for them all the time, you can't help but love them. She never transfers money for bills on time and you know if you ever lend her money, you'll wait about a year to get it back.
They message the WhatsApp group: "How do I know if my food's gone off?"
They always watch: Say Yes To The Dress, Don't Tell The Bride, Dinner Date.
The posh one
Their disposable income means they always have a spare ciggie or bit of coke to give away, no questions asked. They'll never drink anything non-branded, get Ocado deliveries once a week and let you have some of their multi-grain quinoa and flax seeds. They're essential because they'll always be able to lend you a fiver, or pay your overdue rent, all thanks to Daddy's monthly allowance. They don't care about their actual degree because they're set for life.
They message the WhatsApp group: "Does anyone fancy going to away next weekend?"
They always watch: Made in Chelsea.
The bitch
The bitch is the housemate no-one likes. You were probably best friends in first year, spent all your time together, signed on to a house then realised you actually were complete opposites. The bitch is the first to send little passive-aggressive messages down the group chat, complain about how loud the TV is when it's only 10pm, and loves nothing more than shutting a house party down. At least it gives you someone to bitch about.
They message the WhatsApp group: "Whoever left the dishes in the sink, PLEASE can you wash them up. It's unhygienic."
They always watch: Orange Is The New Black, always in their bed, with the door shut.
Uni wife
She'll be your favourite, most loved housemate, and you do everything together. Literally everything. The weekly shop in Tesco, time spent in the library, coursework, cooking – the lot, all done in perfect synchronisation. But she can only function when she's part of a pair.
They message the WhatsApp group: She won't, she'll just be DMing you on Insta things like "I'm cooking now come downstairs", or "shop?"
They always watch: Whatever you're watching. Probably a Netflix series like Suits which you can only watch together.
The sporty one
It's hard to assign them a role because they're NEVER in. With four trainings and two matches a week, you'll only ever see them cooking in the kitchen after they played a game in the most horrible weather. They'll still be wearing their kit. You'll spot them at their SU sports nights, dancing to some 80's classics. When you go out with them, everyone stops them to say hi. Turns out being in a sports club makes you a bit of a BNOC.
They message the WhatsApp group: "Does anyone want a lift at 6am tomorrow?"
They always watch: They literally don't have time to watch TV, they can't ever sit still. But they'll join in when Love Island is on.
The health guru
The health guru will always be in her Lulu-lemon or Gymshark leggings and her hair is always perfect. Oh, and she has a fitstagram. She is vegetarian or vegan and will make comments about your meals including meat, reciting a Guardian long-read they heard on how much methane comes out of a cow, but then she'll tell you she doesn't judge you for murdering animals at all! You do you babe!!
They message the WhatsApp group: "Whoever used my NutriBullet, please can you remember to put it back where it was girls xx"
They always watch: Videos on YouTube on how to perfect their box-squat.
The in-house make up artist
The make-up artist is your biggest hype woman. Not only will she do your make up, she'll know how to style your hair, pick out a perfect outfit and lend you any of her clothes. This girl has all the latest products and will only treat you to the best of her stuff when she does your make up for an important event. But that's not all, no. This girl will know all the celeb gossip before everyone else and you can rely on her to supply you with the latest Kardashian conspiracy theories. And she'll finally teach you how to do your eyeliner properly.
They message the WhatsApp group: "Girls is anyone in to sign for my ASOS order? Soz."
They always watch: The Only Way Is Essex, Keeping Up With The Kardashians, The Real Housewives of Cheshire, Love Island.
Related stories recommended by this writer:
1. The 'house baby': The cute lil one you can't help but take good care of
2. If you relate to any of these 29 things, congratulations! You have a uni wife
3. Here are all the signs you might be living in a 'sad girl house'