If for some reason your uni was an iconic food chain, this is what it would be
If you got Prezzo you should probably drop out
Walk down an any High street in the UK and you'll find a cornucopia of dining options. From the trusty reliable Spoons, to the chilled vibes of Turtle Bay, there are a hundred different restaurants for a hundred different occasions.
Sure, none of them will excite much after the first visit, but they're like a great group of friends, always there when you need them with a Katsu curry or a sausage roll.
Uni isn't really like a great group of friends, but fuck it here's what yours would be if it was one of your favourite chain restaurants!
Bristol – Turtle Bay
Fake rasta vibes and you can get a red stripe on tap when you're with your mates, sure, but also totally no qualms about splashing out on spenny cocktails when you're with your mum. It's a mix of pretending to be wavy and actually being quite posh. Turtle Bay and Bristol are both lowkey on the surface dig a little deeper and you'll find them both unbelievably extra.
Cardiff – Nandos
Fast food at restaurant prices. You're paying the same as your mates who go to Russell Group unis but you've not really got much to show for it. Unless of course you're the sort of person that does things just for the banter of it. In which case, by all means crack on with your £15 chicken and chips and your "Russell Group" degree from Wales' top banter academy.
Cambridge – Pizza Express
Really bloody good but also quite boring and obvious. You're trying to prove something by splashing your cash at Pizza Express, and you'll take your parents there for lunch to give them an air of togetherness. It's an institution that has been around for a long as you can remember and let's be honest probably the most famous British restaurant chain there is.
Anglia Ruskin – Pizza Hut
You tell people you're going out for pizza in the hope that they assume you're hitting up pizza express when really you're going to the really, really shit version.
Oxford – Zizzi
Ant vs. Dec, Android Vs. Apple, Theresa Vs. Jeremy – life is full of great rivalries. Arguably these all pale in comparison to the neverending debate of Zizzi Vs. Pizza Express. Some years you'll appreciate the rustic italian vibes of Zizzi, others the polished art deco tiles of Pizza Express. Dreaming spires Vs. Punting on the Cam. It's a battle that will be fought til the end of time.
Brookes – Prezzo
The over-expensive wannabe, but deep down lacks the substance or indeed history of the other two. Like a Brookes student, Prezzo conjures up images of mediocre prosecco and people trying just a bit too hard to fit in. Say what you want about Prezzo, but I think that our nation's third (or fourth) favourite pizza chain proves that more money does not mean more classic.
Durham – Ask Italian
Trying to play with the big boys but not quite up to it. Sure, you'll tell everyone you chose Durham on merit but come on, if there was space in Pizza Express or Zizzi, that's where you'd be.
Edinburgh – GBK
Sure, Byron has the prestige, but if you search deep into your soul you'll realise that actually you'd much rather have a GBK. Like GBK, Edinburgh really does have a lot going for it. The city is beautiful, the people nice and it's clearly the fan favourite over Byron/St.Andrews. GBK knows its place in the world, knows what people expect and does it well. Edinburgh is classic but not pretentious and if you overlook the whole "every other person is an American" thing, then you'll be thoroughly content.
St Andrews – Byron
When you think of burger restaurants you think of Byron. Just like when you list good, prestigious unis St Andrew's comes to mind. But think about it for a second, is Byron actually that good? Would you actually want to go to St Andrews? Or are they just both a bit overhyped?
Exeter – Bill's
Overrated and basic as fuck. £10 for a fish finger sandwich is nearly as big a waste of money as your parents spending all that money on your private education at a nice school in Surrey just for you to study psychology at Exeter. If you were really that posh, you'd go to a fancy brunch place or Oxbridge, but instead you settle with all your other rah mates into a life of predictable but mediocre poshness.
Falmouth – West Cornwall Pasty Company
Yeah we got lazy on this one.
Leeds – McDonald's
The OGs, The Mac Daddies, The Kings of the playground, if you're being honest with yourself, you know Leeds is probably the most classic uni. And so what better, more natural companion than McDonald's, the undisputed king of fast food? They're both live 24 hours a day, they're both at their best in the early hours of the morning and crucially, never too showy.
Manchester – Burger King
The pretender to the crown, the one that thinks it's as good as a Maccies, but never quite lives up the hype. In Manchester, the raves just aren't quite as loose and at BK the burgers will never match their older, better cousin. There are a few people out there that truly think Manc is the best uni in the country and the sad truth is they're just telling Whoppers.
Liverpool – Frankie and Benny's
Banter banter banterrrr!!! Off we go to Frankie and Benny's for a mad one!!! Get the colouring pens, drawer on each other's faces, make a straw sword and fight one another, and best of all trick the bouncers in to thinking it's someone's birthday and we've got a classic instagram story on our hands!!! Liverpool is fun, so's Frankie and Benny's, that's all there really is to say.
King's – Pret
Chicken and avocado sandwich, coconut flat white, Pret popcorn, rollie, long All Saints jacket and hanging out on the Strand by Somerset House – perfection.
UCL – Wasabi
UCL is a world away from most normal unis and Wasabi is a world away from most restaurant chains. Never sure if they want to be students or bland indistinguishable Londoners, UCL students are just as confused as the menu at Wasabi which ranges from dainty sushi rolls for £6 or massive, grim looking katsu bowls.
Goldsmith's – Morley's
Literally no one cares about Morley's apart from you, and the people of New Cross.
LSE – Burger and Lobster
You're gonna march in there, point your grubby, capitalist finger at the one you want and slam down £50 for it without getting the lobbo weighed up. Money means nothing to you, what with your job at Deloitte secured by the end of Freshers' Week in first term. Add in a penchant for combining silly things – burger AND lobster? Maths AND International Relations? – and it's a match made in heaven.
Belfast – Spoons
There's something truly mad about a good Spoons. The perfect storm of cheap drinks, cheap food and sometimes a light-up dancefloor makes for a guaranteed good time wherever you are in the UK. In the same way that everyone flocks to Spoons, students from across the six counties flock to queens, throw on a GAA top and put their sofas in their front gardens. Spoons and Belfast are the sesh that never sleeps.
NCH – Leon
Expensive, a bit cultured, but ultimately can't help thinking that they really want to be known as 'The Professional'.
Loughborough – KFC
On a pound for pound basis, I would venture that KFC probably has the most protein of any of the restaurants featured on this list. And of course, who better than Loughborough to obsess over the maximum gains possible and talk about #cheatdays? Also the fact that there is STILL no Nando's anywhere near campus means that they have to settle for KFC to get a chicken fix.
Birmingham- Itsu
The UK's second city and the UK's second favourite sushi chain have more in common than you might think. Both loved by those from North London, both trying to be fancier than they really are.
Newcastle – Wagamama
Spicy and full of flavour, like going out on the toon necking loads of trebles, snogging some hot Rugby guy from Surrey and dancing in Swingers until your shoes disintegrate. Theoretically you should be Greggs because you are absolutely classic but then everyone here went to private school so you don't really get to claim the prestigious sausage roll.
University of East Anglia – Subway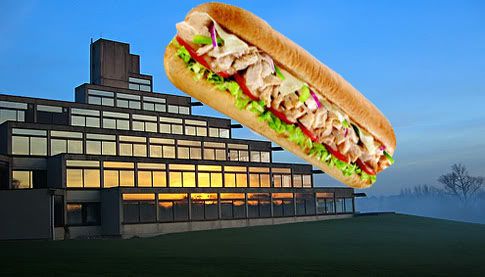 Subway is always underwhelming, just like your experience at UEA. The advert for the six inch meatball marinara looked appetising, just like the UEA's advert enticing you to put it as your top choice on your UCAS application. But as soon as you take your first bite you realise the mistake you made, just like when you arrived at UEA and saw the Ziggs, and all the other grey, concrete, ugly buildings.
Nottingham – Domino's
There's something just so perfectly average about a Domino's pizza. The crust is pretty meh but satisfying, the toppings are basic but reliable and in many ways such is the life of a Nottingham student. Unexceptional but endearing, fun but well within the bounds of acceptable. A Domino's will never disappoint you and never will a night out with uni of Nottingham students, but you're never gonna say it was the best you've ever had.
Nottingham Trent – Papa John's
Basically the same as Nottingham, but what it lacks in predictability, it makes up for in pure rogueness. You've probably never ordered a papa john's when you're in your right mind and on paper, no-one would ever apply to Trent. But if you take the leap, there's a chance it will turn into something truly wild.
University of Portsmouth – Harvester
It used to have a rich nautical history and Harvester used to be a good dining establishment. Then they both went to total shit and are full of horrible old people.
Royal Holloway – 5 Guys
Because that's how many men study there.
Sheffield – Toby Carvery
Anywhere where you can slather on as much gravy as you like is the ideal place for you. Cheap and cheerful, you stick to what you know, just like you stick to your Corp Tuesdays and WSL Choco Milkos.
Warwick – Cafe Rouge
Literally everyone here is French.
York – Jamie's Italian
Where did you go for dinner last night? Jamie's Italian. Cool
Where did you go to uni? York. Cool
Jamies says nothing of you because it is bland and unimpressive, just like every York grad.
The Open University – JustEat
COS IT'S THE ONLINE ONE