Chicken nugget gifts for that person in your life who just really really really loves them
Accessorise with this winter's must-have item
Chicken nuggets are having a moment. Their resurgence as a meme is the one twinkling ray of hope we have left.
If you want to take part in the logical endpoint of consumer capitalism, buy your loved (or tolerated) ones some chicken nugget themed merch for Christmas!
It's what Jesus would do. Well, apart from turning into a sausage roll.
Don't you fucking dare think about proposing to someone if you're not using this ring
Buy this ring. Spend your money. Bind yourself to one person's company for life. Forget your mortality.
These might look like just regular chicken nuggets, but PLOT TWIST they're actually soap
#blessed
Here's a chicken nugget cushion to prop up your fat ass while you devour your weight in nuggets
Buy it! Consume!
Slogan t-shirts are so in – if you live in 2006 and work in IT
In all fairness this is a tenner, so cheap and inoffensive enough that you can give it to whoever you happen to get drawn in the office secret santa. You can exchange a half-hearted laugh, before going back to wearily greeting each other in the kitchen for the next year.
A phone case that will have you answering the wrong side of the phone and nibbling while trying to conduct an important business call
They look real but are in fact not real chicken nuggets.
Fake toy chicken nuggets look set to become the new fidget spinner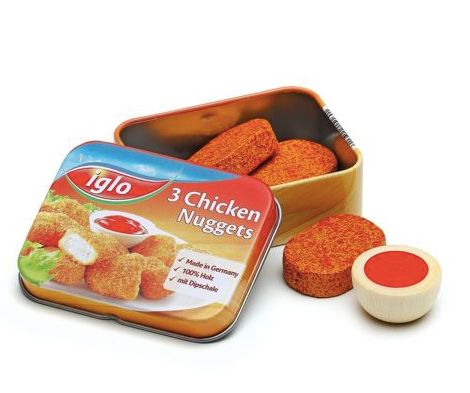 I like how the picture on the box accurately portrays what is inside.
A chicken nugget photo frame can take pride of place on your nan's shelf, drawing attention to your graduation photo
Use it to do justice to your photos from Corfu '06.
Snuggle up next to the fire with a chicken nugget plushie, complete with eyes
So cute, truly one of God's finest creations.
Keep it fresh to the toe by donning these socks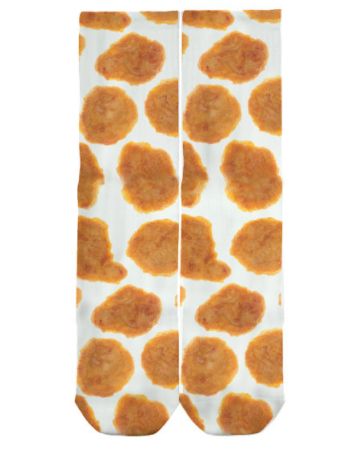 Top clout, my guy.
If your earlobes were lacking some serious style, fix that with earrings. Nugget earrings
The name's Earrings. Nugget Earrings.
They'll appreciate the stitching though. Just look at that stitching. Tight.
There are a lot of themes going on here. Just let them wash over you.
I have listened, and – oh boy – Edac was not messing around when he said it was explicit.
Favourite lyric: "Don't give me that look I need my chicken nuggets".