Who's the maddest fresher in the UK?
They're more fun than you
Up and down the country, you have been nominating who you think is worthy of the Maddest Fresher 2017 title.
The winner of Maddest Fresher isn't at uni to learn or get a First – no, they're here to go out five times a week, spend all their student loan on pointless shit and probably get arrested.
But it's all in the name of fun!!! Vote below for who you think should be crowned Maddest Fresher 2017.
Joe, Edinburgh
Joe was nearly taken to hospital for eating a chicken nugget coated in one of the world's hottest chilli sauces. He also "spontaneously decided with two of his friends to book a one-way ticket to Amsterdam and stay there for the weekend", missing his first hockey social of the year.
Bran Stark, Birmingham
Seen out on the sesh in Birmingham SU, Isaac Hempstead Wright aka Game of Thrones' mildly boring Bran Stark, joined the midlands uni this year as a fresher. In between getting his degree, Bran is three eye ravin' and literally becoming the Night King (of Fab n Fresh).
Hugh, Brookes
According to his nomination, "Hugh is a lover of a good night out and has already streaked down Cowley Road, drunk his own piss to avoid having his eyebrows shaven off, and got with a girl in Emporium's ball pit on top of his mate." Classic!
Amelia, Edinburgh
Amelia once ate four McDonald's burgers after a night out because she likes post-night out food so much. She subsequently threw up a short while later, naturally from said burgers.
Alice-May, Brookes
Alice-May is only in first year and already has FOUR puffer jackets, which is fucking MENTAL.
Ben from Outnumbered, Birmingham
He's not even a fresher, but there are rumours he's joining the university next year alongside fellow celeb Bran Stark. Ben was spotted this month on a night out in the SU, hanging around the fountains and the underground – fun!
Max, Newcastle
Fresher Max hosted an outside rave at Castle Leazes halls in Newcastle, where 600 people turned up. He created a DJ booth between his and his mate's halls and used the lighting from the floor below to secure the vibez.
Dave, Warwick
Dave gained campus recognition this month when he worked as security for a halls pre-drinks at Warwick Uni. He's also known for doing "stupid shit", like dying is hair blonde after losing a game of hide and seek – it's cute how they entertain themselves in Leamington Spa.
Roddy, Brookes
Roddy dislocated his shoulder playing for the Brookes rugby first team, and still went for a two week bender on heavy prescription painkillers. Despite feeling rough, it couldn't stop him strawpeedoing VKs every Wednesday night.
Martin, Edinburgh
On hearing Gemma Collins was making an appearance at GAY nightclub in London, Martin splashed out £140 for last minute flights to see Queen GC. Little did he know she would now be embarking on a nationwide tour.
Rory, Brookes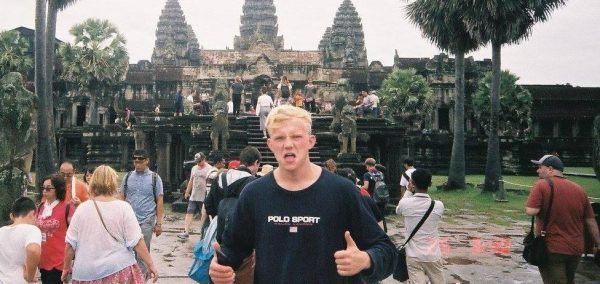 Rory managed to spend £2,000 just in Freshers' Week, mainly on nights out and Deliveroo. Due to maxing out his overdraft, he's now living off baked beans, chicken and rice.