Find out exactly which Nando's menu item your uni is
One Bsc in Peri-Periatrics please
Nando's have changed their menu. To the corporate bigwigs in Nando's HQ, it's a simple change designed to get more feet through the door, more chickens on plates. But to many in this great nation, it's an affront to something they hold dear.
In light of this minor change, what better time is there to arbitrarily assign each menu item to a British university? So let's go!
UEA – Grilled Halloumi
Someone famous once said: "To avoid offence, do nothing, say nothing and be nothing". While this isn't the official motto of UEA just yet, there's a certain truth to these words when placed in the context of Norwich uni. And much like UEA and indeed, most of East Anglia, Halloumi is one of those dishes that really doesn't leave much of a memory. Like UEA's students, the Halloumi is white, bland and thoroughly forgettable.
Warwick – Hummus
Hummus is great, as is the idea of a top ten research uni that isn't a thousand years old. Unfortunately, Nando's doesn't do a good job with their hummus and Warwick doesn't do a great job of not being a really boring uni that looks like Gatwick airport.
Birmingham – Spicy Rice
Birmingham is an understated wild card. Without the flashy rave scenes of Manchester and Leeds or the mainstream appeal of a poly, sometimes it's hard to see what Brum really has to offer. But just like the spicy rice, it's a lowkey hero. Not braggy or showey like the peri chips, the spicy rice is a solid, dependable side that delivers time and again.
Hull – Peri peri dusted mixed nuts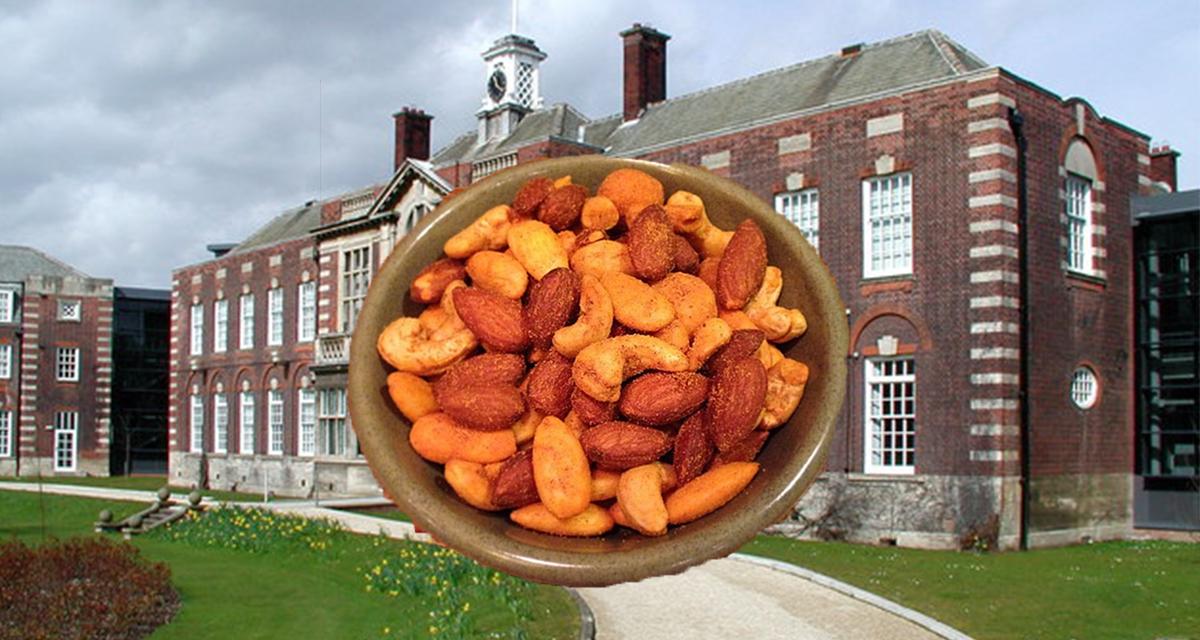 Because you'd have to be nuts to go there!
Nottingham – Lemon and Herb
Nottingham is a uni for people that think themselves much more interesting than they really are. They claim to be interesting and have a good nightlife and a wild uni town, but the reality is less interesting. Like the only people that order Lemon and Herb, Nottingham students are homogenous standard issue home counties humans with nothing exciting really going on.
Trent – The spiciest one on the Periometer that's so spicy it's black
If you've ever been to Nottingham's second best but most fun uni, you may well have thought it too much to handle. Just like the Xtreme spicy variety of Nando's it's fucking mental. The sesh is never-ending, the Wednesdays are outstanding, but boy is it too much. If you don't have a rock solid grasp on heat, or a desire to get a pretty terrible degree, Trent is not for you.
Oxford and Cambridge – Supergrains and Macho Peas
Imagine if you will, that the Sides section of the Nando's menu, is the Russell Group. Within the Russell Group and indeed the sides section, two options stand out. High above the riff-raff of the chips and the corn on the cobs (pedestrian sides that can be found in your average KFC) are the Supergrains and Macho peas. If these sides were people, they'd be just like Oxbridge – smug, superior but ultimately not as great as they think they are.
Oxford Brookes and Anglia Ruskin – Mixed Leaf Salad and Red Pepper Dip
Dead unis, dead sides, both with delusions of grandeur.
Bristol – Chicken livers and Portuguese roll
Look, we get it. You like to be different. But surely you're not enjoying all these weird choices. Dressing like you're homeless, smashing MD every other night and choosing Chicken Livers are all things that if you did them outside of your very selective uni, would be cause for concern.
UWE – Portobello mushroom
Trying to copy its weird big brother, UWE doesn't have the brains to work out what's acceptably weird and what's just plain moronic. A pale imitation of both real chicken and a real uni. Why are you still trying?
Loughborough – Full chicken
You've worked out to a tee the most protein you can get per gram of chicken and your research has lead you to the full chicken. Like the full chicken, Loughborough students have huge thighs sculpted by the fact that there is nothing to do in Loughborough but go to the gym.
Exeter – Prego Steak Roll
The choice of the wannabe posh kid, the prego roll is the food equivalent of buying a gilet and driving a Mini Cooper. It's a way of signalling to everyone around you that you are posher than they will ever be. Don't listen to the haters, you'll grow up and get a house in Surrey and still order the steak.
Bath – Steak and Chargrilled veg roll
The same but more boring.
Durham – The Jumbo Platter
There are so many posh unis that it's hard to find Nando's items that do them all justice, but bear with me here. The Jumbo Platter is the most expensive thing on the menu (at £44.25) and the kids at Durham are probably the poshest out there. A classic example of style over substance, both the Jumbo platter with its two full chickens and five sides, and Durham with its picturesque campus are truly sights to behold.
But when you realise that ordering the most expensive thing doesn't make you the best, you'll question the thousands your parents spent on private education to get you into the THIRD best uni in the UK.
Newcastle – The Butterfly burger
An absolutely underrated classic. While Leeds, Manchester and the regular burger get all the limelight, you're off by yourself being silently classic. Home to some amazing parties, some truly stunning looking people and arguably the most flavour on the menu, Newcastle continues to smash it every single time – just like the butterfly burger.
Leeds and Manchester – Chips/Peri-Peri Chips
The true heroes, the big kahunas, the overwhelming fan favourite. Everyone can agree that the chips and these two unis really some up the Nando's /British uni experience. With legendary parties, huge raves and bustling cities around them, it's sometimes hard to tell the difference between these two great outposts of the sesh. Sometimes WHP will be the spicy salt on the nightlife scene of the North, sometimes Canal Mills. As for who currently holds the spicy salt crown? That's still up for debate.
Sheffield – Any of the wraps
Wraps are the equivalent of wearing a shirt over a t-shirt to the club. They say "my favourite food is my mum's roast dinner" and "I use a Toshiba laptop in lectures". You are thoroughly average in every single way.
Liverpool – Chicken Butterfly
The menu description for Chicken Butterfly reads "two breasts joined by crispy skin", and if you venture out in Liverpool town centre, then chances are you'll find plenty of exposed breasts – Male and Female, joined by the crispiest skin that the tanning booths of Merseyside can deliver.
Sussex – Veggie Burger
Do you know how many animals get senselessly murdered for food every year? Do you how much blood is spilled because of your incessant desire to devour the crispy flesh of another living thing? Have you ever watched a YouTube video of the inside of a slaughterhouse? Because Sussex has. Forever banging on about worthy causes that no-one really cares about, Sussex is the vegetarian in Nando's that has to guilt-trip everyone around them.
QUB – Adding pineapple to your burger
Rogue as fuck.
RoHo – Mixed spicy olives
Technically not filling enough to be a starter, and technically not close enough to be a London uni, both the olives and RoHo are punching well above their weight.
Leicester- Wing Roulette
A daredevil, a wild card, the joker in the pack. You gambled on your A-level results and now, unfortunately, you're at Leicester.
DMU – 5 chicken wings
Like going to the second best uni in the Midland's third best city, the 5 wings on the Nando's menu will always leave you wanting just a little bit more. You will never know what it means to feel full or have a good uni experience.
York- Sweet Potato mash
York, in theory is a good uni. In theory sweet potatoes are a good thing. A top research uni, a great source of vitamin A. But once you indulge, you realise that York isn't actually all that fun, and sweet potatoes just leave you craving the real thing. You regret your choice and no-one blames you.
UCL – Double wrap/burger
Going to uni in London is like ordering the double at Nando's. They're both experiences that leave you severely out of pocket, as well as delivering a subpar experience. Yeah there's more going on than in your regular uni town/wrap, but it's just excessive. You've got all your life to eat huge quantities of chicken or live in London, why pay so much for it at Nandos?
All Scottish Unis – the alcohol section
An oft-neglected part of the menu/country, the alcohol section can tell you everything you need to know about Scottish unis.
Glasgow – the cider
Cheap, cheerful and with a high %ABV, is there anything more Glasgow than cider? While Nando's may not serve Bucky, this is the option that lets you get smashed in the quickest time and if you're at Glasgow, you're probably drunk most of the time.
Edinburgh – Red Wine
The drink of privilege and well brought up poshos, nothing fits Edinburgh's lofty aspirations better than the Grand Arte Shiraz. The most expensive wine Nando's sells and the most pretentious uni in Scotland, this is a marriage made in heaven.
St Andrews – Mineral water
While most of Scotland is famed for its drinking culture, St Andrews has no clubs and no real nightlife. The mineral water is always sparkling, like the glittering gowns that everyone wears to the thousand balls a semester. It is without question the deadest choice on the menu and the worst choice in Scotland.
Cardiff – Everything on the menu
Arguably the most Nando's uni in the United Kingdom, there is not a single menu item that doesn't work for Wales' premier research uni. The home of what's left of the phrase cheeky banter, Cardiff is the burger, the wrap, the thing you do where you order garlic bread and put it on the burger, the asking for a glass of water to steal a glass of coke, in short it is the most high street uni in the country, and unashamedly so.