The kinda fit young one, and all the other types of teacher you definitely had at your British secondary school
Like the one you started a petition against lol
It's a well known fact at secondary school, every single teacher was a certain stereotype – it's almost as if it were criteria to fit one of these personas to secure a job.
Whether the school was in Bradford, Reading or Newport, there would always be the same group of adults running the show. Like the substitute everyone literally cheered at when they passed through the classroom door due to the hour of carnage which was about to unveil itself. Or the one who had slept with at least five of the female staff, and the one who was definitely a borderline alcoholic.
Regardless of the location of the school, these were the teachers you definitely had:
THE ONE WHO WAS AN ALCOHOLIC AND HAD HALF A BOTTLE OF WHISKY IN THEIR DRAWER AT ALL TIMES
Every classroom entrance was followed by a waft of alcohol and cigarettes. Often trying to embrace the tortured writer persona, they ended up looking straight up greasy and unwashed. Mr Webb mistook his lessons for counselling sessions he desperately needed, and definitely spent the last five minutes of class rolling a fag under the table.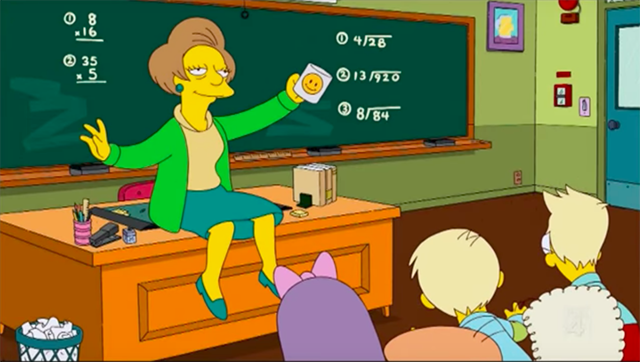 THE SERIAL SHAGGER AND HEARTBREAKER AMONGST THE FEMALE STAFF
Rumours flew around the school that Mr Evans was not only seeing art teacher Miss Clapton, but was also having an affair with the head of food tech, Mrs Smith. It was all confirmed as truth after the school nurse told the English teaching assistant, who was chummy with someone's mum.
THE LONGEST-SERVING MALE TEACHER WHO WAS MILDLY OFFENSIVE FROM TIME-TO-TIME
"What's that? Oh you can't call them that now? Bloody PC brigade!"
THE 60-YEAR-OLD FIT ONE WHO WAS ACTUALLY NOT THAT FIT
Calling him daddy was no accident.
THE TEACHER WHO ENDED UP WITH A FORMER PUPIL WHEN IT BECAME LEGALLY ACCEPTABLE
Selfies popped up on Facebook, they checked in to an ASK Italian with 'one year anniversary with bae' captions, and ended up going on a mini-break to Barcelona when she was only 21 and he was ancient. Ewwwwwwwwww!!!
THE LAME MUSIC TEACHER WHO HAD NO SOUL LEFT AFTER TEACHING COOLIO – 'GANGSTA'S PARADISE' FOR THE 15TH YEAR RUNNING
It'd be easy to feel sorry for the poor soul who tried to teach distracted Year 8 students about syncopation. But after all these years they should've known. Known that if the ting doesn't go skrrraa the kids aren't interested. And no matter how much they shouted, they were never going to stop the class from pressing DJ! DJ! on the keyboards.
THE SUBSTITUTE EVERYONE LOVED BECAUSE THEY DIDN'T CARE ABOUT EDUCATION, JUST FRIENDSHIP
They chatted to the class about Love Island for 20 minutes before looking at the clock saying "shit, we better do some work ha ha ha!" They had no desire to teach, they just wanted to be liked. For them, it was the last week of school before Christmas everyday.
THE ONE WHO USED TO BE A PUPIL, THEN BECAME A TEACHER, SO NEVER REALLY LEFT
In a shocking plot twist, this was never the one who got voted 'most likely to return as a teacher' in the Year 13 yearbook. What should be a tale of aspiration is actually a cautionary tale. Work hard, stay in school, and you can…stay in school? Forever?
THE TEACHER WHO WAS SO BAD, THE WHOLE CLASS COMPLAINED ABOUT THEM TO TRY AND GET THEM FIRED
There was even a petition with 25 signatures.
THE KINDA CREEPY ONE
Most likely found in the Chemistry department, their musky breath crept over your shoulder, trickling down your neck. They didn't say anything – but just stood behind you, hands behind their back, peering at your work and almost silently saying "hmm". They might've even taken a long sniff, concluding in your head that if they were DBS checked now, they definitely would not pass.
THE FEMALE TEACHER WHO FLIRTED WITH ALL THE BOYS AND HATED ALL THE GIRLS
Most likely to be a substitute, in her 40s and recently divorced, they would go against all the usual teacher uniform protocol and opt for low cut tops showing off their recent boob job – how they afforded this still baffles you. They'd find all the naughty boys hilarious, but would despise any of the girls, even when they got the answers right.
THE CREATIVES WHO OBVIOUSLY SMOKED WEED AND DIDN'T EVEN TRY AND HIDE IT FROM STAFF OR PUPILS
They taught art or drama and probably used to live in a hippie commune protesting nuclear weapons.
THE FIT YOUNG ONE WHO WAS FRESH OUT OF THE PGCE COURSE
I mean really, how serious is it for a pupil to date a teacher???? Three years in prison? Some say you can't put an age on love.
THE SUBSTITUTE EVERYONE LOVED BECAUSE THEY HAD ZERO CONTROL OF THE WHOLE CLASS FOR 60 MINUTES, AND YOU ALL DID THE FOLLOWING:
1. Confused them about everyone's names during register so they thought you were Alice but actually your name is Hannah, lol
3. Started making weird noises, such as humming, clicking and whistling, and stopped every time they looked back
4. Slowly shifted the tables and chairs back when they were writing on the board
5. Flicked ink on the back of everyone's shirts (substitute included if on the front row)
6. Lied about when the lesson ended, or if there was homework due that day, because "Mr Robertson never set homework on a Tuesday".
7. Pretended the substitute never even set homework when the normal teacher returned, claiming they "forgot" and "didn't tell anyone".
THE ONE YOU FELT SORRY FOR BECAUSE THEY'RE ACTUALLY A REALLY GOOD TEACHER, BUT NO ONE RESPECTS THEM
They loved their subject, and could tell you everything about Samuel Johnson's essays or the symbolism attached to Gatsby's pink suits or yellow car, but sadly Year 7 just didn't give a shit.
THE ONE WHO WAS A CHAIN SMOKER BUT DENIED IT BECAUSE THEY HAD TO SET A GOOD EXAMPLE
You'll catch them chaining in their car with the windows closed at break time. "Do you smoke, sir?" you'll ask in vain in front of the class, with a knowing glance as you both know that you know.
THE REALLY KEEN ONE WHO WANTS EVERYTHING TO BE "FUN" AND "INTERACTIVE"
The lesson always started with learning objectives, which they read out of their multiple diaries with a colour-coded mark scheme and stickers. Instead of coming up with an effective simple lesson plan, they spent their evenings inventing 'fun' games to try and engage the class.
THE P.E. TEACHER WHO HATED ANYONE WHO WASN'T GOOD AT SPORT
They didn't give a shit that the quieter, un-sporty boys got picked last and were weirdly sadistic in their enjoyment of watching the smaller kids get nailed by a horrific rugby tackle, or when the crack of a red-hand rang out from the changing rooms.
AND THE OLD LADY P.E. TEACHER WHO LITERALLY ALWAYS WORE SPORTS KIT
And glasses. It's quite clear this woman had not done a day of exercise in her life, but she loved making the kids run laps for hours and regulating the P.E. kit.
THE REALLY FIT BIOLOGY TEACHER WHO WAS EVERYONE'S DREAM
She was in her late 20s, and was the pin-up of the entire male population of the school who wanted to "bang" her.
THE ONE WHO COULDN'T ACCEPT THEY WERE OLD AND TRIED TO TELL COOL ANECDOTES AND JOIN IN ON ALL THE IN-JOKES
Someone lock this guy up in Bantanemo Bay! It was like having your embarrassing Dad at home and at school. He thought the class were laughing with him, when really it was laughing at him. He was always going back and forth with Ballroom Banter like he was Banton-du-beck.
THE ECONOMICS LAD TEACHER WHO ONLY TAUGHT SIXTH FORMERS AND DESPISED ANYONE IN YEAR 7-9
They loved nothing more than banter, rugby and a pint as soon as the bell went on a Friday afternoon. They despised the younger ones with their big rucksacks and shrieking voices, so they only ever taught the Sixth Form.
THE ONE WHO HAD JUST GOT OUT OF A DIVORCE
She bitched about her ex-husband and ranted about how all men are terrible. She'd try to shag all the other teachers (especially the young fit one), and would even try it on with a sixth former when times got really tough.
THE ONE WHO SPENT MORE OF THE LESSON TELLING YOU THEIR LIFE STORY THAN ACTUALLY TEACHING
It was fascinating learning about Mr Gordon's time in the Middle East, which left him burnt out and divorced, but at no point did he actually teach you about limestone and granite in Year 10 Geography. By the end, you were at a serious risk of knowing less about rock formations, and more about his weird looking mole that he was wondering whether he should get checked out.