'Aperol is basic': A mixologist reveals what your cocktail really says about you
Cocktails are a common denominator for all Brits. Just like mum always says there's someone for everyone, there's a cocktail out there for every single person.
People who drink Negronis are obviously psychopaths. A Disaronno Sour means you're clueless, and your Old Fashioned clearly shows you're trying to impress someone and, you know what, everyone can see right through you. But what would an expert say? We spoke to Alex Frankl, mixologist at a St Albans cocktail bar to reveal what your cocktail order really says about you.
Woo Woo
For the one who thinks they're going out of their comfort zone, but have basically just ordered a vodka and cranberry. They instantly regret their choice when they have a taste of everyone else's and try (and fail) to get someone to swap.
Mojito
You've finished a long day in the office and want to 'let your hair down' with the girls, but you end up in bed by 10pm, sober from drinking a glass of mint-flavoured ice.
Bloody Mary
The type of people who set out to 'cure a hangover' but know they'll end up drunk at midday anyway.
Cosmopolitan
You are easily peer pressured and don't even like cocktails, you just want to fit in. You've watched Sex and the City once and think this will make you sassy.
Sex on the Beach
The menu has too many options and people are waiting for you to be done with your order. You panic and just say 'fuck it, I dunno. Sex on the beach?'. You don't really know what's in it and can only be pleasantly surprised that it's not nasty.
Pornstar Martini
This is the calling of a basic bitch. Slug and Lettuce is probably your life and you listen to Chris Brown mixtapes.
Old Fashioned
You're a lad on a first date and want to impress a girl by drinking whiskey, but deep down you hate the drink. When she goes to the toilet, you beg the barman to top it up with coke.
Aperol Spritz
You'll spend 15 minutes trying to get the perfect boomerang with your aperol spritz, and everyone will think you're a dick. You squeal if someone says 'avocado' and think that just because you spent the spent the summer in the south of France with your girls, it makes you well-travelled.
Piña Colada
You're just getting it because you know the song and/or want to reminisce about your holiday in Mexico.
Martini
You've seen James Bond and want to be like him, but in reality you're just a lad with jeans showing your ankles, wearing loafers from Sole and a Topman shirt that's way too tight round your arms and chest.
Bramble
A bramble is for the patriotic. This classically British drink – gin, lemon, sugar and blackberry liqueur – is for the one who watches Wimbledon in the summer and goes to the horse racing in the autumn. When you ask this person what they're drinking they snort and turn their nose up, saying 'God, don't you know what a bramble is?'. You've got fairly decent taste, but then again, no-one would notice if you suddenly disappeared at a party.
Margarita
You Instagram a video clinking your margarita and roll your 'rrrr's. You live by the flamenco emoji and wish you were abroad all the time.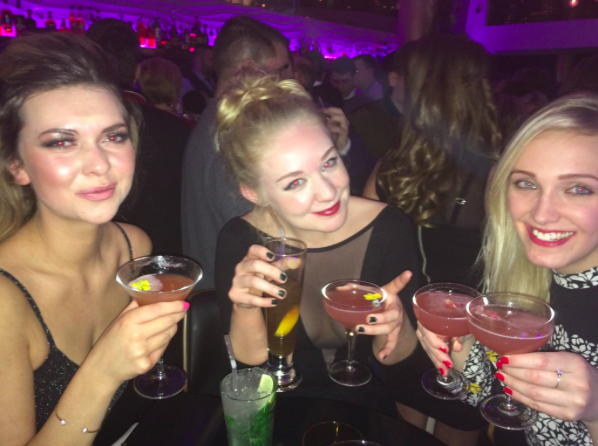 Disaronno Sour
You're just a tit if you order this. Firstly, Disaronno isn't Amaretto. Secondly, it isn't sour, it's sweet. Thirdly, you've put absolutely no thought into it because Disaronno is 26-28 per cent alcohol, so there's literally no point. Save your money and get a J2o.
Negroni
A cocktail for the quiet one of the group. The one who doesn't like big crowds, who may or may not be silently plotting everyone's death. It's a very bitter drink, for a very bitter person. Alternatively, you just ordered it because it's Italian and sounds cool.
Pimm's
If you're the sort of person to order a Pimm's, you need to have a long hard look at yourself. The only acceptable time to drink this extortionately overpriced concoction is in the summer just to humour your Nan – any other time is frankly laughable. Please get those bits of mint out of your teeth.