Cringe things all British teenagers did that prove we are literally the worst people in the world
There are many things British people are known for being truly terrible at: fashion, drinking, saying what we really mean. Somewhere along the line something went very wrong and made us this way. For this we must look to our formative years, the halcyon days – being a British teenager.
When you think about it, British teenagers are the worst type of teenager in existence. Could you imagine a French teen getting trollied on a park bench and puking all over themselves? No, they're at dinner drinking a Châteauneuf-du-Pape, slowly, with an entrecôte de boeuf or something.
Come with me on this journey: let's take a look back at why British teenagers are everybody's least favourite breed of human.
SHARING SONGS OVER BLUETOOTH ON SHIT PHONES AND OBNOXIOUSLY PLAYING THEM OUT LOUD ON THE BUS
Normally some kind of shit UK grime or hip hop that offends the ears, think N-Dubz (na na nai).
GOING ON CHAT ROULETTE INSTEAD OF PLAYING OUTSIDE WITH REAL PEOPLE
Age, sex, location?
FORMING A BAND OR DANCE TROOP FOR THE SCHOOL TALENT SHOW AND RUINING FRIENDSHIPS FOREVER
Rather than taking up Italian ballet or something classy, a bunch of girls would start a break dancing group and inevitably break up after a tiff about who's going to be at the front of the formation.
RUSHING HOME FROM SCHOOL TO TALK ON MSN INSTEAD OF JUST CONVERSING IN PERSON
The sacred period of time after school was reserved for chatting on MSN, especially to a crush that can't be spoken to in person. Kids in other countries probably actually spoke to each other, without using gifs for letters.
WRITING SWEAR WORDS AND DRAWING DICKS ON EACH OTHER'S LEAVERS' SHIRTS BECAUSE BRITISH PEOPLE FEEL THE NEED TO BE MEAN TO EACH OTHER
This is the best way to show affection to friends as school ended. The dirtier the messages on the shirt, the more popular the leaver.
GOING INTO TOWN ON WEEKENDS AND HANGING OUT IN COSTA BECAUSE THERE WAS NOWHERE BETTER TO GO
No one at the age of 14 drank coffee but the group somehow ended up sitting in a coffee shop all day. Eventually everyone got kicked out for not buying anything other than the shots of hot chocolate that cost 50p.
GOING TO MACCIES AFTER GETTING KICKED OUT OF COSTA
The weather's so shit here we couldn't exactly hang out outside.
HANGING AROUND CAR PARKS AFTER SCHOOL BECAUSE THERE WAS NOWHERE ELSE TO GO
Too young for the pub and too old for the park, where do teenagers go? A bloody car park. This is where one might find an after school fight, a dodgy guy selling weed to 15-year-olds, first kisses seen by a large audience, and other such atrocities.
PRETENDING TO BE 'FRAPED' ON FACEBOOK CHAT TO START A CONVERSATION WITH SOMEONE FIT
This is a really embarrassing thing to admit, but everyone's done it, or got friends to do it for them. Sending a message like "hey bbz ur so sexy ;)", followed by "omg so sorry my friends were on my Facebook" is a sure fire way to start a meaningful conversation.
GOING TO U18 CLUB NIGHTS, ESPECIALLY CAPITAL VIP PARTIES
In most other European countries you're allowed to drink beer and wine at the age of 16 and everything becomes a lot less cringe. In the UK they have to give kids a taste of the clubbing experience without the alcohol so they don't feel like they're missing out. They end up drink as much as is humanly possible before leaving the house and then throw up when they get there, hormonal boys see it as an opportunity to get with as many girls as they can, and someone invariably gets left behind because they were meant to be getting picked up by a friend's mum who forgot.
SNEAKING WEIRD COMBINATIONS OF ALCOHOL FROM YOUR PARENTS' CUPBOARD BECAUSE THE DRINKING CULTURE HERE IS FUCKED
Unlike in France, British parents don't ease their children into drinking with a glass of wine at dinner. Instead kids here ended up with strange cocktails in plastic bottles made from a little bit of every alcohol in the cupboard at home, topping each one up with water so no one would notice.
DRINKING IN THE PARK FOR THE FIRST TIME WITH THE STOLEN ALCOHOL
Plastic bottle of alcohol in hand, a group of teens head to a secluded area of the local park and try their alcohol for the first time. This is a formative experience of youth, and will inevitably end in disaster.
DRINKING SMIRNOFF ICE, WKD AND WHATEVER TINS OF BEER WERE CHEAPEST
If only we could have been cool and classy like the Europeans and drink bottles of wine.
USING A FAKE PASSPORT PHOTOCOPY TO GET INTO A CLUB OUT OF SHEER DESPERATION
Just to have a taste of one sip of alcohol or see a real-life DJ, going to any length to get a fake ID was common practice.
LEARNING THE OH-SO-ROMANTIC 'BASE' SYSTEM
Not exactly a nation of romance, Brits referred to what sexual 'base' they had been to. It basically defined coolness after the age of 15. It is contested what these bases are, but to my knowledge, it's: 1. kissing, 2. hand stuff, 3. mouth stuff, 4. sex.
PLAYING DRINKING GAMES LIKE 'RING OF FIRE' TO GET AS FUCKED AS POSSIBLE
Often played in the park/car park near school, these games are designed to get certain members of a group really fucked. They are first played as teenagers, and by uni the rules have been learnt like scripture.
PLAYING SPIN THE BOTTLE
Because we're not romantic enough to be able to actually pull anyone like they can in other countries.
GOING ON A LADS HOLIDAY AFTER A-LEVELS AND REGRETTING EVERY SECOND OF IT
"Aiya, Aiya, Aiya fucking Napa", comes the cheer as the plane hits the runway. By the end of the week they have all disgraced themselves to the point of no return, and stories will keep cropping up for a lifetime. "What goes on tour stays on tour" doesn't exist.
GOING TO PARTIES JUST TO GET TO SECOND BASE
Grim but true. Hearing the horror stories at school on Monday was a reminder of how horrific dating was as a teenager.
TYING A TIE SO IT WAS WIDER THAN IT WAS LONG
London is not the fashion capital. We have no style.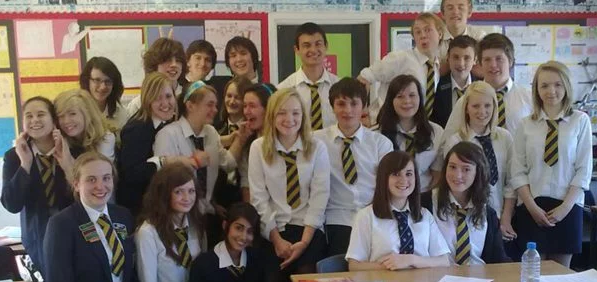 GIRLS ROLLING UP SCHOOL SKIRTS TO AN INCH LONG AND BOYS UNTUCKING BAGGY SHIRTS AT THE BACK
Please, someone teach these kids some style.
GOING THROUGH THE INEVITABLE EMO OR JACK WILLS PHASE INCLUDING THE DODGY HAIRCUT
The emos and the Jack Wills kids were often at odds with each other. Different music, different styles, equally as tragic.
FINALLY BEING FREE OF UNIFORM IN SIXTH FORM BUT DRESSING LIKE SHIT ONCE A-LEVEL STRESS HITS
Lower sixth is when students can put in way too much effort due to the excitement of not having uniform (which other countries don't even have) and then they end up looking like shit by upper sixth anyway.
USING NON-UNIFORM DAY AS AN OPPORTUNITY TO WEAR SOMETHING REALLY FUCKING ROGUE
Like that terrible time in 2008 when leg warmers came back into fashion.
GOING ON BRUTAL DAY-LONG SHOPPING TRIPS TO PRIMARK WITH THE GIRLS BECAUSE THAT'S THE ONLY FASHION WE KNEW
Primark holds the key to cheap, tacky fashion trends that will define popularity and open doors into the upper-echelons of teenage society.
TRYING TO CUT OR BLEACH YOUR HAIR YOURSELF, OR LETTING YOUR FRIEND DO IT
Getting a cool haircut was too expensive so the best friend/budding hair dresser would take on the challenge, ruining your hair and resulting in an angry mother booking in an appointment to cut it really short.
DOING LAME PHOTOSHOOTS ON PHOTOBOOTH
Macs weren't really much of a thing in the UK at this time, so lunches would be spent going round all the computer rooms at school, not to work, but just to do photoshoots with all the effects on Photobooth.
GOING OUT AND SPENDING THE WHOLE TIME IN THE TOILET TAKING PHOTOS ON A DIGITAL CAMERA BECAUSE THE CLUB IS SO TRAGIC
The toilets are the best thing about any British clubbing experience.
TAKING 'CUTE' PICTURES OF A GROUP OF HANDS OR FEET
There is nothing better to do in this fucking place.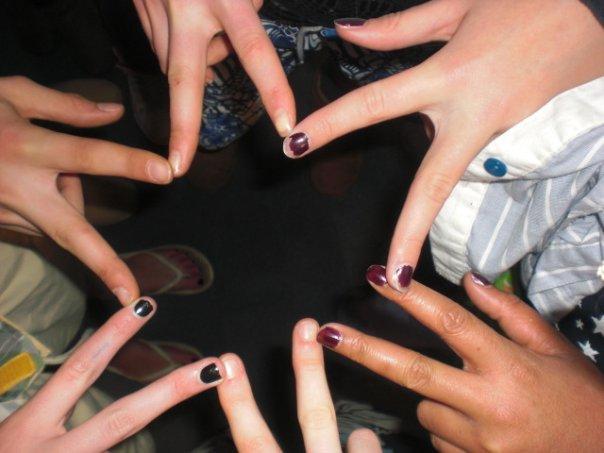 BEHAVING LIKE ANIMALS ON PUBLIC TRANSPORT ON THE WAY TO SCHOOL AND TAKING PICTURES OF IT
It was the only period of time throughout the day unmanaged by teachers or parents, so the only thing to do was be really embarrassing and take pictures of it.
PLAYING WITH THE WEIRD SOUNDS ON THE KEYBOARDS IN THE MUSIC ROOM AT SCHOOL
Especially the sexual ones to make the teacher feel uncomfortable. I bet they get real pianos in fancy German schools.