We tried the Wetherspoon's Loop: The ultimate British drinking challenge
12 pints. 12 pubs. 12 hours.
Each branch of Wetherspoon's is a uniquely-carpeted haven of hops that allows you to get fucked in the most economical way possible while avoiding sitting in a park drinking tinnies like you're still 16.
Us Brits are potentially the most creative in the ways we get hammered. So it may come as no surprise to hear there's something called The Wetherspoon's Loop, a pub crawl celebrating the nation's favourite pub chain.
It takes in twelve of the finest JD Wetherspoon establishments that our capital has to offer around a 12km loop, starting at The Lord Moon of The Mall in Whitehall, and finishing at The Sir John Hawkshaw on Cannon Street. We attempted the London Loop but there are other Wetherspoon Loops around the country waiting to be discovered.
Twelve pubs, twelve pints and twelve hours, taken on by five recent graduates looking to fill the void of post-university life with mindless drinking.
1. The Lord Moon of The Mall, Whitehall
We were already running late when we got to The Lord Moon of The Mall, missing out on the chance to dine on the 'large breakfast'. A dagger through the heart of anyone arriving at a Wetherspoon's just after midday.
For the less magnificent Wetherspoon branches, we set a thirty-minute limit so that we could take our time in some of the pubs on our route that give the Sistine Chapel a run for its money.
The place was packed, we had arrived at peak Saturday trading hours so the sleepy ambience of a typical Wetherspoon's was missing. Tired of being crammed in next to the fruit machines, we left in search of pint number two on our mission to conquer the twelve.
2. The Moon under Water, Leicester Square, 27 minutes.
The Moon under Water is one of those Wetherspoon's that no matter how many people are actually inside it, you can never get a seat. You are forced to awkwardly stay by the bar, getting in the way of everyone else and risking the wrath of a hen party trying to order on-tap rosé by the pint.
We opted to stand outside with all of your regular Spoon's stereotypes. Middle-aged couples already rat-arsed at lunchtime and world-weary men drinking ale and huffing on cigars. The early stages of The Wetherspoon's Loop are designed as merely an amuse-bouche of London Spoon's before you move on to a Michelin-starred main course of public house perfection.
3. Montagu Pyke, Soho, 1 hour, 10 minutes.
Lunch time. The Wetherspoon's menu is as cost-effective as the alcohol it serves and follows the chain's ethos of not fucking around with things that are perfect as they are. If you tell me you can get a burger and pint for £8 anywhere else in London I will tell you at length what a bloody great fool you are. If you order the superfood pasta I will report you to the European Court of Human Rights.
4. Shakespeare's Head, Holborn, 2 hours, 15 minutes.
The Shakespeare's Head is enormous, feeling more like a school dining hall – if your school was Hogwarts that is – with legions of tables packed with half-empty pint glasses and those iconic blue, enamel plates. You could easily spend a day in here.
5. Penderel's Oak, Holborn, 3 hours, 2 minutes.
If Bilbo Baggins' home was a Wetherspoon's pub, it would be Penderel's Oak in Holborn. Cosy wooden booths and, weirdly, bookshelves lined with dusty tomes. I doubt whether the lone, seasoned Wetherspoon drinker would trade in their copy of the Racing Post for a nondescript leather-bound hardback.
It was here, at pub number five where myself and one of my companions decided to skip the allocated pint. We were not the boozy legends we had envisaged. It was as if we had decided to up sticks and move to Struggsville, Ohio. Population: Two Wetherspoon's-loving boys from West London who unfortunately just didn't have quite what it took to compete at the top level.
6. The Knights Templar, Chancery Lane, 3 hours, 52 minutes.
This was the pub that I was most looking forward to visiting. I can safely say with 100 per cent certainty that The Knights Templar, just off Chancery Lane, is the most beautiful Wetherspoon's pub in existence. The curved marble bar, ornate pillars, and chandeliers, not to mention the toilets. The toilets have to be seen to be believed. Unfortunately, there was a wedding taking place. I wish them a long and happy future together, may they enjoy Wednesday Chicken Clubs for years to come.
We, on the other hand, were distraught. Trudging back out with no drink in hand. Dejected, we were staring defeat in the face.
Luckily, one of our party was not taking no for an answer. Highlighted in the picture above, he approached a wedding-goer and offered to buy them a drink if they bought him one too. For reasons that will remain forever unknown, this offer was accepted. Six pints in six pubs. The dream was not dead just yet.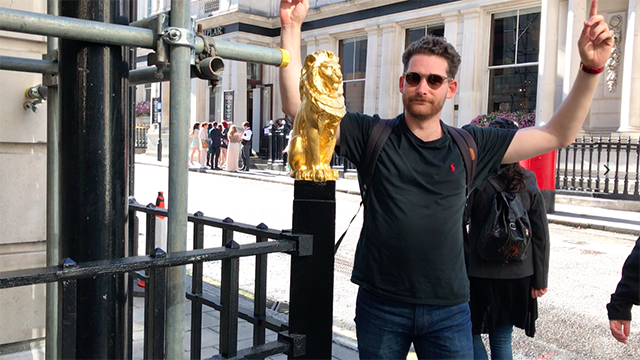 7. The Sir John Oldcastle, Farringdon, 4 hours, 23 minutes.
The lovable man-child on the left of the picture decided to have four pints in The Sir John Oldcastle to make up for missing the last pub. Don't ask me why.
8. Hamilton Hall, Liverpool Street Station, 5 hours, 30 minutes.
There is something special about Wetherspoon's found hidden inside the concourses of train stations. It feels naughty, like skipping school or not brushing your teeth before you go to bed.
9. The Goodman's Field, Whitechapel, 6 hours, 19 minutes.
The proverbial boys got the proverbial pints in. 'Old Man Spoons' also joined us outside for this photo op.
10. The Liberty Bounds, Tower Hill, 7 hours, 29 minutes.
Boys. Beers. And a basic lack of pedestrian awareness. When the media get in a tizz about today's hedonistic youth, this is what they are referring to. Standing in the middle of a road in central London, trying and failing to get a pic of you outside a Wetherspoon's.
11. The Crosse Keys, Leadenhall Market, 8 hours, 26 minutes.
The end was nigh. One of our party decided he was unable to continue further, opting for a quick nap, waiting for the warm embrace of death. In an operation not seen since Dunkirk, we managed to evacuate food and beer from The Crosse Keys to the kerb opposite. The general public walked on by, preferring to ignore our sorry state than having to come to terms with what was occurring at the heart of our nation's capital city.
12. The Sir John Hawkshaw, Cannon Street, 9 hours, 50 minutes.
This was mere metres from the final pub. The Wetherspoon's Loop had beaten us. If you are as big a 'Spoon-head' as you say you are, you know what to do next weekend.