'I was held at knifepoint for my motorbike': Deliveroo riders on the most horrific things they experience on the job
Concerns are growing over rider safety
A delivery driver was among five people attacked with acid in East London a couple of weeks ago, targeted because of their valuable moped they use to do their job.
Alongside smart phones, which are also vital for their work, bike couriers can be carrying around thousands of pounds worth of their own possessions when they're on shift. Working amongst the general public and often late at night, their reflective clothing that keeps them safe when on the road can also make them very visible targets.
We spoke to bike couriers from across the country about the terrifying things that have happened to them while working.
'He pulled a knife out and demanded my keys' – Connagh, 19, Nottingham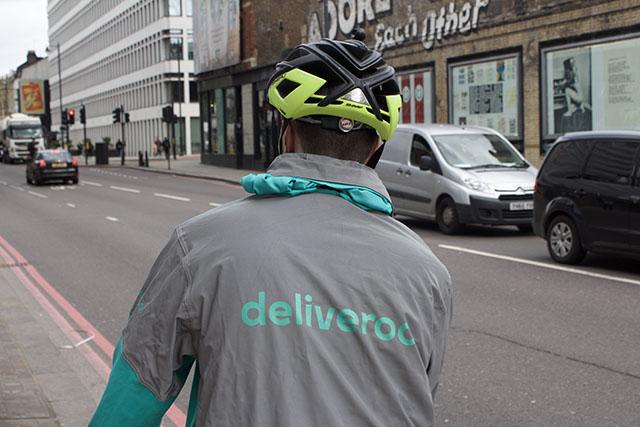 I was returning back to my motorbike after picking up an order from a restaurant in Nottingham. I was parked in their car park and a guy about 16-18 years old was trying to snap the steering lock on my motorcycle. I shouted, asking him what he thought he was doing, but little did I know that there was another guy around the same age hiding behind a car. I was shouting at the first guy and the second guy popped up from behind the car and told me to give him my keys, and I told him no way. That's when I saw that one of them had pulled a knife out and pointed it in my direction.
He said to me again "give me your keys", but in a much sterner tone. When I saw the knife, I was very scared and instantly started shaking. I replied this time with "alright I will give you my keys". I went to grab my keys and in a split moment I decided to go for the guy without the knife. The two guys got scared and ran off. I then called the police. This was earlier this year and was caught on four CCTV cameras in the car park. However, no one has been caught.
'One rider was sprayed in the face with windscreen cleaner' – Luke, Brighton
We've had a spate of riders being chased, things thrown at them in parks, attempted muggings and tons of accidents.
One rider I work with had windscreen cleaner sprayed in his face deliberately. He had done nothing to annoy this driver, they were stopped at the lights and he got sprayed then swore at. It was just someone who hated cyclists, especially Deliveroo riders.
'I got chased by four hooded lads on mopeds' – Dan, 27, Nottingham
I think the only time I've been truly scared was when I got chased by four lads (no lids, masked up, hoods up) on two mopeds.
The guys were waiting by a newly built cycle highway. Luckily I spotted them on approach, and was aware the scumbags had been trying to take motorcycles along there for a few days. I managed to nail it past a few cars before they could get at me.
'Two teenagers beat me up in the middle of the street' – Vlad, London
I was working on a Friday evening – it was December so it was cold and wet – with a bag from a burrito restaurant. Just as I stopped to call the customer a pair of teenagers tried to open my box and take away my stuff.
I tried to defend myself and told them to go away, but they would not listen so I pulled out my folding bike lock to protect myself. One of them was shouting "do you know who I am?!" The entire time threatening to beat me up. Obviously it caused a scene in the middle of the street, which attracted a crowd of people.
Now the crowd was holding us apart and one of the guys from the crowd told me to leave as fast as possible. I took my bike and tried to leave because I did not want to get into trouble for doing something stupid.
As I was leaving, the crowd let go of the two teenagers and they ran up next to me, and hit me from behind knocking me off my bike.
Then both of them started hitting my head until one man from the crowd pulled them away from me. He stayed with me until the police came, and even left his contact details in case the police needed any witnesses.
'Four lads in balaclavas with baseball bats told me they were taking my bike' – Dom, 18, Leeds
I went to an order in Hare Hills and got to an old house that looked like no one had set foot in it for years, then this lad comes out and barks at me "I'm having your bike", I said "are you fuck". I managed to move him off me, but then five others came out of the house in balaclavas brandishing baseball bats so I just cycled off as fast I could.
'One slip and I was a dead man under that bus' – Gareth, Cardiff
As I passed a stationary bus at it's stop it pulled out without warning and almost forced me onto the wrong side of the road with cars also right behind me. I had nowhere to go. The driver didn't even see me in his mirrors. I had high-visibility clothing on and my lights flashing. All I could do was speed up and continue past the bus and signal left to get across to back into my lane. It was raining, very windy and I was carrying what felt like 20 kg of fried chicken and drinks in my bag.
I thought the bus driver was going to give way, he didn't. He accelerated with me just feet away, sharply using his horn and shouting at me. I literally had to pedal for all my worth and was bricking it a bit to say the least. One slip and I was a dead man under that bus. This level of aggression from a man in charge of a huge machine full of passengers absolutely terrified me. I am just a man on a push bike.
I was pretty angry when I got to safety. I chased the bus to get its number. The driver was rude and unapologetic when I pointed out that he could have killed me. I showed restraint and took the bus number. I reported this incident but nobody got back to me. Not good at all.
Deliveroo told us they have hired 50 new staff who will work on rider safety, update its app to enable riders to alert the company to safety concerns, and will trial the use of the latest technologies – including providing GoPros – to ensure riders can work with confidence.