What you could get for the same rent in London versus the North
A one bed flat in Hackney costs the same as a cottage in East Yorkshire
Living in London in 2017 is expensive. A pint will set you back a fiver; the tube isn't as cheap as it used to be. As for the cost of a toastie at Pret, don't even get me fucking started.
On grey days like today it's easy for the London renter to sit back, close their eyes and dream of places where their rent would get them anything more than the shoebox they've cursed themselves to live in – and that's exactly what we're going to do.
Here's what your rent in London could get you up in the Great Wide North, God's Own Country, the land of cheap beer and barn conversions. Better start looking at train tickets.
£400pcm in London
For the measly price of £400 per month, you'd be able to spend your nights in this glorified cot in the less-than-buzzing London borough of Seven Sisters.
The flat, which would be shared with four other people, has a toilet which looks like this.
We don't know what that is on the floor. We don't want to.
£400pcm up north
Up in Sheffield, however, it's a different story. You could have this two bedroom flat in the city centre all to yourself for the same price.
It's in a lovely old building, and it's got a lovely kitchen to match.
Lovely.
£500pcm in London
Another day, another five bed flatshare – at least this one has a double bed.
The flat, in Bethnal Green, has a reasonably spacious kitchen and two bathrooms.
Oh wait, the small print says £500-£800pcm. Looks like you're getting the box room.
£500pcm up north
If you could cope with starting a new life in a tiny village in Northumberland, then you can literally get a four bedroom house for less than the average London rent.
It's even got a yard out back, for barbecues and whatnot.
Not that your friends will be bothering to visit.
£600 pcm in London
It takes £600 a month in London to get some peace and quiet – for that much in Hammersmith you'll actually be able to live on your own.
Still, this one-bed studio flat still leaves a lot to be desired.
Not a lot of room for activities, that.
£600pcm up north
What's that you say? A three bedroom barn conversion? Oooo, don't mind if I do.
This property, in the Cumbrian village of Beckermet, is only a five minute drive from the coast.
And if that isn't enough, it's £30 cheaper than your £600 budget. Up north that'll get you, like, 25 pints down the rustic local pub.
£700pcm in London
Now we're talking. Camden is undeniably a good part of London to live in, even if it has lost some of its indie charm in recent years.
This one bedroom flat isn't exactly massive, but at least the exterior is pretty.
Surely you can't do much better in Lancashire?
£700pcm up north
Oh, right. Yet another barn conversion, this two bedroom house can be yours for just £700 a month.
The house boasts panoramic views of the surrounding fields, as well as a conservatory and an impressive outdoor terrace.
Plus it's got a really swanky kitchen.
£800pcm in London
You know what's cool? East London. You know what else is cool? Exposed wooden beams. Add the two together and this is what you get.
This studio flat in Homerton is actually pretty nice, but it'll set you back an eye-watering £800 a month.
Wait, is that the bed?
£800pcm up north
Oh my God, look at this cottage. Seriously, just look at it.
Seriously, just look at it.
There are no words.
£900pcm in London
Chelsea, you say? Isn't that where all the posh people live?
While the postcode is desirable, this double bedroom in a flatshare isn't exactly the Knightsbridge penthouse you were hoping for.
Still, looks nice enough.
£900pcm up north
What is it with Northerners and their barn conversions?
This one, in Cumbria, has four bedrooms and a pretty impressive interior.
Can't you just see you and your future family having breakfast in here? Charming.
£1000pcm in London
One thousand pounds a month for a one bedroom flat in Penge.
One thousand pounds a month for a one bedroom flat in Penge.
One thousand pounds a month for a one bedroom flat in Penge.
£1000pcm up north
We can only assume that "Maple Cottages" is always this gorgeous shade of terracotta, and smells like freshly burnt tinder.
The four bedroom house in East Yorkshire, has an open-plan kitchen and a frankly unnecessarily large driveway.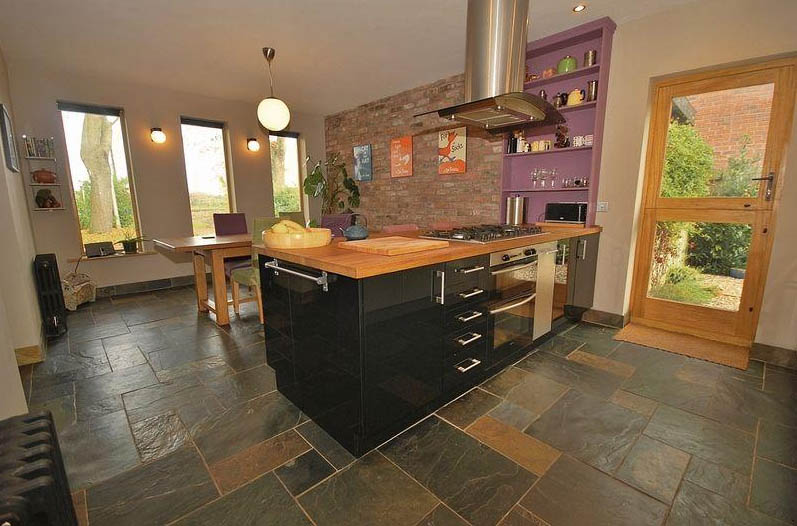 The garden looks out onto a large, green field, over which you could stare and contemplate how good a decision you made when you decided to get the fuck out of London.
£2000pcm in London
Battersea is fancy. Three bedroom flats are fancy.
This is a fancy piece of hot property, and that's why it will set you back two grand a month.
Bet you don't even get a view of the Shard.
£2000pcm up north
This five bedroom house costs £2000 a month.
If you split that with five of your friends, you could each live in it for £400 a month.
The world is a cruel and confusing place.