Bizarre, unexplainable things that only happen on a night out in the UK, but literally nowhere else in the world
British people often get a hard time. Our weird pointy noses, bad teeth, Brummie accents. But we Brits royally piss on our reputation in one way more than any other: drinking. We are simultaneously the best and worst people in the world at it, and nobody, literally nobody, can explain why we do any of these things:
STARTING YOUR NIGHT IN 'SPOONS
Every good night starts this way.
NEVER WEARING A COAT OUT EVEN ON THE COLDEST OF WINTER EVENINGS
Layers are for the weak. Sure, it's minus seven but hell no will you be parting with that £1. You are British, and British people don't feel the cold.
MAKING FRIENDS FOR LIFE WITH THE TAXI DRIVER
"You're the best cabbie ever. What's your number? Can you pick us up later???" You tell him about your dog, which football team you support and your views on Trump. You're going round to meet his family next week. He let you put your music on full blast and for that he is a hero.
DRINKING ALCOPOPS THROUGH STRAWS
If you haven't done a 'strawpedo', do you even live in Britain?
WEARING A BIN BAG INSTEAD OF AN UMBRELLA
You're going to have a drink in one hand and a bag in the other, so simply no room for an umbrella on top of that, and anyway, who wants to hold a wet umbrella in the club? A bin bag, which you have made three holes in: one for your head and two for your arms, is a much better substitute, and you can dispose of it just before getting your ID checked by the bouncer.
STRATEGICALLY DRINKING SO HARD YOU'LL ONLY HAVE TO SPEND A TENNER IN THE CLUB
If you can do the taxi ride there, entry and a whole night pissed for sub-£15, you know you've nailed it. This rule seems to apply throughout your life.
PISSING IN THE STREET AND NOT EVEN FEELING GUILTY LIKE IT IS YOUR GOD-GIVEN RIGHT
We are Brits and we will piss where we want, even if that's behind your mate's coat in the middle of a queue.
DOWNING DRINKS YOU'VE JUST BOUGHT SO YOU DON'T HAVE TO CARRY THEM
Waste not, want not.
PRE-DRINKING WITH SQUASH AND VODKA
And calling it disco-water or a cocktail so that you don't feel like the cheap hoe you are.
MINESWEEPING
Free money!!!
GOING BAREFOOT AND HOLDING YOUR HEELS ON THE WAY TO THE CHIPPY
Glass, what glass? I have something very important to do.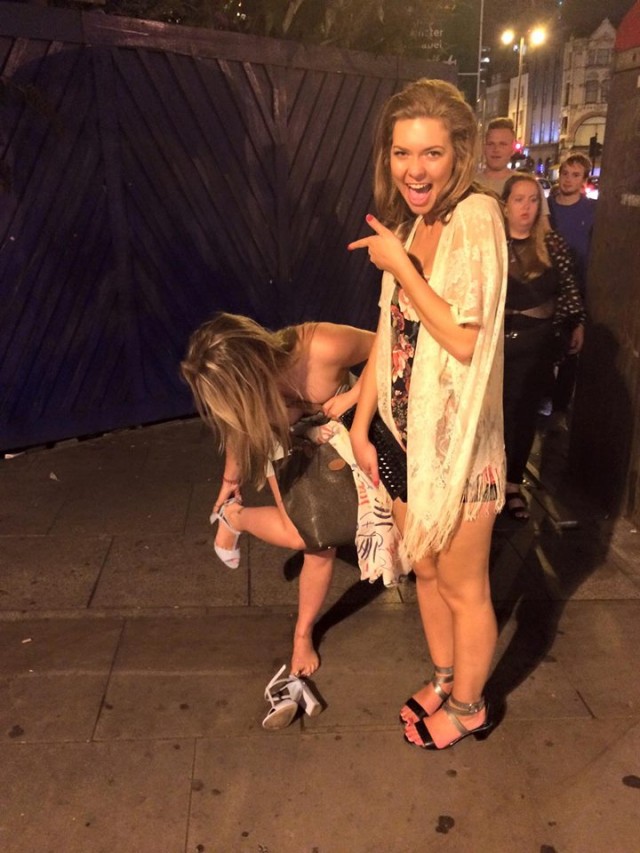 MAKING FRIENDS FOR LIFE WITH THE GUY WHO'S SERVING YOU FOOD
There's a weird competition between you and your friends who can win over the guy behind the counter. You'll bat your eyelids, pout and rub his arm in hope that not only will you get extra cheese, but that he'll remember you (and not the others) on your return.
DRINKING LIKE IT'S A SPORT, A VERY VERY COMPETITIVE ONE
The person who drinks the most pints and makes the biggest tit out of themselves wins. The prize is a special sort of British pride. Bonus points if you puke, lose your friends, phone and dignity.
CHOOSING ALCOPOPS BASED ON COLOUR NOT FLAVOUR
What will it be tonight – a blue WKD or a VK orange? When you really think about it, they all just taste like a diluted metallic syrup which is rotting your mouth one furry sip at a time. Come on, what flavour is a Smirnoff Ice? Ice flavour?
HAVING A DRINK IN HAND AT EVERY SINGLE MOMENT OF THE NIGHT INCLUDING IN THE TAXI, IN THE QUEUE AND IN THE LOO
It's like your hand is just bare and awkward without one.
DOWNING A PINT AFTER SOMEONE DROPS A PENNY IN IT TO "SAVE THE QUEEN"
Does anyone even like the queen that much? I don't rate her.
DRINKING GAMES WHERE YOU'RE SO HORRIBLE TO EACH OTHER SOMEONE WILL END UP CRYING
The question game, never have I ever, any game where you can make up a rule – almost anything where the vulnerable can be targeted. They want tears. They want to see them cry.
THROWING UP BUT CARRYING ON AS NORMAL
Look sometimes you've got to be tactical about these things.
ASKING FOR NO ICE IN YOUR DRINK SO YOU CAN HAVE MAXIMUM ALCOHOL
Extra ice means a) less alcohol and b) more water to add to your eventual sobriety. Why lose at least ⅓ of alcohol when you can have it all? The bartender will roll his eyes.
ASKING FOR NO ICE IN YOUR DRINK SO YOU CAN DOWN IT
It only gets in the way.
GOING ON A BAR CRAWL DRESSED AS GOLFERS
Does anyone out there know why we do this??? Help.
DRINKING AN ASSORTMENT OF DISGUSTING DRINKS AND CONCOCTIONS OUT OF CHOICE
Snakebite, Cheeky Vimto, Jagerbombs, Sambuca, Caribbean Twist, Lambrini, Guinness and black, plus any sort of special your local bar offers, usually with an unimaginative name based on some kind of sex position. No one is forcing you to drink these, so why do you do it?
GOING TO THE TOILETS IN A GROUP, NEVER ALONE
It's a big old world out there – going alone runs the risk of never seeing your friends again, ever. Plus you need the mirror pics.
STARTING YOUR DRINKING CAREER WITH SOMETHING LIKE SOUTHERN-COMFORT-LEMONADE
Or a JD and coke. You will subsequently ruin that drink for yourself for the rest of your life.
REFUSING TO LEAVE WHEN THE LIGHTS COME ON
"Get your hands off me man, The Killers is on."
CHANTING LIKE YOU'RE AT FOOTBALL WITH NO IDEA WHY
Lights off, music is over, you've not gone home with anyone, so before you get food the only sensible option left is to chant inaudibly at the top of your voice. Yaya Toure, Kolo Toure, Will Griggs on fire, Seven Nation Army (Michael van Gerwen to the darts fans) – you have no idea who any of them are, but you chant anyway.
STEALING TRAFFIC CONES ON YOUR WAY HOME
Traffic cone, wheely bin, stop sign, sandbag, to let sign, shopping trolley, the next morning's newspapers from outside the shop, the next morning's milk freshly laid out, literally anything you can get your hands on. Next stop: someone's car. 
CHIRPSING IN THE KEBAB SHOP
Our romance was written in garlic mayonnaise.
CHIPS, CHEESE AND GRAVY
To the outside world, it's a sloppy abomination. To us, it's the salty taste of home. Yes, the Canadians have poutine – but that's just a shite imitation, isn't it?