Hackney, Peckham or Battersea? Where you move to in London, and what it says about you
Sundays sipping Flat Whites on Broadway Market
Something happens to you when you move to London. Like a wolf under a full moon, there's nothing you can do but succumb to the city – and, against your will, transform.
Move to Shoreditch and you might one day look in the mirror to see a bicycle tash and a kilo sale beanie staring back; head west, and you might see your eyes widening and your septum doing the opposite as a siggie finds itself onto your finger, although you can't remember just quite when.
These are the definitive stereotypes you'll need to navigate the just-moved-to-London types in 2017. Beware anyone who still lives in Camden.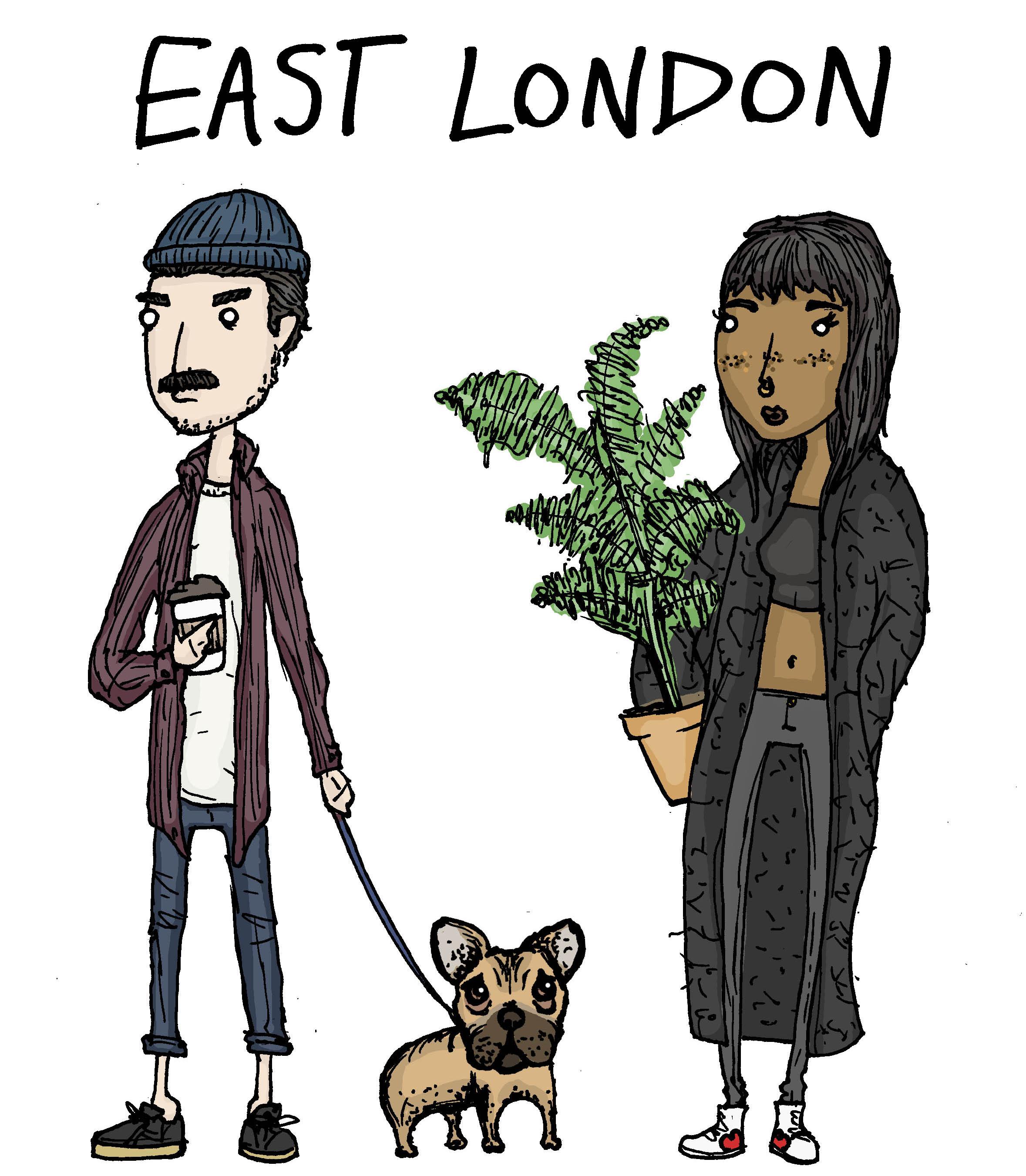 Those who move East will find themselves in possession of a number of extraneous articles: a fixie bike is a must, as is a cumbersome plant from Columbia Road flower market. And yes, everyone seems to have a French bulldog.
The men will wear those tiny little woollen condom hats in dark blue or dark red, while the women will rock all-black ensembles apart from a flash of gold in their septum piercing or white on their CDG Converse.
Everything will be vintage, stained with flat white, and well-worn and dirty from night after night at Dalston Superstore.
The girls will be invariably blonde, invariably brunching and invariably wearing that green puffer from Urban Outfitters. The guy will wear the same in black, teamed with a wavy shirt or some kind of retro sportswear.
You'll see them all at Prince of Wales, sipping on gin & tonics and talking about Sunfall tickets or their next day brunch plans. They will probably have glitter on their faces.
The stereotype may be somewhat worn out (thanks, MIC), but that doesn't make it any less true. St Christopher round the neck, siggie on the pinkie, suspicious white powder on the upper lip – that's just the way they live out West.
No matter the gender, both look best in a crisp pastel or white Ralphie. The guys will team it with chinos and boat shoes; the girls with a Chloe handbag, Balenciaga boots and an Aperol spritz or espresso martini, drunk from a comically large glass.
Whichever one it is, they'll have impossibly shiny hair.
The thirty-somethings of Camden are stuck in a different era. They drink at the Camden Head; they read NME and watch Carl Barat play gigs at Koko.
They talk about Amy Winehouse and craft beer and Cyberdog, and they long for the golden era of the mid-noughties. It's gone, guys – let it go.
Clapham boys are legendary, don't you know. They sink pints and Jägerbombs in succession; they spend their whole time wearing their beloved uni stash, whether it be Exeter or Durham, teamed with a trusty pair of flip flops.
The girls? They're blonder than Brixton and not quite as edgy as Peckham, most often seen with a glass of prosecco in one hand and a clenched fist in the other, yelling out "wooooo" as they order another round of tequilas.
They spend their Friday nights at Infernos, and their Saturday mornings playing rugby or hockey on the common. They don't care what you think – they're having a bloody good time.
Peckham's pretty trendy – you might have heard. The people who live here are the natural progression of the students you see at dingy basement parties in Manchester and Leeds, and won't you bloody well know it.
They've moved back down South, they've shaved their heads and bought some ironic gold jewellery, and they've started living life like a walking, talking VICE article.
They'll chew your ear off about gentrification over a balloon or two, despite not really knowing what the word means. It's either that or their well-rehearsed diatribe about how social media sucks, delivered while taking a selfie in the Bussey Building smoking area or on the much-maligned pink stairs at Frank's.
Perpetually tired, perpetually sweaty, these are the poor young grads who haven't quite broken into the city itself yet. They'd stay and chat, but their mum's made a lasagne and it takes them an hour and a half to get back.
Illustrations by Bobby Palmer