The reactions to JP and Binky's pregnancy announcement, ranked by authenticity
Made In Chelsea has always walked a tightrope between believability and complete and total fiction. Last night, for one glorious episode, the show reached its zenith in both.
Binky is pregnant; no-one else knows. Or do they? Steph's dead-eyed "What the hell is going on with you?" seemed to suggest so – as did Jamie's definitely-not-scripted "Why am I about to pour champagne, what's going on here?"
Who knew? Who didn't? Is anything genuine anymore? Here's a ranking of the authenticity of the MIC cast's reactions to the big news.
Rosie
She fucking knows, doesn't she? She knows. She says it before Binky does. No-one sees someone take a card out of their purse and immediately thinks "That's definitely an ultrasound, and she's definitely pregnant."
Besides, if she didn't know, what kind of friend does that make her? One who doesn't get pissed with her BFF for four months and still has no idea anything's amiss? Bullshit.
Don't expect her to remember the kid's birthday.
Authenticity rating: 1/5
Steph
Steph, on the other hand, has absolutely no idea what's going on.
She's definitely oblivious, mainly because if the producers had asked Steph Pratt to act oblivious she a) wouldn't be able to act and b) wouldn't know what it means.
Yep, this one's not faking it.
Authenticity rating: 4/5
Louise
Look at the genuine shock in her face.
That, combined with the sheer volume with which she yells "WHAT," suggests she's either genuinely surprised or she's trying really, really hard not to give the game away.
Authenticity rating: 3/5
Akin
There are three possibilities as to what was happening with Akin in the immediate aftermath of JP telling the boys Binky was pregnant:
1. He missed the announcement because he was trying to work out if JP had something stuck in his ear.
2. He reacts badly to champagne, and was in the middle of an extremely severe allergic reaction.
3. He was asleep.
Whichever one it was, he battled through it and eventually reacted to the news in the way any confused young man would: by dabbing and crying simultaneously in the background.
Authenticity rating: 3/5
Proudlock
Valiant effort from Proudlock, who reacts to the announcement with immediate repulsion but manages to gauge the vibe and turn it into happiness very quickly.
His face goes through every single emotion on the human spectrum before deciding to settle on a mix of euphoria and relief. He's just glad it isn't him.
Authenticity rating: 4/5
Jamie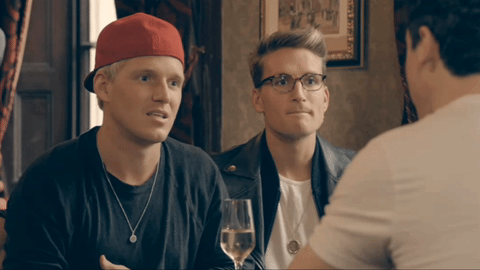 Who wouldn't act like Jamie in this situation? If you say you wouldn't, you're a liar. Jamie's reaction is one of absolute truth and pure beauty, and with every "mate" he utters we're there with him, asking JP: "Mate. Mate. Really?"
We should all aspire to react like this when our friends make bad decisions.
Authenticity rating: 5/5