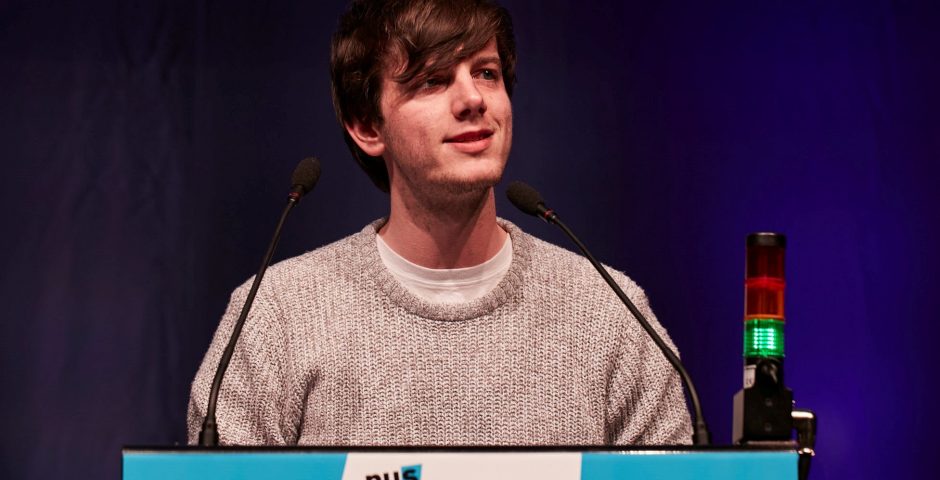 NUS VP cleared of trying to oust Malia Bouattia with the help of the Israeli embassy
Richard Brooks is a free man
Richard Brooks has been cleared of attempting a coup against NUS President Malia Bouattia, after an internal inquiry said he did nothing wrong.
In a triumphant status on Facebook, Richard laid into the far-left officers within the NUS who "piled in on him" for merely doing his job and called on them to admit they got it wrong. In a 1,000 word rant, Brooks said the reason he was targeted was a deep seated anti-Semitism within the organisation and payback for him standing up for students and representing a less popular view that wasn't far-left. He denounced their actions as a "scare tactic" and demanded an apology.
He said:
The last month has been a difficult one for me. My phone has lit up constantly from social media abuse, my family and friends checking in on how I am and lies and mistruths posted about me all over the world. By most people's standards it was a sharp start to elections season.

I decided that there was no way to win that war – far left candidates electioneering and anti-Semites who troll anyone mentioned with the word Israel next to their name tend to not be entirely reasonable.

So I put myself forward to be considered by an independent investigator – entirely separate from NUS – to clear my name and to allow Students' Unions to have an actual understanding of what has happened. At that point, as all elected leaders should, having been properly examined – it was then my intention to be held to account to my membership.

I am grateful to announce that – as I hoped – I have been cleared of any allegations put to me. I have not broken any of NUS' rules by doing what is part of my job description – campaigning and partaking in democracy – as literally every single other NUS Officer does. I have not broken the law by meeting a guy who said he was a student for coffee.

I do not work on behalf of the Israeli Government. I have never met anyone from the Israeli Government. I have not accepted funds from the Israeli Government. It is a lie to say or infer otherwise.

Saying that, I am going to take this opportunity to apologise to students' unions. To those who believe the last month has been another example of NUS' dysfunction that shows we are incapable of not talking at ourselves about the Middle East. To anyone who – rules not being broken or otherwise – hoped that I could exemplify a higher standard of behaviour. I did not wish to disappoint you. I would never wish for anyone to use me as an example to attack other officers – which I abhor and condemn – or our national union, and the great work it does transforming students' lives. I will remember in future that the way you frame arguments privately should be the same as publicly.

I didn't tell people I went to Israel and Palestine for reasons that must be self-evident now, but I still should have been as publicly proud to go on an educational trip that helped me, as I was in private. Let's then look at why some people would say those things, either not having evidence to prove them as allegation or worse – knowing them to be not true and persisting anyway.

1) Electioneering. I will ask you to look at the lists of the most hateful, vitriolic social media abusers and then cross examine that with who the far left put forward as election candidates. They believe that they need to play to their base of far left activists (rather than, I don't know, talking to students through their students' unions) to win elections – and no better way to do that then attack myself in the far left's eyes.

2) Anti – Semitism. The entirety of 'The Lobby' which I was inadvertently in for 45 seconds – is following around Jewish people and those who speak to them, with an ominous soundtrack. It uses the oldest Anti-Semitic trope in the book – that the Jews are out there, controlling the media and the world, to their benefit. It is ant-Semitism, and those associated with it should be ashamed of themselves.

3) Payback. I am (and some would argue, have been since birth – sorry mum!) unhelpful, to the far left. I hope I have been a champion of Students' Unions, and a radical progressive voice within NUS. I have tried to ensure that those who have felt left behind in the movement – Modern Universities, Further Education and Apprentices – have had a voice. For those to whom it is their benefit to keep NUS in the status quo of Russell Group and large HE Students' Unions with far left politics – I am a problem. This was a scare tactic, pure and simple. To show to others who may agree with me that NUS works on behalf of Students' Unions (not the other way round) – that this is what happens when you have the audacity to disagree.

It would be hoped that at this point that the far left NUS officers who either kept quiet or piled in on me for doing exactly as they do, would admit they got it wrong. It would be hoped that the far left officers of the NEC who had used me as an electioneering platform would apologise.

But it's conference season. And they know the game. If only their mates turn up to NUS' Conferences – then they don't have any incentive to admit that they're wrong.

I won't hold my breath.

The truth is, there's a really strong incentive for people to behave like this in NUS for political gain because it works even when it's all lies. We've got to take charge in ending that poisonous way of doing politics and build a movement that's actually fit for purpose. It is my intention to do so.

To every single student, students' union officer, students' union bod, friends and family – I want to say from the bottom of my heart thank you so much for the support you gave me. It meant so much.

To Students' Unions everywhere – this is what the far left do when they believe they're about to lose power. They hop into bed with the nastiest racists, misogynists and bullies around. They convince themselves they are champions of equality, messiahs of social justice, but their actions have the opposite effect and their attitudes sow toxicity across the movement.

And right now, until April in Brighton, they represent students' unions.