What was the most mental under 18s night the UK ever had?
You'll find me in the club, bottle full of Panda Pop
Last week, the world was rocked by nothing more than a simple album of photos, posted to Facebook.
We now live in a post-Epic Under 18s world, and nothing is quite the same. Not only do we now have to live with the understanding that we'll never be as cool as those kids, we're also being forced to confront the grim reality of what we got up to at that age.
What was your Epic Under 18s? Chances are it was at your local club, it closed at 11pm and you were wearing so much hairspray or VO5 wax that you almost caused a chemical emergency.
We've compiled some of the most gloriously cringe Under 18s nights that ever were and ever will be. Vote for the loosest below.
Amadeus, Rochester
Amo amo amo bloody deus. Amadeus was full of boys in Adidas jackets drinking WKDs and pre-pubescent girls in tutus and leg warmers. Before it shut down to become a bowling alley, it was the pinnacle of the raving culture in Rochester.
They had a podium above the dancefloor that could fit about five people but the whole club was determined to climb on it to look "cool." Everyone was there for their first experience of meeting the opposite sex.
To be fair to them, they once managed to get Skepta and Professor Green to perform, so there's that.
Baby Batchwood, St Albans
You were never quite sure if the official name of Baby Batchwood was Baby Batchwood, or whether "Baby Batch" was just a name adopted over time by those who grew up and realised just how fucking babyfaced they'd been when they first stepped foot into those hallowed halls.
Years before you'd make the journey up Batchwood Drive semi-paralytic in an overstuffed taxi, you'd roll up that opulent tree-lined driveway in the back of your mum and dad's car, gawping at the splendour of the manor itself and at the cool kids from STAGS or Beaumont who were already chilling in the queue.Batchwood itself has been a regular haunt ever since, but the heady days of Baby Batch are what you'll always be trying to recreate. The rebellious kids would get pissed off WKDs and the dregs of their parents' spirit cabinets, before spending their nights dancing away to the likes of N Dubz, JoJo and 3 Of A Kind.
The less rebellious kids weren't allowed to go, and would listen in red-faced jealousy as the popular kids recounted who'd got with who the next day.Lovingly named "Snatchwood", the club is a major feature of any true Herts teen's life. Back in the heyday of JLS and *those* fluorescent Topman v-neck tees, Baby Batch was the highlight of every school holidays, when the lemonade was flowing and mum would pick you up at 11pm.
Face it, it hasn't been the same since they took away the podiums.
Beluga Bar, Tunbridge Wells
Beluga Bar in Tunbridge Wells was the ultimate under 18 hotspot. Most schools in my part of Kent are single sex, because Kent has yet to make it to the 21st Century and so any event where there was a chance you might actually see a boy IN REAL LIFE was to be seized upon with the force of all your raging hormones. I was told about Beluga when I was 14 by my friend who informed me: "Beluga's is the ultimate pulling place, like if you can't pull in Beluga's you're ugly." Guess who didn't pull in Belugas? This gal.
My friend and I got dolled up to the max. I wore a dress that cost more than the entirety of the rest of my wardrobe. We also wore witches' hats, because we had been told it was Halloween themed. We had to ditch those in the queue when we realised no-one else had even a flicker of costume on. Not even one pair of cat's whiskers drawn on with eyeliner because everyone was too cool for that. I'd never been more mortified.
In the club there was a weird mix of creepy 17-year-olds who definitely shouldn't have been there, 14-year-olds who kept running off to puke in the loos because they were having their first experiences of drinking and other 14-year-olds who had been so scared about sneaking booze in they were stone cold sober. I was in the last category.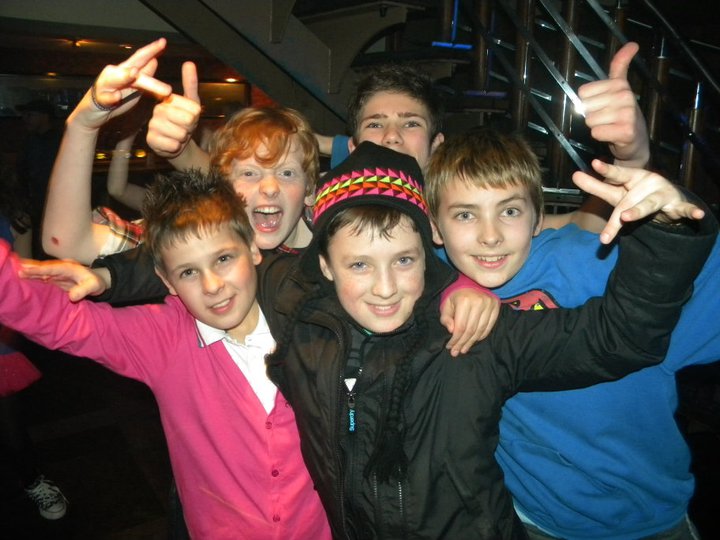 Hardly anyone was dancing because again, we were all too cool for that, so it was basically a bunch of pre-teens standing in a large room, being handed water by adults and either feeling too awkward to talk to anyone of the opposite sex or being so drunk that you skipped talking all together and went straight to being fingered on the dance floor. Everyone knew of someone who got fingered in Belugas.
People's parents came to pick them up at 11. I cried before I went to sleep because I didn't manage to pull in Belugas. It was truly a terrible, tragic and yet magical place.
Bridge Under 18s, Oxford
Bridge, Escape, Lava – no matter where Lazy P nights took place, they were a formative part of growing up in Oxford. Whether you were one of the smug reps or actually had to pay for a ticket – everyone who was anyone was there.
You'd bump into Beth on the dance floor, grinding to Flo Rida with some HOT Abingdon boy with floppy blonde hair and a Jack Wills shirt. Literally everyone was there. The one you really fancied from Teddies, your ex from Magdalen, the really fit mysterious one from Matthew Arnold, the one who you got in a fight with from Cherwell, the one who you always talk to on MSN from OHS but have never really met, the one from Cokethorpe who sent you a picture of his willy and the one who always gets wasted from Rye. Everyone went, and it's what everyone would be talking about the next Monday at school.
And of course, being one of Zappi's reps was a badge of pride. You were really smug as he told you he'd picked you as you were "the coolest from your school" – and he wasn't wrong. "Me and Zappi are mates", you'd tell everyone breezily, "he's so safe." You'd meet him at Zappi's cafe to collect the tickets, and you'd be woozy on the way over because he put TWO KISSES at the end of his text. You'd be inundated with messages on your Motorola Razr, and people would literally be queueing up in your form room to get their tickets.
It was all worth it for the free entry and to strut past the entire queue when it got to the big night.
Bureau Underthelimit, Stratford-upon-Avon
Warwickshire's club scene is pretty desolate at the best of times so imagine how tough it is for the u18s who just want a shot of Pit Bull in their virgin Sex on the Beach. Bureau, latterly Maison, latterly a building site for starter homes, sold that cocktail.
Occurring so infrequently it was difficult to know when they were happening, when they did Bureau opened its doors to all of the county's minors. Bizarrely, though, you could get anything into the club. Hip flask? Check. Cigars? Check. Little to no knowledge of how to interact with members of the opposite sex? Check.
Edwards, Inverurie
Oh god, where to begin. Being the only nightclub in Inverurie, Edwards took it upon themselves to host an U18s night. They probably thought this was an excellent business move – warm up all the underagers now and they'll be dying to get in when they're old enough (or smart enough to sneak in anyway). Oh how wrong they were.
For starters, I recall only about six or seven people being there. I was only 15 at the time but was in awe of all the cool 17-year-olds swigging from a well concealed bottle of vodka, as my mum had specifically told me I wasn't allowed to drink. As a result, I resorted to pounding J2Os with my friend Hannah, hoping to get that sugar high that would possibly make this night bearable (it was her 16th birthday after all).
While the DJ awkwardly played tunes which nobody was dancing to, a scrap broke out. It was something to do with one of 17-year-olds who wasn't cool enough to sneak into a real club thought her boyfriend cheated on her with my friend Hannah.
The night ended with the older girl in tears and me and my friend left early enough that the Co-op was still open so we could comfort eat our way through the pain of that evening. That just about sums up Edwards.
Escape at Tramps, Worcester
Tramps is tragic enough on a standard night – on an U18s night it reaches new levels of tragic.If only it was as good on the inside as its Grade II listed exterior promised.
Was it the sticky floor, saturated with many a Red Bull? The little booth with the black leather sofa that you and your oh-so-rebellious friends clambered onto, dangerously teetering about in heels you didn't know how to walk in? The creepy guys that looked just a little too old to actually be let into an under 18s night?
You'd reach for the poles in all of the rooms, presenting what you thought was a sultry lap dance in your short-shorts and Uggs, before hiding in the toilet and necking the cherry liquor stolen from your parents' drinking cabinet. Quick reapplication of your glitter lip gloss and you were ready to head back down the narrow stairs and onto the miniscule dancefloor.
You probably drank about a fraction of a unit but you still pretended to be absolutely wasted, resulting in you getting kicked out and folded into a space blanket on the steps outside whilst waiting for mummy and daddy to come and pick you up at a respectable 10pm.
Liquid, Gloucester
Liquid Gloucester: a club with a name reminiscent of the crucial element to human survival, h20, and all the charm of being waterboarded by it. With such a reputation, Liquid began running an under 18s night to boost its faltering attendance. You'd get the train to Gloucester for 9pm, and stroll toward the club to the chorus of locals catcalling your female friends from their tinted Subaru's; it's nice to know age was no reason to discriminate.
You'd spend the next 45 minutes queuing while the doormen scrupulously checked everyone for alcohol. Fortunately there were no female bouncers, so find a friend with mammary glands willing to be your temporary alcohol mule and you were good to go.
After three hours of sneaking off to the toilets between songs to sip warm vodka from a plastic bottle hidden in your mate's cleavage, Liquid would close early 'cos Simon had been found with ket or Ryan had started a fight with someone he thought had been posting on his girlfriend's FB wall too often.Cue Gloucester streets full of wasted 16 and 17-year-olds, and an assembly the next day reprimanding your hungover bodies.
Liquid, Newbury
Liquid under 18s nights were the kind of evenings you would have to lie to your parents about, because there was no way they would actually let you set foot in such a place at such an innocent age.
Sandwiched in between some of Newbury's most unpleasant attractions, most recognisably the bus station, the Kennet Centre car park and the council building, Liquid, with its windowless exterior, had the same unaesthetic aura that made it look like it could double up as a brothel. But once you had successfully told your mum you only have five per cent battery left on your phone but were having a sleepover and film night at Phoebe's house, you climbed the stairs up to Liquid.
On entrance to the main room you were greeted with the neon illuminated circular central dance floor, which was already sticky despite you being the first people in there. You'd head to the long bar to the right where you felt so cool ordering a lemonade (cos people will think it's vodka!) Eager to show the boys and girls from Park House, Barts, Kennet and obviously the girls from St Gabs that you were a total legend, you would act pretty lairy, as if the 0.5 per cent cans of shandy you found in your mate's fridge were having some serious effect (and everyone would know you had a tipple before coming here.)
You kept hanging outside in the 2x2m smoking area, which you thought was sick because if you were older or the bouncers weren't there you would definitely be having a cigarette. Pretty cool. Everyone in attendance went all out on the outfits that people must wear when they go clubbing: rave paint, glitter, vest tops cut with extra long arm holes going down to your waist so your New Look 915 bra would show through, floral headbands, hot pants, and anything else your older sibling was photographed wearing at Reading Festival.
This look was topped off with you covered head-to-toe in sweat, thanks to nailing the dance routine to floor-fillers Get Low, the Cha-Cha Slide and Soulja Boy.
Maison, Stratford-upon-Avon
Of course after Bureau there was Maison. The U18s in Stratford-upon-Avon must be wild, because Maison's U18 nights literally had the largest amount of bouncers you've ever seen.
The queue was longer than the night out itself and there were about 10 bouncers staggered along the whole length of the line. One bouncer removed me from the queue just to make me empty my bottle of Caribbean Twist out in front of everyone. Embarrassing. Then when you got in there the only drink they'd offer you would be water from a machine. Again, manned by a security guard.
Like seriously, what does he think I'm gonna do with a plastic cup of water?
The Office, Truro
Advertising itself as "one of the best nights out in the South West," I can assure you from past experience that this is not the case. Under 18/Over 16 nights at The Office consisted of girls in bright neon legwarmers learning how to slut drop in an area commonly referred to as the "pit," whilst boys jeered and pointed from the balcony scaling the entire dancefloor from above. The male gaze has never been made more appropriate.
With the Twitter handle @theofficeschooldisco, this underage night attracted every 16-18 year old from the deepest, darkest corners of rural Cornwall. Private school parents would attempt to prevent their children from attending these nights, out of fear their beloved cherubs would become corrupted by radicalist state school ideology. It is where those who attended all girl schools first experienced the charm of boys plastered in neon paint, clinging onto a Red Bull for their dear life.
The style has changed somewhat over the years; ballet shoes became new balance trainers, fishnet tights were swapped for fake tan, tutus for leather leggings, ripped neon t-shirts for crop tops underneath bomber jackets. Yet despite this progression in style, the sticky, sweat-filled atmosphere and all too familiar sounds of music sent via bluetooth during school breaks have not changed.
Long live Office Unders.
Park Hall, Chorley
RIP Park Hall, gone but never forgotten. Park Hall was the epic underage night in the hotel next to Lancashire's beloved Camelot. Kids from across the area turned out on a Wednesday – the boys in shirts, too much hair gel and Lynx, and the girls in raaraa skirts and leg warmers.
If you were savvy you'd get tipsy before, in the park or at a mate's house. Unfortunately that usually resulted in someone having their stomach pumped, or at the very least throwing up somewhere other than the loo. There was a lot of "going with" each other, basically getting your mate to ask a member of the opposite sex if they fancied a snog, and then doing it without air for two long minutes, before walking away abruptly and never speaking or making eye contact with them again. It was OK to get off with more than person too: it was all practise, really.
The girls slut dropped to Sean Paul and Christina Aguilera on the huge dancefloor, as the boys observed from the floor above, with absolutely no intention of joining in. Every other second was either spent drinking Coca Cola, or chain smoking because nothing made you feel more grown up than smoking a real cigarette in a real nightclub that your parents were not present at. When you left your hair would stink, but obviously you told your mum that was all the other people smoking around you.
Say what you want about Park Hall, but Chorley's clubbing scene has never been the same without it.
PM Bar, Bradford
If you didn't make it to the surfwear foam party you were a nobody. The night would start with Lambrini in a park and, if you were lucky, some Smirnoff Ice in a shitty living room.
Obviously before you actually set off you'd put on that new bronzer you bought in Kirkgate Market with a bikini top and shorts before taking selfies in the mirror. If you didn't put concealer on your lips, you so weren't getting in.
After your mum dropped you off outside you'd realise the line would actually be longer than the amount of time you'd spend in the club. The bouncers were useless at stopping you smuggling in bottles of vodka to really get the night going and there was no greater glory than getting a coke bought for you by the almost-eighteen year old. The really cool girls would spend their night pole dancing, which looking back really isn't something 13-year-olds should be allowed to do.
You'd pretend to enjoy getting soaked with sticky and slightly smelly foam whilst bitching about the girls from other schools. Who did Lucy even think she was anyway? The night would really peak when you bought pills off someone in the men's loo and you'd spend the rest of the time asking your mates if they felt anything. They didn't. It was really paracetamol which earnt the person who conned you a smooth £50.
You'd get picked up by your mum at 11pm.
Sheiks, Bognor Regis
Down on the sunny south coast of Sussex lies the popular seaside destination of Bognor Regis, renowned for being home to the first ever Butlins and plenty of youth crime. Upon its truly magnificent pier is Sheiks, the town's most populous Friday night destination.
Back in 2011, the U18s night was a thing of legend: cheap Coca-Cola, a chance for a kiss on the lips with an actual girl and a banging lads' night out all round. So I, along with my intrigued Year 10 mandem, decided to throw on our finest three-button Topman baseball t-shirts, spray an entire can of Lynx Chocolate onto our bodies, and hit Bognor's most dank D-floor.
Having briefly queued in the Sussex summer sunshine due to the fact that the night started at 6:30pm (and so this is exactly when our mothers dropped us all off), we entered (with newly sweat-patched armpits) what could only be described as the coolest venue of our lives. It was dark, loud and sticky, but in our minds it was just the perfect playground. We'd sneaked a Smirnoff Ice each down our throats before entry, and so were suitably tipsy as we cockily strode through a sea of heavily made-up girls and hard-looking "local lads," who were donning Ralph Lauren polos that had clearly been ironed by their Mums just moments before.
But soon the party was rocking. Literally. Sheiks' secret weapon was its hydraulic dancefloor, which moved up and down as the crowd bounced to Pass Out by Tinie Tempah. Were you about to break through the bottom of the pier and cause a splash? Who knew, and who cared? Certainly not us.
We skanked to within an inch of our lives, pausing only to hydrate ourselves with a sip of Panda Pop bought with the money Harry had nicked from his older sister that very morning. Sheiks was also my first experience of a smoking area, which looked out over the scenic English Channel. It had been frequented by the cooler year-above lads, who we could only aspire to be.
I was asked for a Rizla, which I genuinely believed was the street name of the tube of sugar I was clutching in my hand (again, bought kindly by Harry.)I sheepishly said that I did, but that it was my last one and downed it there and then, in an act of defiance. I was called a twat.
SNAP Disco at the Assembly Hall, Worthing
I attended the Say No And Phone disco, run by the Sussex Police, as a proto-horny 13-year-old. I can't recall exactly what we were supposed to be Saying No to and Phoning them about. Drugs? Strangers?
I wore one of those short-sleeved flame shirts, baggy jeans with a chain on the belt-loops (I got it from a pet shop), and a David Beckham-style mohawk that involved dumping half a pot of Brylcreem on my head. I thought I looked like a Premier League footballer, but looking back it appears I was more Guy Fieri if he'd been shrunk in the wash.
The Panda Pops were flowing, the music was blisteringly loud, and there were basically only two ways to dance to it – grinding, or slowly swaying side to side while watching other people grind. Sometimes girls with braces would come up to you, nod towards the grinders and say "do you wanna get off?" You would turn red and say no because girls are gross.
Someone would always bite into a glowstick, and you'd hear rumours about kids from the rougher school getting pregnant after what could feasibly only have been a light fingering. No nightclub since has matched the verve and intrigue offered by those nights.
The Snow Ball, Chester
With an excellent pun for a name, The Snow Ball took place every December at Chester Racecourse and was about as messy as a J2O-fuelled night can get.
Open to 12-16 year olds, the black tie event had all manner of activities from a bucking bronco, to a bungee run. Naturally all the girls got mega dressed up and looked about 21, and all the boys wore M&S suits that were way too big for them. It was mostly the really posh Cheshire lot who all had horses and their mums drove Range Rovers.
People had their first kisses here, and of course everyone took pictures on their LG Cookies to show to people when we got back to school in the January. There were also mums over other kids there who were "helping out" on the bar, but who mostly just all stood together cooing at how grown up their son Tristram is. There was the absolutely enormous entrance room where everyone left their massive Jack Wills weekend bags ready for sleepovers that night, as well as the main disco room, which to my memory, was incredibly dark and very sweaty.
All in all, a pretty iconic part of growing up in Chesh.
The Venue, Barmouth
The Venue have a special kind of U18 night called "House Party/Big College Party". It's for 16 & 17-year-olds apparently (even though you'll have plenty of 13 year olds flying about), but if you're 18 or over you can still be served.
You'd think there wouldn't be many weirdos that were actually of age who wanted to spend their night with "kids," but that would be wrong. There are plenty of 18, 19 & 20+ year old lads there who revel at the thought of spending their nights hitting on 16-year-olds. I wish I was joking.Walking up the stairs of heaven, you'll check yourself out in the "hall of mirrors" before getting some 19-year-old you know from college to fetch you a cheeky blue WKD. Nice.
You'll make your way to the hellish pit in the ground known as "the dancefloor" and it's filled to the brim with lads wearing either white Armani T-shirts or white Ralph Lauren polos, sweating their tits off, showing off their gabber moves to some remixed football chants or Solo 45's Feed Em To The Lions.
You'll finish off your night eating someone's face. You won't have a fucking clue who they are, but they looked fit so you chanced your luck. You'll have a cheeky fag outside, pray the cops don't catch you, then catch the coach home before having to pretend to your parents that you aren't fucked off the Glen's vodka & cokes and WKDs you managed to neck on the sly all night.
The Venue, Belfast
If you were under 18 and "alternative" The Venue – sadly now dead but always fondly remembered – was the only place you were going on a Friday night. There would a mass exodus from City Hall and Custom House Square (because that's where you lived if you were a "hippy" teen) by 6pm and the queue would snake round Dublin Road, everyone desperately necking vodka in boost bottles and pretending they weren't wearing the exact same fishnet checkered vans band hoodie combo as everyone else who spent all their parents money in Fresh Garbage.
Inside was everything you'd expect from a "goth" U18's night; they played Metallica's Enter Sandman every time without fail and everyone would sing along with really bad theatric headbanging like they didn't just learn the words two days ago. Oh and everyone screamed when they played I'm Not OK by My Chemical Romance.
It was also ridiculously easy to pull, like, easier than any nightclub I've ever been to since. I had my first attention-seeking same sex experience there, and one of my first boyfriends dumped me the one weekend my mum wouldn't let me go, because he wanted to finger other people. It was fucking wild.
The bouncers always looked like they hated themselves for having to work there and to be honest I kind of hate myself for going.
Contributors: Daisy Bernard, Roisin Lanigan, Matt McDonald, Lucy Woodham, Megan Ward, Katie Weston, Verity Bowman, Mared Parry, Rhys Parry, Oli Dugmore, Chloe Imrie, Marie-Elise Worswick, Bradley Young, Serena Smith and Hayley Soen
Think your filthy under 18s night deserves a mention? Tell us why in 200 words at [email protected]