Expectations vs reality: Your first year as a graduate
No, you won't live in a studio flat in Central London
The future belongs to those who believe in the beauty of their dreams. So said Eleanor Roosevelt, in a sentiment echoed a thousandfold by optimistic first, second and third-years who believe they're going to leave uni and actually be, you know, fine.
Of course, graduates think differently. Graduates know what it's actually like – they know the truth – and they know that hopes and dreams exist only to be stamped on and stamped on again by the giant merciless boot which is the real world.
So, for those who are soon to leave uni and experience the miserable realities of life as a graduate, take this as something of a warning sign. Here are all your expectations of grad life – and every way in which they won't exactly pan out.
EXPECTATION
You will have landed a decent grad scheme job
REALITY
You are still washing coffee cups in Caffe Nero, where you've been an employee since you were 16. Not even Lidl wanted you.
---
EXPECTATION
You will very quickly cut all ties with your parents because you're responsible now
REALITY
You'll live back in home for a laborious, soul-destroying 18 months, during which time you won't be able to shag and you'll never stay out past 11pm on a Friday night because you have to get the last train home.
Even when you move out, your dad still pays for your phone bill and your mum gives you twenty quid every time you see her out of pity.
---
EXPECTATION
You'll live in a brightly lit studio flat, like in Friends or something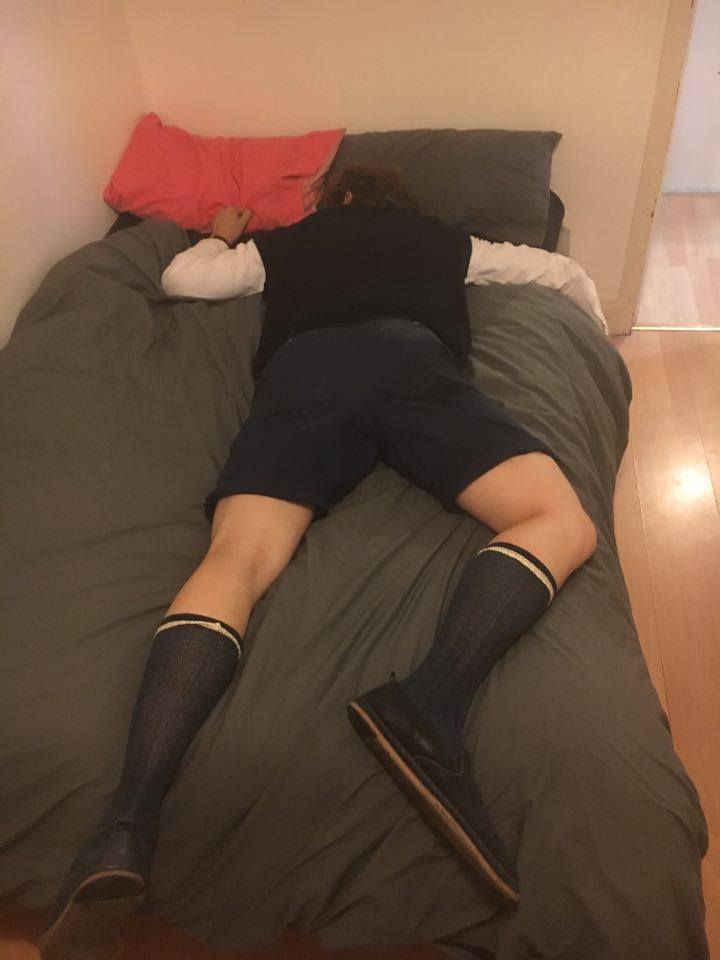 REALITY
When you finally do leave the nest, it will be into a woefully small, mouse-infested broom cupboard 35 minutes from the nearest tube station. Your neighbours will all be cybergoths (they still exist in Streatham), your landlord will be uncontactable as soon as anything stops working, and your neighbourhood, which seemed trendy at first, will get you mugged on your way home from work every other week.
After your six month contract ends and you've come to hate your flatmates, you'll be begging to move back in with mum and dad again.
---
EXPECTATION
You'll be rich as fuck
REALITY
After those 3-6 months on your parents' sofa scouring job boards and wondering if you "might maybe wanna do a Masters actually," you'll dabble with shitty unpaid internships until you eventually land a miserable, entry level position in the city.
You're there before nine and never leave before six and make barely enough to cover rent and a phone contract which suddenly seems extortionate. You can only afford to roll your own cigarettes and your mum feels sorry enough for you around January to buy you a new winter coat.
It will be worn in your shit flat because you can't afford heating. Heating in your twenties is a luxury.
---
EXPECTATION
You'll be doing a big shop at M&S
REALITY
M&S will be out of your price range until your late thirties. You will be lucky to do the train journey shop there
---
EXPECTATION
You will have a rooftop with a slight view of the shard and on it there will be tropical house music playing as the sun sets on you and your beautiful grown-up friends
REALITY
You pictured sipping gin with cucumber, mint and ice in, because they're all things you'd have in your grown-up flat. You'd have surrounded yourself with intellectual people who know how to barbeque; they would wear pastel colours and have great teeth and sunglasses. Someone would put on Jamie xx and you would think to yourself: "This is it, this is the city I live in."
Wrong. There are fuck all rooftops in London. The sad reality of the capital's living crisis means yeah, you can have your rooftop, but it'll cost you £1,500 a month and you have to share it with other beaten-down creatives who are as sad as you.
There's no music, no gin, and there's certainly no view of anything other than other flats. Welcome to the rest of your life.
---
EXPECTATION
You'll go on loads of weekend breaks
REALITY
There is no such thing as disposable income or spare holiday. No weekend breaks for you.
---
EXPECTATION
Your early twenties will be a Carrie Bradshaw-esque dating frenzy
REALITY
You will occasionally meet someone at a flat party. You'll snog them like a teenager and have a sad one-night stand, only to find they've given you a fake number the next day.
Mostly, though, nothing will last and you'll spend your evenings aggressively swiping right on Personal Trainers, hoping one of them will match with you. They won't.
---
EXPECTATION
Your tube crush will eye you up and you'll start a whirlwind romance
REALITY
That fitty on the tube carriage made eye contact with you once, so when you find them on Happn you decide to charm them. They don't respond.
You decide to get a bit close to get their attention. They move carriage.
---
EXPECTATION
Lots of shagging
REALITY
Little to no shagging.
---
EXPECTATION
That Michael Kors watch you bought in third year will be in fashion for the next five years
REALITY
Cool. Timeless. Mature. An investment piece. This is what you thought, when you bought this rose gold piece of shit with your last loan payment. Three weeks into your new graduate life someone laughs at it in the queue for the toilet at a shit house party and you realise you look like you work in PR and watch Celebrity Big Brother so you ditch it and pretend you never owned it.
Essentially, your graduate life fashion transformation is just like uni – make-believe you were always like this and detag and burn all evidence to the contrary.
---
EXPECTATION
You'll see your old uni mates all the time
REALITY
Your friends from Manchester visit once, decide Manchester is a better city and invite you up there for a weekend instead. But you have more interesting friends down here in London. You've got boutique markets to go to. You've got negronis and eastern fusion tapas to eat.
It's the capital for God's sake – you're not at university any more. Why would you want to go anywhere else? You end up spending all your time with your cool mates who work in start-ups. Just make sure you stay in touch so you get an invite to their wedding.
---
EXPECTATION
Everyone will live really close to each other
REALITY
Travelling from one part of London to another can be as long as getting a flight to Scotland, and if Katie only lives 30 minutes away, who can be fucked to get a bus and two tubes just to talk about how you "can't believe it's been so long?!"
---
EXPECTATION
You'll have your drinking limits down to a tee
REALITY
After spending the last three years necking pints and downing shots, you know exactly when enough is enough.
Or not. You still haven't accepted the fact you can't drink tequila and are still the one texting their ex after a bottle of wine.
---
EXPECTATION
You'll be completely over your ex
REALITY
Maybe you were off to a good start. Maybe things started looking up after you discovered how much better Bumble is than Tinder, you even deleted his number.
But then things with that new guy get bad, the weather gets cold and next thing you know you're "accidentally" FaceTiming him 20 times at 3am.
---
EXPECTATION
You'll go to brunch, like, so much
REALITY
I mean, yeah, you will. But you'll spend so much on it that all you'll be able to eat on weekdays is tinned mackerel and frozen veg from Iceland.
Still, the Instagram pics look beaut.
Contributors: Grace Vielma, Tom Jenkin, Roisin Lanigan, Daisy Bernard, Lucy Woodham and Oli Dugmore