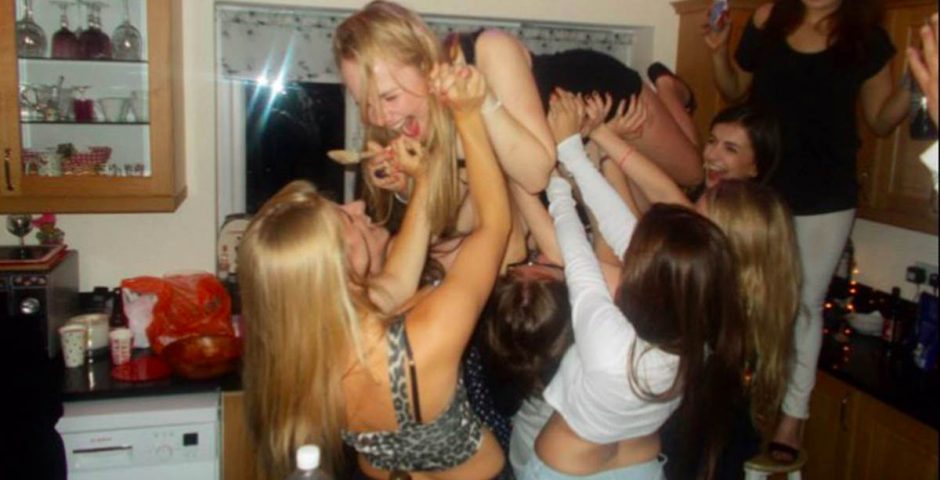 The undeniable differences between a big night out in the North and the South
What's a coat? Never heard of it
There isn't such a thing as being English – not really. To outsiders it may seem like an identity, but here in our green and pleasant land there are only two identities which really matter: Northerner or Southerner.
Take, for example, your average night out in London, compared to a rager in Liverpool. Compare a mad one in Norwich to its equivalent in Newcastle. There's a yawning abyss between the two – and no, we're not talking about the Midlands.
Here's how a night out differs between the North and the South. We'll let you decide which is more fun.
UP NORTH: THE GIRLS ALL GET DRESSED INTO BODYCON DRESSES AND HEELS, NO TIGHTS. THERE IS NOT A COAT IN SIGHT
Oh, and two or three generously applied coats of fake tan, of course. With fake lashes on and rollers in, you're ready to hit the town – even though the St Moriz has made you stink like an accident in a biscuit factory.
As for a coat: what's that? Never heard of it. They're for softies, even though it's -10 degrees outside and you're wearing nothing more than heels and a Herve Leger bandage dress.
DOWN SOUTH: THE GIRLS PUT ON FLAT SHOES AND SPEND FIVE MINUTES SELECTING THEIR WARMEST, MOST PRACTICAL JACKET
It doesn't take you too long to get ready if you live down south. With no-one wearing dresses, heels or false eyelashes, all you need to worry about is choosing some jeans and a nice top, and picking some trainers to go with them.
Oh, wait, you're gonna need a coat too – preferably a Canada Goose or a North Face puffer, something more suited to the slopes of Chamonix than the streets of Chelmsford. What? It's fucking freezing out there.
UP NORTH: THE GIRLS PREDRINK ON ROSÉ OR SAUVVY B
You've got your £4 bottle of Echo Falls from Best Buy or Co-op and you're ready to party. If you're feeling really fruity it's a bottle of Glen's and some unbranded funky-looking tropical juice, which will be thrown up out of the taxi window on the ride to the club.
The lads, on the other hand, are drinking beer – warm cans of Fosters or warm bottles of Bud. Always warm, despite there being a fridge in the room next door.
DOWN SOUTH: THE GIRLS PREDRINK ON PROSECCO
Southern girls love prosecco – they'd have it coming out of their taps if they could – so expect everyone to turn up to pre-drinks with their own bottle in tow.
The guys, of course, are drinking beer – a four-pack of Red Stripe tins or Corona bottles, unless they decide it's time to get naughty and tuck into the Captain Morgan's and ginger beer or Gordon's and tonic.
UP NORTH: YOU HAVE TO RING A TAXI PAINFULLY FAR IN ADVANCE OR YOU'RE FUCKED
The routes to most clubs beyond Bedfordshire are so steep, rural and badly lit that attempting the climb without a mountaineering qualification and trustworthy set of belays is a very bad idea.
No, you're going to need a taxi – and if you haven't ordered one already, you're going to have to call at least three different companies to get one. Unless, of course, you've advance organised a minibus "for the girls," in which case you're laughing.
Every night out in the north is basically a hen party anyway, so you may as well travel in style.
DOWN SOUTH: YOU ORDER AN UBER WHICH ARRIVES IMMEDIATELY, SO YOU HAVE TO DOWN YOUR DRINKS
Within seconds of you clicking the "request" button you're hit with a notification telling you your driver is outside. You're forced to all bolt the remainder of your G&Ts and finish your cigarettes, while one of you is tasked with rounding everyone up and escorting them out the door.
By the time you do this your Uber has already timed out and cancelled, so you're forced to wait an extra two or three minutes outside the house while Phoebe orders another. The horror!
UP NORTH: THE TAXI DRIVE IS AS LAIRY AS THE CLUB AND THE DRIVER IS LOVING IT
"Where ya going tonight girls?" A generic Calvin Harris banger is blaring out of the speakers; someone is hanging out of the window like a dazed and drunken dog. One of you is chewing the taxi driver's ear off about their ex, and he's loving it.
He ends up being one of your sister's friend's uncle, and he probably has a swig of your pre-mixed vodka lemonade. You take his number and promise you'll ride back in his cab at the end of the night. You won't.
DOWN SOUTH: THE UBER RIDE IS AN AWKWARD AFFAIR AND THE DRIVER RESENTS YOU THE ENTIRE WAY
There are three ways your journey could pan out:
You take an Uber. Your driver hates you and doesn't talk for the entire time. If you're lucky, he may begrudgingly offer you an aux cable, which Tom will hijack to play shit house music on his phone. The whole thing will be an awkward, sobering affair.

You get a train or a bus. If a train, you take sneaky sips out of a vodka cranberry can while the people at the other end of the carriage glare at you with resentment. If a bus, you secure the seats at the back and swig from a pre-mixed plastic bottle of vodka squash while the people in front glare at you with resentment. Either way, the resentment will be palpable.
You're lucky enough to be within walking distance, in which case you'll delight in whimsical conversation and some rapidly warming road beers. This is by far the best way.
UP NORTH: YOU NIP INTO A SHIT PUB FOR PITCHERS BEFORE
It's a Yates or a Revs or a Lloyds, and you know just about everyone in there. There'll be a £1 pint deal or two for a fiver on vodbulls, and the resident DJ will be older than your dad.
DOWN SOUTH: YOU QUEUE FOR A SHIT BAR FOR COCKTAILS BEFORE
You'll want to kick the night off with a sense of purpose, so you head to somewhere classy-tacky with just the right amount of gimmicky occasion: a cocktail joint, or a gin club, maybe even a fucking tiki bar.
The bar tops will be stainless steel and sticky, the bartenders will have beards and look bored and all of the cocktails will be set on fire for no reason. You wish you'd gone to 'spoons, where the £12 you just spent on a maple syrup negroni could have got you four pints of Carling and two songs on the digital jukebox.
UP NORTH: THE QUEUE IS A SOCIAL AFFAIR
You will make friends; you will make enemies. You'll share some beer with the lads in front. You'll go for a piss in a nearby alleyway with the girls behind. You are all united in your love of the sesh, and it's a beautiful thing.
DOWN SOUTH: PEOPLE SHOUT AT YOU FOR PUSHING BEFORE YOU ARE FRISKED AND ASKED INTRUSIVE QUESTIONS WHILE A MAN WITH A TORCH SEARCHES YOUR HANDBAG
There is no trust south of the Watford Gap.
UP NORTH: YOU PAY BASICALLY NOTHING FOR ENTRY
Obviously. This is the North.
DOWN SOUTH: ENTRY IS FUCKING EXPENSIVE
What were you expecting? It's going to be £10 entry at least, and if you think there's any leeway with how many people you can sneak onto your +6 guestlist then you're in for a shock.
You'll then have to queue 20 minutes for the cloakroom, which is charged at the same price as an entry to a decent club in the north. You will try to put two coats on one hanger, and be brutally rejected. 
You'll either have to queue again at the end of the night, or you'll drunkenly "forget" to pick up your coat and be forced to take a shameful sunlight Uber back to pick it up after you've sobered up in two or three days.
UP NORTH: THE BOUNCERS ARE DICKS
DOWN SOUTH: THE BOUNCERS ARE DICKS
This is the only constant.
UP NORTH: IT'S NOT EVEN MIDNIGHT AND THE CLUB IS ABSOLUTELY POPPING OFF
Guys on the dancefloor already have their shirts off. A girl is being sick in the corner. There's a fight happening by the bar and you can't use the toilets because someone has passed out in the piss trough.
You can't decide if this is your idea of heaven or hell, but you roll with it anyway.
DOWN SOUTH: IT'S ALMOST MIDNIGHT AND PEOPLE ARE STILL TAKING THEMSELVES REALLY SERIOUSLY
No-one is getting quite as loose as you'd like: the music is too low-key, the groups on the dancefloor are side-eyeing each other and everyone is way more interested in looking into the middle-distance for candid Instagram photos than actually having any fun.
There's be a pole. There's a guy on the saxophone for when they play Show Me Love or Mr Saxobeat. For all its inventiveness, you long for the sticky sick-stained glory of a nightclub in Preston or Hull.
UP NORTH: THE BAR IS RIDICULOUSLY CHEAP
The pints will come in flimsy plastic cups; the wine will be swigged from the bottle. You will be doing shots of sambuca, no matter your age of disposition. 
WKDs, VKs and Bacardi Breezers are still a thing in the North – and you're definitely not too stuck up to indulge. Cheeky Vimto? Don't mind if I fucking do. Don't expect to see a cocktail in sight, unless it's sickeningly neon and served in a comically large watery pitcher or fishbowl with straws galore.
DOWN SOUTH:
THE BAR IS RIDICULOUSLY EXPENSIVE
The cocktails set you back a tenner. In fact, most things on offer will be in the tenner realm. That said, it's only £7 for a single vodka and mixer, which is fine because the house vodka is Russian Standard and it comes in a thick black plastic cup.
The bartender you order from has thick arms and thick specs and hates you. It's nothing personal, he just likes to think of himself as a mixologist and hates every loathsome customer who reminds him he works in this godforsaken place.
UP NORTH: THE SMOKING AREA IS BALTIC BUT NO-ONE SEEMS TO MIND BECAUSE THEY'RE BUSY MAKING FRIENDS
The smoking area, which is sprawling and fenced off all around with discount wicker and bamboo, is absolutely baltic. Still, that doesn't stop the lads in T-shirts and the lasses in short skirts perching on their laps from leisurely puffing on their fags and chatting away.
This is where you meet your real friends: or at least, the people whose numbers you'll find in your phone the next morning saved under "new BFF." One person with a thick accent is yelling to her equally thick accented friend across the crowd – RYAN! RYAN! – and a hammered girl from the group next to you is telling you how she lost her shoe.
You feel at home, and light another cigarette to avoid going back inside.
DOWN SOUTH: THERE IS NO SMOKING AREA, AND IF THERE IS ONE IT'S STRESSFUL AND SHIT
It's not like less people smoke here, so why do the clubs seem to care so much less about smokers? Unless you're lucky enough to be in a countryside nightclub or to bag a place with a swanky heated rooftop, you'll most likely be chucked out on the street.
The only conversations you have are with people who want lighters, or bouncers who keep telling you to be quiet and move on move on time to move on even though there doesn't seem to be anywhere to move on to.
UP NORTH: YOU THINK IT'S A GREAT IDEA TO GET A TABLE
The absolute dream is to get a table and spend money like a Londoner or a businessman or those bloody blokes off Geordie Shore. What you haven't been told is a cracked plastic Moët bucket, a lukewarm bottle of Grey Goose and two flat pitchers of Pepsi do not a classy group make.
Still, you take endless woooooo-ing Snapchats around the table, if only to convince your followers that you're living your best life.
DOWN SOUTH: YOU KNOW IT'S A TERRIBLE IDEA TO GET A TABLE
You learnt at 17 that all VIP entry will get you is a dead area with a furry wall, full of muscular blokes in rollnecks swilling Belvedere. 
It's not worth it for the at-least-£100 you'll have to fork out for the privilege, especially because everyone in your wider social circle will deride you when the club photos inevitably hit Facebook.
UP NORTH: YOU'LL PULL SOMEONE, IN SOME PART OF THE CLUB, AT SOME POINT
It's just the done thing. You don't have to talk to them, you don't have to fancy them. You just have to neck a random and tick it off your list of things to do for the evening.
DOWN SOUTH: YOU'LL ALMOST DEFINITELY BE GOING HOME ALONE
Pulling in clubs just doesn't seem to be a thing anymore, does it? All the normals aren't pulling strangers in dirty discos anymore – they're doing it on Bumble or Happn – so you wouldn't be caught dead necking off with a stranger to Ne-Yo like you would have five years ago. Ah, to be young again.
UP NORTH: GETTING POST-NIGHT OUT FOOD IS THE MOST IMPORTANT PART OF THE NIGHT
This meal is the pinnacle of your night, and you'll shriekingly debrief in the takeaway while a mass brawl takes place in the street outside. Someone comes in with blood on their face. A girl is shouting Jamie, Jaaamie. The punters are calling the guy behind the counter "boss man," and he doesn't seem to outwardly hate it.
Seriously, anything goes when it comes to post-night scran: Northerners are the kings and queens of tasteless food combinations, so shamelessly order your parmo or your cheesy chips and go absolutely fucking wild. 
Make up some combos yourself – garlic margherita and chicken nuggets, battered Mars bar and curry sauce – the world's your oyster. Gravy, too. Gravy on fucking everything. Go on, a bit more. Cheese, pizza, chicken wings, garlic bread – these things are made for gravy at 3am.
DOWN SOUTH: YOU SPEND AGES LOOKING FOR A TAKEAWAY WHICH IS OPEN, WITH QUESTIONABLE SUCCESS
Finding a takeaway which is open is a devastating mission, and even when you do it's a sit-down goat curry or something else you didn't want. Of course you're angling for the holy trinity of southern drunk food: some fried chicken, a greasy kebab or a delicious late-night Maccy D's. It'll probably end up being the latter.
Or maybe you won't find one – in which case you'll end up at home in bed, scrolling through UberEats and Deliveroo and JustEat, furiously logging complaints that not a single takeaway in the south of England seems to be open past 2am.
UP NORTH: THE JOURNEY HOME IS JUST AS RAUCOUS AS THE REST OF THE NIGHT
One of you is yelling at the driver about how you didn't want to pull anyway. One of you still has their face buried in a styrofoam box of cheesy chips, gravy dribbling down the front of your dress. One of you is passed out and snoring in the backseat, while another is silently being sick into her hands.
To an outsider, this is basically Renaissance art.
DOWN SOUTH: THE JOURNEY HOME IS EITHER PAINFULLY EXPENSIVE OR PAINFULLY LONG
It's either an eye-wateringly pricey taxi, or waiting 'til the first train home at 7am.
At least it was worth it. Right?
With help from Grace Vielma, Rob Petherick, Oli Dugmore, Sarah George, Tom Jenkin, Mackenzie Brook, Hayley Soen and Lucy Woodham