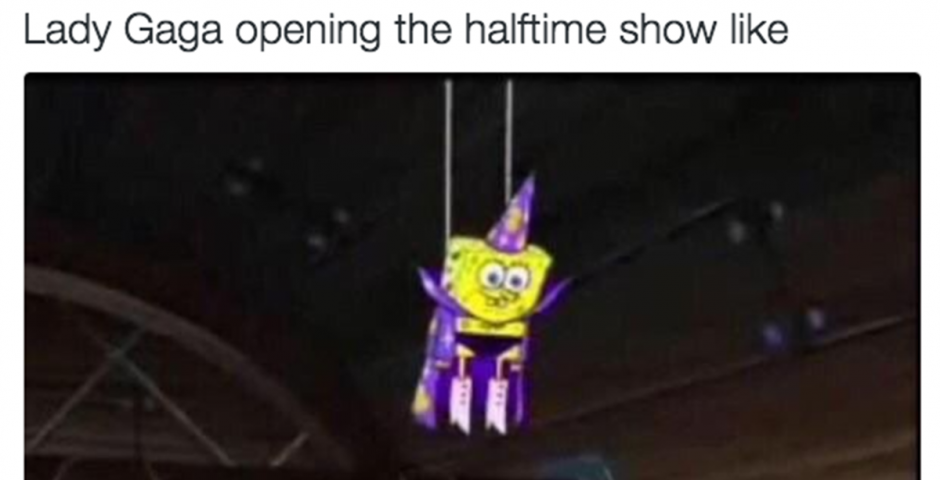 The best Twitter reactions to Lady Gaga's less-than-controversial Superbowl performance
Obviously Joe Biden's got involved
Last night Lady Gaga made history as the most tweeted about Superbowl halftime performer ever. According to Forbes her acrobatic albeit, for some, kind of safe performance drove over 5.1 million tweets (no biggie). Here's a selection of the best of those, from Little Monsters, Spongebob fans and former Vice President of the United States Joe Biden.
Lady Gaga made the most political statement you could make. She was positive about America. That's about as Anti-Trump as you can get.

— Johnny Taylor, Jr. (@hipsterocracy) February 6, 2017
Incredible performance from my friend @LadyGaga. You amaze me — and not just onstage. Proud to work with you to end sexual assault. #ItsOnUs pic.twitter.com/ZOva2lpAOZ

— Joe Biden (@JoeBiden) February 6, 2017
me making sure bae is where they say they are pic.twitter.com/bL3ZURSgm3

— FREDDY (@FreddyAmazin) February 6, 2017
Lady Gaga trying to out do spongebob ? pic.twitter.com/Yc7FVTiZiC

— Lucienne Schon (@LucienneSchon7i) February 6, 2017
Can you believe that Lady Gaga invented sports

— Ricky Dillon (@RickyPDillon) February 6, 2017
"wow Lady Gaga can sing?"
"Damn she can dance too?"
"So Lady Gaga isn't just an awkward satanist with weird clothes?" pic.twitter.com/kNUYIF0SJu

— ㅤ (@thefamewarrior) February 6, 2017
Lady Gaga opening the halftime show like pic.twitter.com/eDRt7Uarfq

— Sarcasm (@TheFunnyTeens) February 6, 2017
this is how I want to be displayed at my funeral pic.twitter.com/0aZjWPDmGs

— queen quen (@quenblackwell) February 6, 2017
Me jumping to conclusions when I don't get a text back pic.twitter.com/0R1nHKbDXE

— T?? (@monielovex) February 6, 2017
when you're 33 weeks into your crush's instagram and accidentally like a photo pic.twitter.com/7GEqDYhrxG

— FREDDY (@FreddyAmazin) February 6, 2017
Today-
straight people: Go Patriots !! Go Falcons !!!
me: Yas Gaga.

— Matt Crawford (@daddyycrawf) February 5, 2017
producers: so you're really aboutta fall from the stadium roof?
lady gaga:#PepsiHalftimeShow pic.twitter.com/V2bctM4YwF

— nacaranda (@igiveyouIife) February 6, 2017
THEY ARE OPENING THE MOTHERFUCKING ROOF FOR LADY FUCKING GAGA pic.twitter.com/d5mBDxg54u

— Lady Gaga (@KingLadyGaga) February 6, 2017
Me if I was on the roof with Lady Gaga pic.twitter.com/bLIMbaUcxM

— Hill (@KING_HILL10) February 6, 2017
And look, I'm not saying Gaga was being OK-maybe-just-a-bit-spineless for avoiding overt political themes in her performance (even if she did include some subtle cues), but here is a fucking tweet from Ivanka saying she liked it.
Incredible performance by @ladygaga #PepsiHalftime #SuperBowl

— Ivanka Trump (@IvankaTrump) February 6, 2017