Binky and JP are having a baby, so who should the godparents be?
Omg what if JP doesn't let Ollie come to the christening
We're 16 days into January, and the prize for Maddest News of 2017™ has already been awarded.
No, we're not talking about Donald Trump becoming President. We're not even talking about Jude Law becoming Pope. We're talking, of course, about JP becoming Binky's baby daddy.
The news begs a lot of questions, of course. Does this mean they're together for the long haul? Can you take maternity leave from Made In Chelsea? What did JP look like when she told him?
The big question, though, is that of who the godparents will be. We've put together a list of possible applicants, along with some odds for your betting needs – vote for your favourites below.
Ollie and Sam (3/1)
Going with the tradition of choosing one godparent each, these two probably have the best odds.
After all, Binky and Ollie have been BFFs since day one, and Sam seems to be the guy JP is most comfortable crying in front of every episode.
It normally makes him pull this face.
Sam and Rosie (3/1)
Let's not forget, though, that JP and Ollie don't exactly see eye to eye – most of their conversations look like this.
With that in mind he might veto Ollie, meaning Binky would have to turn to her other closest confidant.
Which is a shame for little buh, because imagine being promised Ollie Locke as a godfather and then being stuck with Rosie.
Louise and Ryan (3/1)
Of course the happy couple may want to choose another happy couple as godparents – and who better than the blood-curdlingly loved-up Louise Thompson and Ryan Libbey?
Binky and Louise's friendship has been well-documented, while JP and Ryan have a similar level of dead-behind-the-eyes intensity which makes us think they could be great mates.
All you have to do is remember the vein-popping fervour with which they discussed Louise's possible infidelity while her brother, Sam, was standing right there.
It caused him to pull this face.
Sam and Tiff (5/2)
Speaking of Sam, him and Tiff are a couple who have been going from strength to strength over recent seasons.
They'd be an obvious choice for godparents, even when considering Sam's constant efforts to let Tiff know he'd probably just rather be single.
The Lost Boys (5/2)
While Binky and JP may not exactly be besties with any of Jamie, Francis or Proudlock, the cheeky trio would be the obvious choice if you want your child to have a fun-filled upbringing.
Seriously, imagine little buh growing up with Proudlock's fashion advice, Jamie's unlimited supply of sweets and Francis' sick skateboarding skills. And he wouldn't even have to inherit their hairlines!
Spencer and Caggie (5/1)
No-one saw Binky's pregnancy coming, so is it that left-field to think the next nine months may see Spencer and Caggie rekindling their romance and storming into JP and Binky's life with newfound vigour?
Look, let us dream.
JP's own parents (5/1)
JP is famously fond of letting Binky know about his upbringing – his parents raised him well, he's a gentleman.
If they're that good, why not bestow on them the ultimate honour any prospective parents can give?
Jamie and Frankie (8/1)
Jamie owns a candy company, so he's obviously an absolute steal as a godfather. The likelihood of him and Frankie being chosen, however, is low.
If their relationship is anything to go by, Frankie often mixes up love and absolute contempt – and no-one wants their child to be looked at like this.
Mark-Francis and Victoria (10/1)
Obviously these two are the best choice.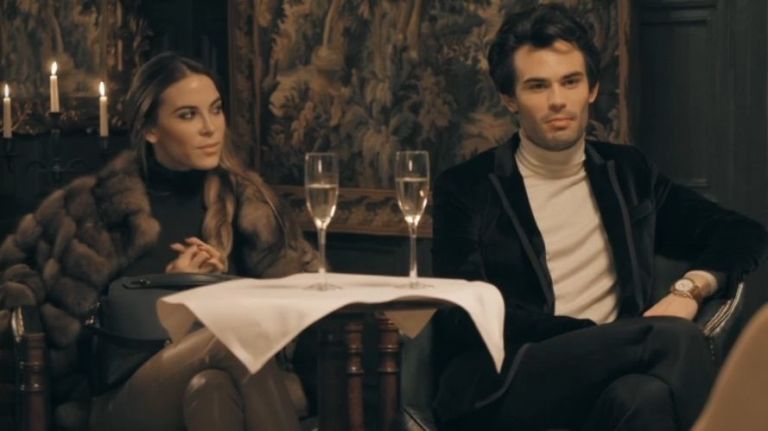 Or are they? Your child would grow up full of sardonic wit, but it's hard to imagine having these two train little buh in sneering snobbery without resenting it by the time it's in primary school.
Spencer and Lauren (25/1)
Are they still together? They broke up? How many seasons ago? Shit, maybe not then.
Louise and Alik (50/1)
Probably not going to happen, and it's a damn shame. Sure, Ryan would be able to teach the kid how to count macronutrients and how to perform a pistol squat, but having Alik as a godfather would be incredible.
Just look at him. He's a fucking prince.
Ollie and Gabriella (100/1)
Binky and JP have spent season after season breaking up and making up, so it's not so outlandish to think your least favourite couple of all time would try and make a go of things again.
Come on, tell me this song wasn't made for a christening.
Spencer and Funda (250/1)
They may not have been a thing since season one, but if Binky and JP find themselves out of friends and feeling desperate we know who they'll call.
Harney and anyone (250/1)
Unlikely.
Spencer and this woman (300/1)
Look, he's dated a lot of people.
Binky and Julius (500/1)
Don't be stupid. Binky can't be her own child's godmother, and JP hates Julius with the power of a thousand exploding suns – she fed him marshmallows, after all.
Not going to happen.