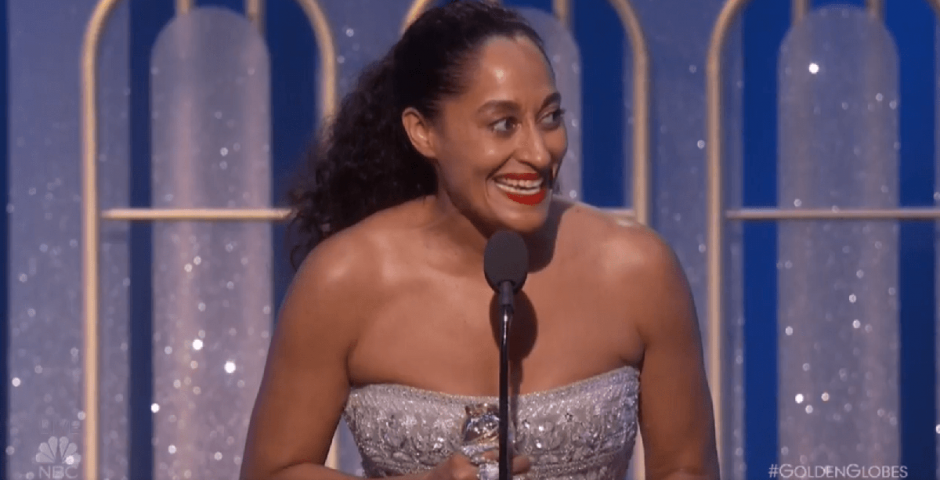 Tracee Ellis Ross just became the first black woman in over 30 years to win a Golden Globe
'Tracee Ellis Ross winning at 44, just a reminder to never give up, no matter how hard it gets'
Now that we've finally shaken 2016 off, last night's Golden Globes heralded the start of 2017 colossal ceremony season and boy, is it shaping up to be a good one.
Scooping the gong for Best Performance by an Actress in a comedy or musical television series, Tracee Ellis Ross became the first black woman to win in thirty-five years. The last woman of colour to have won was  Debbie Allen in 1983.
With over three decades passing of awards ceremonies with questionable diversity, last night's ceremony provided a platform for Ross. Storming the stage with some serious sass, the Californian actress addressed the issues of gender, colour, and age diversity in the acting industry.
tracee ellis ross, first black woman to win a golden globe for best actress in a tv series in over 30 years❣️ pic.twitter.com/YB4ddLA15X

— alina (@glossyfilm) January 9, 2017
And accepting her award in style, she took the opportunity to humorously remind us (as if we didn't know) that actually, Hollywood is just a bit rubbish when it comes to being a woman.
She added: "This is for all the women of color and colorful people whose stories, ideas, and thoughts are not always considered worthy and valid and important.
"But I want you to know that I see you. We see you."
Twitter championed Ross as the heroine she so rightly is, as her acceptance speech forced Hollywood to face up to the fact that even now, equal representation is an issue that cannot be ignored anymore. Her predecessor, Debbie Allen, also took to social media to celebrate the end of the thirty-five year drought in the category.
Last night's Golden Globes was not only Tracee's first win but also, the first time she's attended the ceremony. As first times go, not bad, eh?