Child actors from classic Christmas films: Where are they now?
Whether you're more of a first lobster, or a grinch at Christmas time, there's no denying that Christmas films are a classic staple of every family's holiday season, and it is the often eccentric, adorable child actors in each and every one of the films that makes it so classic. But with most of the films being made in the 90s and early 2000s, what's happened to those actors since?
Love Actually
Lulu Popplewell (played Daisy)
Lulu is best known for her classic role as 'First Lobster' in Love Actually, but since then she's done relatively little else. According to her twitter bio she is now a comedy writer and stand-up comedian. She also won the Leicester Square New Comedian Finalist 2016. Pretty cool.
Thomas Brodie-Sangster (played Sam)
Little baby Sam is all grown up, and he has starred in basically everything ever released along the way. Two years after Love Actually was released he was in Nanny McPhee alongside Colin Firth and Emma Thompson, he landed the role of Ferb on Phineas and Ferb in 2007, and in 2009 he starred in Nowhere Boy with Aaron Johnson (back when he used to be hot). He's currently playing Newt in the Maze Runner trilogy, but he's probably most well known at the moment for his role as Jojen Reed in Game of Thrones. He also had a cameo part in Star Wars: The Force Awakens, so I guess you could say the Force is with him.
Olivia Olson (played Joanna)
Since Love Actually, Olivia Olson is best known for playing the voice of Vanessa Doofenshmirtz in Phineas and Ferb, and Marceline in Adventure Time, and she sings regularly in both these shows. She also frequently writes and posts her own music on her YouTube account, and released her own debut EP in 2013 titled Beauty is Chaos, as well writing a section for the Adventure Time Encyclopedia and an upcoming book for Cartoon Network. Because apparently there's nothing this girl can't do.
How the Grinch Stole Christmas
Taylor Momsen (played Cindy Lou Who)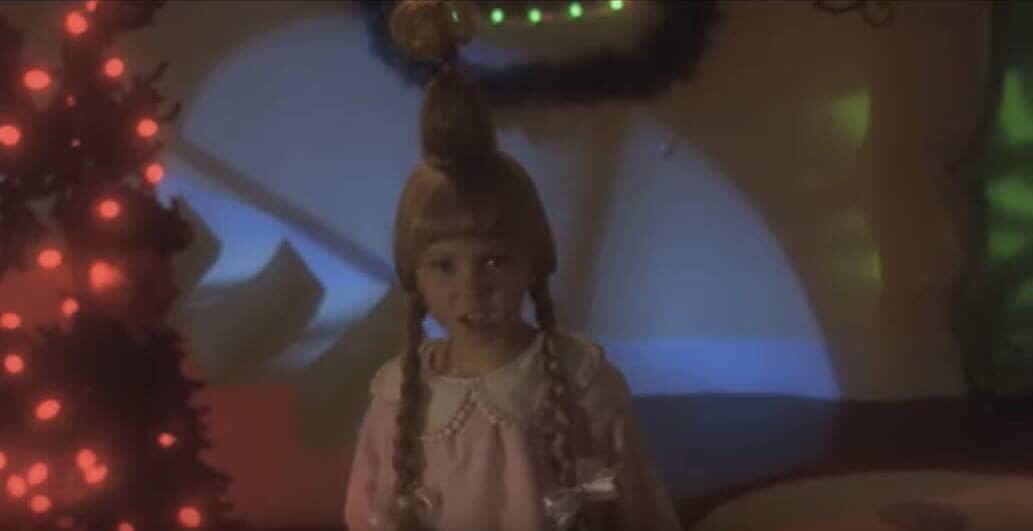 Following her adorably sweet performance as Cindy Lou Who, Momsen went on to star in the second Spy Kids movie, but most people probably know her as Little J from Gossip Girl, before she got axed from the show in 2011 for being too much of a diva on set. She is also the lead singer and front woman of the rockband The Pretty Reckless, who have just released their third album, and are due on a worldwide tour early next year. In 2008 she was also signed to IMG Models, aged just 14.
The Holiday
Miffy Englefield (played Sophie)
Considering the fact that she was just 7 years old when The Holiday came out, it's not surprising that Miffy's changed an awful lot. She's now 16, and although she seems to be keeping up with her acting (she was in 12 episodes of Casualty in 2008-2010) she's no different from any other teenager, having just got a part time job at MaccyD's. She's currently studying performing arts at college, and according to her Twitter bio she's 'kinda big on making music'.
Emma Pritchard (played Olivia)
According to Instagram, this girl has done literally nothing else since she played the cutest daughter Jude Law could ever ask for. Or did Jude Law play the cutest dad Emma Pritchard could ever ask for? Who knows. Emma is completely MIA on social media and the internet – she doesn't even have a wiki page. Guess she's just enjoying a normal life, like any other teenager.
Home Alone
Macaulay Culkin (played Kevin McCallister)
Macaulay had a few good years following Home Alone – most notably Home Alone 2 – but in recent years he's dropped off the radar a little bit. He was a frequent voice actor on Robot Chicken and he was, of course, in the Compare the Meerkat advert, which was literally one of the best things to ever grace our television sets. Apart from that though, it seems he's a long way away from being considered the most successful child actor since Shirley Temple.
Devin Ratray – (played Buzz McCallister)
Still considered most famous for his roles in Home Alone and Home Alone 2, when he played Kevin's older brother Buzz, but more recently he's achieved fame for films such as Nebraska and Blue Ruin. He's due to have three films released over the next year, and also finds time to perform with the band he formed himself, Little Bill and the Beckleys.
Hillary Wolf – (played Megan McCallister)
Hillary was in a few TV films since starring in Home Alone, but nothing major. Instead of acting, she's been focussing her attention on judo, and actually represented the US at the 1996 and 2000 Summer Olympics. You go girl.
Angela Goethals – (played Linnie McCallister)
One of the only characters not to return for the Home Alone sequel, Angela hit her big break as the main character in Phenom, which ran for a year in 1993. She temporarily took a break from acting to go to Vassar college, which she graduated from in 1999, and went on to have small parts in the likes of 24 and Grey's Anatomy. She is currently filming B4TM, the sequel to the horror-comedy Behind the Mask, which she also starred in.
Michael C. Maronna – (played Jeff McCallister)
Michael Maronna gained nationwide fame during the late 90s, not thanks to Home Alone, but thanks to his role as Stuart in the Ameritrade commercials. He also had a recurring role as Big Pete on Nickelodeon's The Adventures of Pete & Pete, but nowadays he is known more for his role in the production side of things, having worked as an electrician on over 40 tv shows and movies, including Sex and the City, Ugly Betty, and Men in Black 3.

Elf
Daniel Tay (played Michael)
Tay has lived a relatively normal life out of the spotlight since Elf was released 13 years ago. He secured a part in Brooklyn Rules, alongside Alec Baldwin, as well as voicing the character of Bill Blue in GTA IV, but that's pretty much it. He seems to be enjoying life as a relatively normal dude, who just happens to get royalty cheques every year at Christmas.
The Santa Clause
Eric Lloyd (played Charlie Calvin)
Following the success of The Santa Clause, Eric secured the coveted role of 'Young Bruce Wayne' in 1997 version of Batman & Robin, as well as the voice of 'Blanky' in The Brave Little Toaster series. Aged just 12, he landed the recurring role of Little John Warner on Jesse, and his latest film The Onyx of Wall Street is due for release in 2018. In 2015, he pursued a passion for music with his college roommate, Tyler Payne, and the two of them opened LP Studios, a production and post-production music and film space in California.
Miracle on 34th Street
Mara Wilson (played Susan Walker)
Mara Wilson is the child actor that everyone knows, having been in classics like Matilda, Mrs Doubtfire, and, of course, Miracle on 34th Street. The former cutest child star ever has been very open about how difficult it was to grow up in the public eye, and no longer being the 'cute little girl from the Christmas movie'. It will come as no surprise, then, to learn that she took a very long hiatus from acting, only recently returning in TV series' The Nostalgia Chick and BoJack Horseman. She is also an avid writer, has been signed to Penguin Books, and her debut book Where Am I Now?: True Stories of Girlhood and Accidental Fame was released this year.