Revealed: The most haunted universities in the UK
There's literally a headless horseman in Bristol
With looming old buildings dating back hundreds of years, it's unsurprising that most universities in the UK have a few skeletons in their closets.
Without your parents to reassure you, it's easy to get a little scared – that's why you've probably shut your ears to the tales of things that go bump in the night. But, from the haunted portrait of Royal Holloway to the 8ft werewolf of Hull, they're there.
Here's a peek into your uni's ghoulish history, just in time for Halloween. You'll be running back to the Home Counties in no time.
Aberdeen
Having lost her favourite haunting spot when the White Dove Hotel was demolished, the University grounds are now supposedly haunted by the ghost of a giggling young girl in a dress.
She is said to skip up and down the pavements with a hat covering her face, disappearing when students approach her.
Birmingham
Not much haunting going on at the uni itself, but Charles Dickens did give the first reading of his seminal ghost story A Christmas Carol at Birmingham Town Hall – some say the spirit of the man himself can sometimes be seen roaming the corridors.
Also, don't go to Platform 4 of New Street Station. It's one of the country's most haunted hotspots.
Bristol
While most universities boast a wailing woman or two, Bristol characteristically bucks the trend with a headless horseman who rides up and down Tyndall Avenue after dark.
Cambridge
Not one to be outdone, Cambridge University is apparently haunted by the floating severed head of Oliver Cromwell, a man so universally despised that he was dug up, hung and beheaded after he'd already died. He's been looking for his body ever since.
Other alleged spooky episodes included the case an academic called Mr Barratt, who was found dead in a coffin in the Gibbs Building after a night of screaming, or that of Henry Butts, who can sometimes be seen hanging from in the doorway of the Corpus Christi Master's Lodge – just as he was when he killed himself in 1632.
Cardiff
Cardiff Castle, unexpectedly, has hosted many a ghost in the past. People have reported sightings of a "faceless vision in a flowing grey/white skirt," the Second Marquis of Bute apparently has a habit of appearing and walking through the fireplace, and a phantom coach and horses can be seen just outside the castle grounds.
Most creepy, though, is the case of the dining room doors – which are supposed to open and close themselves at precisely 3:45am every morning.
Durham
Regardless of the truth behind reports of poltergeist activity in Room 21 of Durham Castle, the tale behind the spooky goings-on is creepy enough in itself.
According to the story, early resident Frederick Copeman was omitted from the exam list and thus believed he'd failed. Returning to his room and pacing up and down anxiously, he suddenly rushed out and threw himself from the cathedral's tower.
His footsteps can still be heard pacing his (now disused) bedroom at the top of the tower. He'd actually got a First.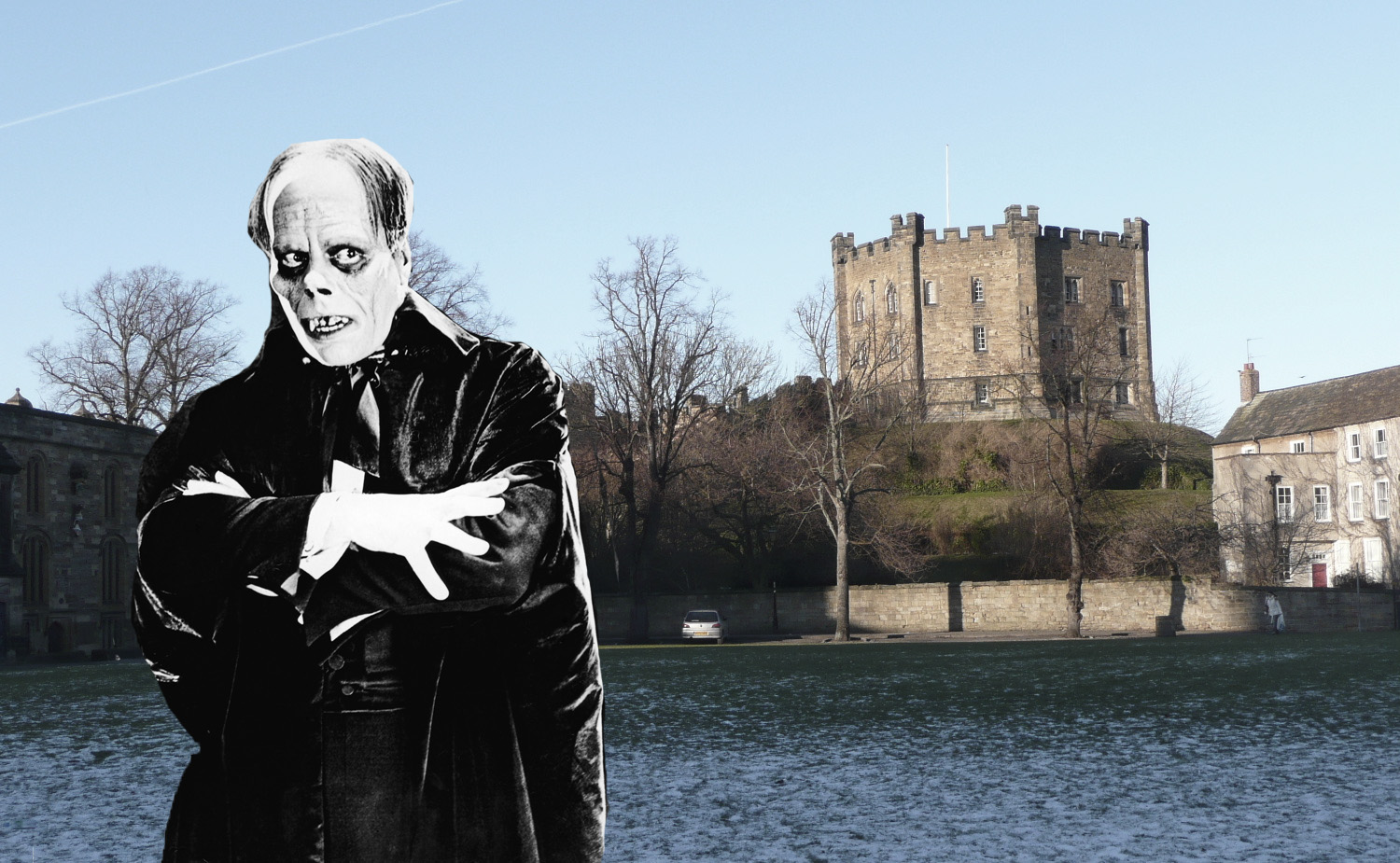 Edinburgh
Two years ago, freshers in Deaconess House claimed to have fallen victim to a ghoulish presence. Well, a ping pong paddle mysteriously broke and some KFC chicken was found strewn across the floor, with no-one owning up.
Yeah, we're not convinced either.
Exeter
Apparently a workman died while decorating on campus, which would explain the brush-wielding phantom in paint-splattered overalls who roams the halls at night.
Hull
Have you heard of Old Stinker? No? Well, he's an 8ft tall half-man, half-wolf creature who stalks the Hull area, eating people's dogs and generally being remembered for his bad breath. Seriously, Google it.
Elsewhere in Hull, police searched a residential property last year after complaints of "evil forces" taking the shape of children's shadows, while a couple on Chaucer Street claimed they were haunted by a murdered woman and her baby who, among other things, wrote "MOVE" in condensation on their window.
King's
A lot of the spookiest goings-on at KCL have taken place in the tube stations near the uni's campuses, whether that's the ghost of an old crewman at Chancery Lane or the discovery of a decomposing body in a suitcase at Charing Cross in 1927.
As for King's itself, Great Dover Street Apartments stand on top of an old Roman burial ground, while the ghost of a nurse in late-19th century uniform is said to patrol Guy's Hospital attempting to reassure patients.
Leeds
Unsurprisingly for a big city, Leeds is rife with ghost sightings – landmarks such as the City Varieties Music Hall, the city centre library and Kirkstall Abbey are all allegedly haunted. Even Get Baked claimed they have ghosts.
Closer to the uni, an ex-employee at the Leeds General Infirmary claims to have heard the voices and footsteps of a group of invisible people passing him, while a phantom Victorian lady apparently searches a house in Woodhouse Square for her two dead children. Plus there's that massive graveyard in the middle of campus.
If that isn't scary enough, rail workers claim to have seen large, black, cat-like creatures patrolling the tracks between the Headingley and Burley Park train stations. As in, down the road from where you live.
Liverpool
Though there's no ghost sightings surrounding any of the universities themselves, there's more than enough spooky goings-on in the city itself. Take the tales of witch doctor Josué Beauchamp and his habit of raising the dead in Toxteth Cemetery, or the "ghost gang" who lurk around St Luke's Church on Leece Street.
St James's Cemetery is probably Liverpool's most haunted haunt, though: witnesses claim to have seen the ghost of train casualty William Huskisson and friends creeping out of their mausoleum, while a vampire-like creature has been spotted roaming around the cathedral grounds.
Manchester
Besides the rumours of ghouls in the ladies' toilets of the John Rylands building, Manchester Cathedral is haunted by a giant demon dog called the Black Shuck, while the Albert Hall is widely recognised as a poltergeist hotspot, with former staff saying an invisible presence had smashed glasses and even pushed them down the stairs.
Closer to home, a Fallowfield resident in the 1970s claimed to have been woken several times by a ghostly old man lurking at the end of his Abergele Road bed. So yeah, sleep well tonight.
Newcastle
While Newcastle Uni itself isn't haunted, there's a particular spooky story related to the old graveyard near Cosmic Ballroom.
When famous former nightclub "La Dolce Vita" opened on Old Friar Street, a monk with a particular love of dancing is said to have risen from his grave – staff and customers alike reported seeing his ghost dancing, fully robed, inside the club.
Nottingham
You might not expect Nottingham to be up there with the most haunted institutions, but one Broadgate Park fresher would argue differently.
English and French student Emma Collingwood claimed to be plagued by constant knocking on her door a couple of years ago – then, one day, she found the word "SUFFER" daubed in condensation on her window.
Oxford
You could write a whole article about the supposed hauntings at Oxford, with one graduate in 1894 he'd seen the literal devil appear and murder a blasphemous member of the infamous Hell-Fire Club drinking society.
The most memorable ghost is probably Archbishop William Laud, though. He was beheaded in 1645, and now apparently kicks his disembodied head around the floor of the St John's College library.
Queen Mary
There's a massive graveyard in the middle of campus. We repeat: there's a massive graveyard in the middle of campus.
QUB
Friar's Bush graveyard in Stranmillis was built to accommodate cholera victims during an outbreak – visitors have since claimed to have felt hands pulling at their clothes and the ground squirming beneath their feet.
Elsewhere on campus, reports have been made of hand-holding ghosts in the archway between the Physics building and the Peter Froggatt Centre, while Room 006A in the latter is said to be a hotbed of poltergeist activity.
Reading
Foxhill House, which houses the School of Law, has long had a reputation tying it to the devil himself. The unnerving house, which contains staircases leading to nowhere and windows carved with creepy monsters, allegedly played host to Satanic rituals organised by infamous occultist Aleister Crowley.
If that isn't enough, the ghost of a horse-riding woman who was allegedly decapitated by the low gate outside still hangs around, being beheaded over and over again. Maybe you should study at home today.
Royal Holloway
Not one to stray too far from home, founder Thomas Holloway allegedly haunts the uni's quads in the form of a black cat. Creepier than that, though, are the rumors around a certain painting which hangs in the picture gallery.
The picture, "Man Proposes, God Disposes" by Sir Edwin Landseer, is meant to be cursed and is said to make students fail their exams if they sit near it. Thus, tradition dictates it is covered by a Union Jack flag during exam time.
Some even say it's because a student was so haunted by the image that she violently killed herself in front of it – but not before scratching the famous words: "The polar bears made me do it."
St Andrews
Many students claim to have seen the ghost of the White Lady of St Andrews, stalking through the cathedral in a flowing white gown. Two stonemasons allegedly disturbed her crypt while repairing the walls in 1868, and her disturbed spirit has been roaming the grounds ever since.
UCL
According to legend, Arthur Tattersall House plays host to the phantom of a young girl called Emma Louise, who appears if you say her name three times. When a group of students once tried it, they claim to have heard a young girl's laughter and found the words "HELP ME!", "DIE" and "MURDER" etched into the walls.
That's creepy enough in itself, but the real terrifying jewel in UCL's crown is the fact that they keep Jeremy Bentham's disembodied head preserved in their vaults. Google it, but be warned – it's not for the faint-hearted.
UEA
For a relatively new university, UEA is a veritable ghost town: poltergeists plague Scary Chapman Court, while Elizabeth Fry and her sisters supposedly stalk the corridors of Earlham Hall.
Speaking of Earlham Hall, during renovations in 2013 a witch stone was discovered in the wall carved with the numbers 666 and a pentacle. Which, you know, is pretty damn terrifying.
USW
Back when it was the University of Wales Newport, a 6ft USW matron called Bertha is said to have toppled to her death from the second floor during the Christmas holiday – while no-one else was around.
Now "Big Bertha" haunts the campus, waiting for someone to solve the mystery of her death.
Warwick
Apparently the Cryfield residences were built on the site of an old prison – residents claim to be haunted by the ghosts of the hanged men of Gibbet Hill. If that's not enough, the name "Cryfield" is said to reference the sobs of the dying prisoners which could be heard from the field.
Also, Leamington Spa station is one of the most haunted places in the country, so there's that.
York
It's no secret that York claims to be one of the most haunted cities in the world – just go into any pub and you'll be told about all the ghosts who live there.
Highlights include the Canadian Airman who fell to his death from the top windows and is now a permanent fixture at the Golden Fleece, or the ghostly black cats which cause dogs to go insane at Ye Old Starre Inne – not to mention the screams coming from the basement, said to belong to freshly-amputated Civil War troops in the old operating theatre.
Then there's 35 Stonegate, "York's most haunted building" which is reported to have at least 14 resident ghosts. Greedy, we know.