Elite recruitment company advertised for women employees with 'B or C cup size'
Their client wants brunette 'attractive' women
A prestigious West London recruitment firm has been roundly criticised after advertising for a women's PA job to brunette, 'attractive' women with B to C cup breasts.
Matching Models is a worldwide recruitment film specialising in hiring PAs, hospitality staff, receptionists and flight attendants for high-end wealthy clients. It prides itself on a dubious promise to provide clients with "skilled and attractive clients".
Their recent job post, advertising a post for a PA for private flights, asked for the standard job requirements – a degree and the ability to use microsoft, but with a few sinister added extras. They wanted the person to be "classy and immaculate", with brown hair and B to C cup breasts.
The job, which pays an eye-watering £140,000 a year, also required a "lady with no commitments" for the anonymous client, "a well known flamboyant aristocrat".
Applicants are expected to send pictures of themselves in for each job on the website, which is also looking for a "sexy driver" and a "beautiful person" for sales.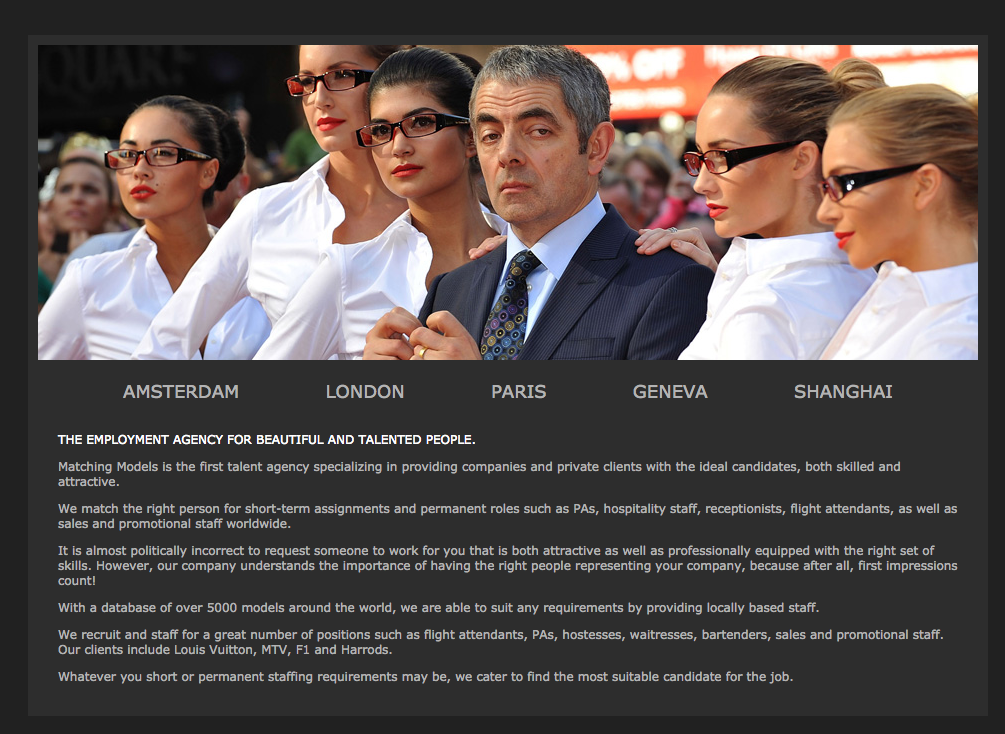 Now solicitors are saying that the grim ads even breach the 2010 Equality Act. Sam Smethers, chief executive of the Fawcett Society, the country's leading campaigner for gender equality, told the Daily Mail: "Ads like these are straight out of the 1970s. It is extraordinary that they are taking this approach and almost certainly falls foul of equality legislation.
"If we ever wonder why the battle for gender equality hasn't been won, this is a timely reminder."
A statement on Matching Models website proudly proclaims: "It is almost politically incorrect to request someone to work for you that is both attractive as well as professionally equipped with the right set of skills.
"However, our company understands the importance of having the right people representing your company, because after all, first impressions count."