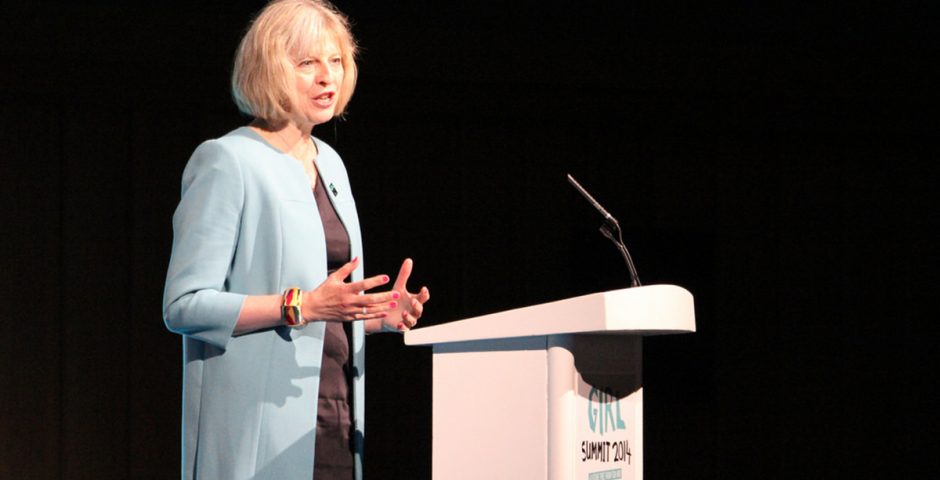 Obviously Theresa May isn't a feminist, she's been screwing women over for years
Harriet Harman said the PM was 'no sister' to the movement – and she's right
There has been a lot of controversy around Theresa May's meteoric rise to power over the past few months. As the second ever woman to hold the office of Prime Minister she's unsurprisingly been compared to Margaret Thatcher to the nth degree. As the first female prime minister in 27 years she has ascended to the top position in British politics in an environment that is often difficult for women to break into.
Superficially, having a female Prime Minister has been discussed as a good thing; soon we may be living in an era where for the first time there is a woman in power in both the US and UK, something that has never happened before. But that hasn't stopped the dearth of criticism surrounding May's policies from her time as Home Secretary, and assertions that things are and will not be any different while she is PM.
The assumption that by virtue of being a woman May is automatically a feminist is totally flawed. What makes someone a feminist becomes a very subjective thing once you start looking into it and everyone will have a different opinion on what constitutes one, however the basic definition is that it is 'the advocacy of women's rights on the ground of the equality of the sexes'.
And if we look at Theresa May's actions throughout her political career on the basis of her prioritising women's rights then Harriet Harman's assertion that 'she's no sister' to feminists and women in general does have some real validity. She might be a woman, but she's shown she's anything but the new feminist messiah.
Yarl's Wood
The notorious detention centre has been the subject of much controversy over the last few years after Channel 4 conducted an investigation into the treatment of detainees in 2015, while she was Home Secretary. Rather than addressing it head on, she delegated it to a junior minister and failed to attend the House of Commons to discuss the abuse going on at Yarl's Wood.
The allegations of the sexual abuse and rape of female detainees remains an issue, as well as problems surrounding detainees self-harming and racist language being used by guards and members of staff at the detention centre. Her lack of action when it comes to solving this flagrant abuse of human rights is not only appalling, but makes it obvious that she considers issues such as these to have very little priority.
Concentrix
It is no secret that the Conservative government has been conducting a crackdown on benefits, something that May's government has continued. Consequently there have been countless cases of vulnerable people having their benefits stopped, severely disabled people being declared 'fit for work' and in extreme cases, people who have died have been recipients of letters declaring them 'fit for work'.
The latest layer to this saga is the firm Concentrix, who are employed by HMRC to cut tax credits. There's been multiple cases of the recipients of tax credits having them stopped for reasons such as Concentrix claiming that they were living with people that no longer lived at the same address, and occasionally people who were actually deceased. Most recently, staff at Concentrix have been on the receiving end of phone calls from suicidal and desperate people who have had their tax credits stopped, and have no money to feed themselves or their families, many of them single mothers.
May at the head of a machine prioritises cuts above all else, and it must be emphasised that it her government is responsible for this level of desperation and poverty, which is utterly disgraceful. To call her a feminist at this point is simply wrong, as feminism is about equality and justice, this is anything but fair, as it victimises and impacts the most vulnerable.
The gender pay gap
This may be premature, when you consider that Theresa May has only been in power for a few months, but the fact remains that the gender pay gap is still a significant issue in the UK. On average, women earn 18 per cent less than men, and so far the PM has done little to address it. In fact her plan to expose the boss-employee pay-gap was harshly criticised as ill-thought out and "flawed".
Harman may have a point when she called May a 'drag anchor' when it comes to women's rights. Her equality voting record is sketchy at best, and she doesn't seem to care about the disproportionate impact that many of her policies have had on women, particularly those with children.
But let's not forget that the gender inequality in the Labour party is frankly woeful, with far fewer women in positions of authority.
There are clearly some big issues with May's politics regarding women, but it must be acknowledged that she has done a lot of work on things such as domestic violence, and has made changes when it comes to issues such as FGM and forced marriage.
When you consider the massive flaws in the Labour party from a feminist perspective, it's hard to shake the feeling that the comments on May were just a partisan dig. In itself, the act was anything but feminist.