'Women in fashion shouldn't be so airbrushed': We spoke to blogger Natascha Cox
'It wouldn't hurt to have a size 12 on a campaign'
Natascha Cox is a British fashion and beauty blogger who has worked with brands such as ASOS, Burberry and River Island. Her blog has 48,000 monthly readers and she can get paid up to £750 by brands to wear their clothes.
We caught up with her to find out what it's like to run a successful blog and find out her thoughts on the pressures that the fashion industry puts on women.
Where are you from?
I grew up in High Wycombe which is 20 minutes outside West London, but I was actually born in Germany because my dad was in the army so I travelled around a bit. Now I live just out Milton Keynes.
Where do you like to go out?
I like going out for a nice dinner and cocktails. I love a good cocktail. I like to find a nice restaurant and sit there for a few hours instead of doing the crazy night out now.
Why did you decide to start your blog?
I was undecided on what I wanted to do. I still hadn't found my career. I had always been in the media and fashion industry but I wasn't too sure what I needed to do. I have a kids so I needed to be around in case they needed me, but I still wanted to have a career and do something what I wanted to do for myself. I literally sat down one day and decided to start a blog. I looked at a load of blogs and thought that I should do it because it means I can write want I want to write and I have the freedom to do what I need to do in my everyday life as well. I started that and it took off really quickly. I didn't have a plan to do it. It just happened really.
What do you think are the main issues with the fashion industry's beauty standards today?
I think they're just expecting too much. People are just normal people and it affects people's confidence. With social media you get to see so many unrealistic photos because you just turn on your phone and it's there. People then try to live up to that expectation and it isn't realistic. People like me and other bloggers who aren't trying to be airbrushed models are what we need. We need to have more campaigns featuring real people. I like adverts like Avon and Dove because real people can relate to them and they're going to like it and interact with it more because they feel like it's within their reach. To sell products in the beauty industry right now, you don't need to have the most gorgeous model ever. You just need a real person who's got the same problems that everyone else has. Brands are slowly starting to realise it so it's going in the right direction.
Have you ever felt discriminated against in the industry?
I haven't felt discriminated against majorly. I knew that I wasn't how every stereotypical fashion blogger looks and I thought that would really go against me. I've actually been really pleasantly surprised by the reaction that I've had from people because I have tons of brands that want to work with me. It's still hard to believe because of that societal pressure and the image we have in our heads of models and fashion bloggers. However, there are certain designer brands that don't want to work with you, and you know why, but there's not a lot you can do about it. You just have to work with the people that are right for you and not take it to heart.
How do you think people can change perceptions of beauty?
Brands need to be more realistic and try to send out a positive image instead of sending out the message that everyone has to be perfect and everyone has to look a certain way. We're all so different and there is room for everyone. Going forward with that is the key, I think.
What annoys you the most about blogging?
The most annoying thing is that brand sample sizes are literally eight or ten and it drives me nuts. The PRs send you out an email, that is obviously going to lots of people, with the latest collection's lookbook. If I reply and ask for something to wear to an event they say, "Sorry we've only got it in a size eight to ten." That's probably the most annoying thing.
What would you like to see change in the fashion industry?
I'd like to see different models used in campaigns and runway shows. It wouldn't hurt to have models that aren't so skinny. Even using size 12 models, which you never see on the runway. A size 12 person doesn't look fat in any way so maybe the industry should branch out a bit so people feel closer to the image that they're portraying. One size up would make a big difference.
What's your favourite thing about blogging?
Knowing what's going to come out and all the industry secrets before everyone else. It's really cool. Also, having brands like ASOS trying to work with you is really cool too.
What tips do you have for starting a fashion blog?
The most important thing is to just keep going because there are so many blogs that have started but lots of people don't keep it up. It's not going to work if you don't stick at it. It will probably be at least a couple of years before you start seeing good results. You really have to put the work in. So many just drop off and then wonder why they haven't made it. You've just got to keep going.
Why do you think personal style is important for young women?
I think personal style helps to portray who you are. You can show your personality through the way that you dress.
What advice do you have for young women trying to figure out their personal style and how to feel confident in what they wear no matter their physical appearance or body type?
You have to go with things that you like, first of all, and then try them on and see how you feel in them. You might like something but not feel comfortable in it when you try it on. If you feel comfortable and you like it, then it will look good on you. Put some effort and thought into your outfit and the pieces that you choose and I think they will look good. You just need to spend a bit of time on it.
How much time do you spend on a blog post?
I do a bit of planning first then I get the items together that I need for the post. Then I'll go out and shoot them. Then I'll sit down and actually start writing the post. Then I'll go through and edit it and read it through to make sure it's okay. I would say it probably takes a good couple of days worth of time to get that all right. It is important to make sure that you are doing those things because you need to plan. I like my blog to be halfway between a personal blog and a magazine so I like to put thought and effort into it.
How much do you get paid by brands through your blog?
It ranges from £200 up to £750. It really depends on the brand's budget.
How often do you buy new clothes?
I used to a lot, but now I don't so much because I have so much sent to me that I don't really need to. If I am out and about and I see something I love, then I still buy it.
How do you get such good photos for your blog posts?
I've got a daughter who's seven and she takes some of the photos for me, which is really funny because you wouldn't think that they'd come out good but she's actually really good now. I've got a camera that you can remote control from your phone so in some posts you'll see I've got one hand behind my back and it's because I've set up the tripod then just pressed go so I'm hiding my phone so that I can take the pictures myself. It's nice when you've got somebody else with you who can do it but everyone's working and I'm on my own a lot.
What's your number one beauty tip?
Skincare is really really important for everything. If you've put on foundation and your skin underneath is not good, your foundation's not going to look good either. I've used the same skincare brand for about 15 years now. I use Clinique because it really works for my skin. My main tip is that when you find something that works for your skin you just have to keep using it until it doesn't work anymore. Don't chop and change between brands when it comes to your skincare.
What do you find most inspiring about fashion and beauty?
I love the way that people can be transformed with makeup. It's really cool when you can do your makeup differently each day to exaggerate your outfit. With fashion, I love how designers can come up with trends. I think that's really cool.
What are your three wardrobe essentials?
Jeans, a really cool pair of trainers and a really cool bag. I'm really into suede bags and bags with chains on at the moment.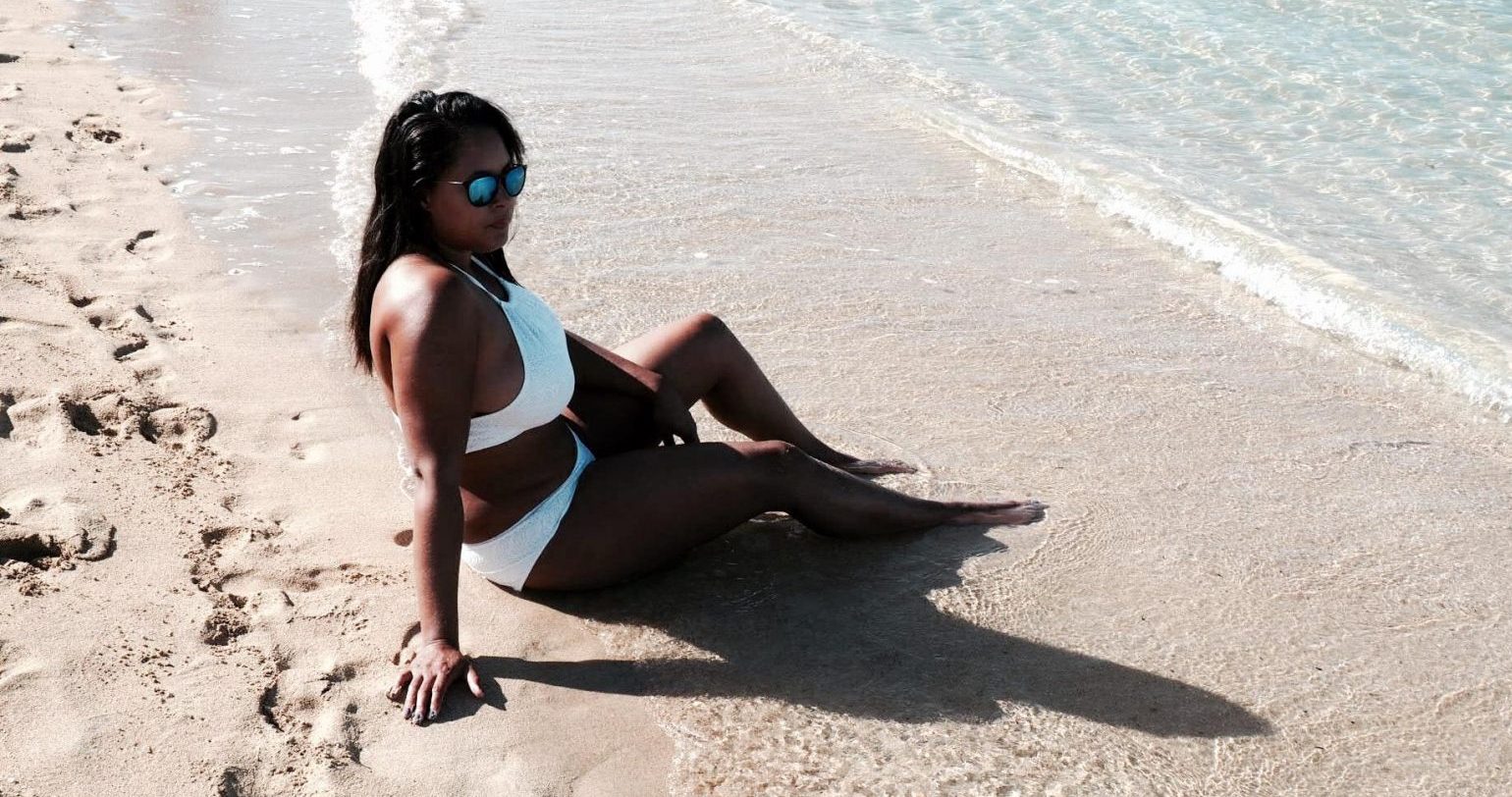 What three beauty products would you take to a desert island?
Vaseline for my lips, Clinique Superdefence moisturiser which has SPF in it which is really good and Aussie 3-minute miracle conditioner for my hair.
What are your favourite blogs and magazines?
I like Elle, Grazia and Porter. I love the editorials in Porter. They always look so nice. My favourite blogs are In The Frow, Man Repeller and Carly Rowena.