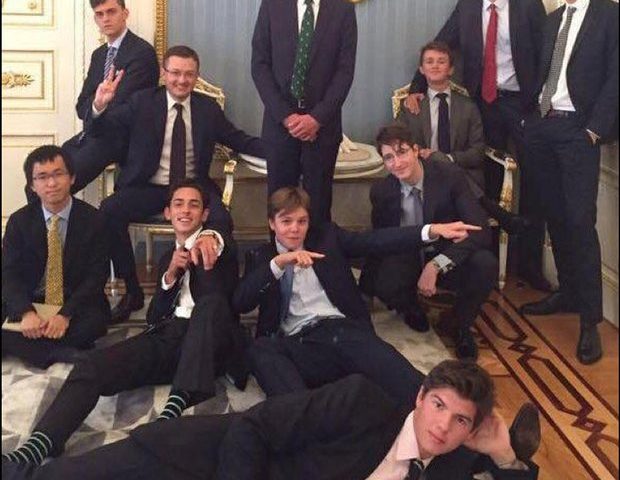 The Eton boys' secret Putin trip was really weird
'He's small in person but not in presence'
Eton College is known for producing some of the most prominent political figures in history, including 19 prime ministers. It comes as no surprise that they can get the world's attention, even in the realm of global politics. What is weird though, is that 11 boys from the prestigious public school organised a secret meeting at the Kremlin in Moscow to meet Russian President, Vladimir Putin, to exchange overly firm handshakes and discuss ruling the world.
The pupil-lead societies at Eton encourage the boys to use their family or parliamentary connections to organise events and speakers in term time. So, the opportunity was not missed when an Orthodox abbot – and spiritual advisor and "confessor" to Putin himself – made a private visit to the school in March. Having said this, when Eton masters saw the photographic evidence of the boys' visit, it came as somewhat of a shock: any such visiting speakers or society activities take place at the school in Berkshire, with the permission of the institution.
There has also been a degree of concern as the group of Etonians managed to meet the Russian President before our very own Prime Minister, the newly appointed Theresa May. Because of this bizarrely sneaky step, the media are referring to their actions as a 'secret coup', insinuating that the boys have undermined their own prime minister. So it seems we've left it to plummy A-level students to work out foreign policy.
It is not an easy feat to get even a short meeting with Vladimir Putin, he apparently makes people wait hours to see him. He even refused to see Donald Trump after he had flown to Moscow for the sole purpose of meeting the Russian president as he was allegedly too busy. So how is it that 11 school boys were able to spend two hours with the elusive character and allowed to have ludicrous pictures of them taken inside the Kremlin? Perhaps Putin thinks Eton boys are the key to a future of positive relations between the UK and Russia.
During their visit, the boys were interviewed by Russian media, where one said: "Our media present facts in Ukraine as being entirely Russia's fault. They say that Ukrainians don't want to have anything to do with Russians. So it's interesting to talk to Ukrainian students here who have a different opinion and consider themselves to be Russian."
Another said: "Personally, I think that Putin is right to continue defending Assad in his role as [Syrian] president."
After the visit had taken place, one of the boys who organised it, David Wei posted on Facebook: "It took me a total of 10 months, 1,040 emails, 1,000 text messages, countless sleepless nights, constant paranoia during A2 exam season, declining academic performance … but here we are. Guys, we truly gave Putin a deep impression of us and he responded by showing us his human face."
Another reportedly posted on Facebook that Putin is "small in person but not in presence".
In a statement, Eton college said: "This was a private visit by a small group of boys organised entirely at their own initiative and independently of the college."
Understandably, some politicians are unhappy with the boys' impressively organised scheme. Labour MP Chris Bryant said, "There's a dangerous myth abroad in some right-wing circles that Putin has been a bit hard done by. That other Etonian Boris Johnson seems to think we should press the reset button with Russia.
"But let's not forget the Russian state that had one man killed on British soil, Alexander Litvinenko, and another who worked for a UK firm, Sergei Magnitsky… We should work with Europe to strengthen our common position over Russia not undermine it."