How to get a first, by people who did it
'Never learn to reference cos it's a waste of time'
Every year, graduation photos flood our Facebook feeds – and you grit your teeth as the smug people with firsts clutch their small plastic tubes and beam next to their loving, doting, and probably overbearing, parents. But what if these people aren't the nerds you imagined? What if the rugby boy who would turn up late to Thursday morning seminars with paint on his face bagged the highest grade there is?
We spoke to some really normal students who managed to sail way past the standard 2:1, to see how they did it.
Laura FitzPatrick, Linguistics, University of Manchester
Laura recommends avoiding reading lists, and "never learn to reference cos it's a waste of time and Google scholar does it all for you."
Having lived mostly at home in her third year, Laura was able to focus during her exams. For those who simply can't miss a night out: as you're focused when it comes to exams, especially if your course is podcasted."
So far this summer, Laura has divided her time between napping and drinking prosecco. As for the future: "My plan actually is to take the world by storm. "
Harry Moss, Mathematics, University of Nottingham
A first class degree came as a surprise to the unsuspecting Harry, who was averaging 64 per cent after completing 2/3 of his degree.
Inspirational as ever, he kept on working. "Don't give up, anything is possible. It's important to integrate social life with studies and to differentiate between the two."
Harry is currently taking time to travel before staring work.
Megan Highland, Illustration at University of Portsmouth
Megan, who amazingly juggled working five nights a week at Portsmouth nightclub Astoria 9pm-5am with her degree, says getting a first is: "an amazing feeling, to know that all your hard work has paid off," and feels really proud of herself.
Megan currently works as a graphic designer for a digital marketing agency, and is going on to do a graphic design masters in September at the University of Portsmouth.
Rhys Pearson, Sports Business Management, Sheffield Hallam University
Rhys believed right up until the end of his studies he was set for a 2:1, and says "to have achieved a first was a great achievement, it feels like I really fulfilled my potential I had whilst studying at uni."
Rhys is currently in the process of searching for jobs related to his degree, having returned home and spent his summer on holiday.
Ellie Tindsley, English Literature and Linguistics, University of Manchester
Ellie was "genuinely so shocked" that she got a first the morning of results day. With her exam results coming in at different times she says: "I knew I needed a 67 in an exam to guarantee my average, and I got 64 so I knew I'd fucked it."
After getting her friend to double check her results, she believes: "It doesn't really matter what grade you get." But is still pleased to have received a first. Ellie has since started full time employment in sales and social media, but in the mean time is enjoying a summer of inter railing.
Joe Friend, Industrial Design and Technology, University of Loughborough.
Joe survived his final year and finished with a first at Loughborough Uni with: "tonnes of coffee, late night beers and straight disaronno."
"After being highly commended by the RSA design award judging panel, Phillips offered me a job as an industrial designer in Amsterdam, where I will be working on consumer medical devices."
Joe's final advice is to "enjoy your first year… you'll be working like crazy after it, also treat yourself to the odd big night out."
Lucy Woodham, English, University of Cardiff
Lucy Woodham pins her success on "having an album that you can listen to on repeat and that that is gonna motivate you to work (mine was Kanye west – life of Pablo)."
But it was the advice of her granddad that allowed her to maintain a social life: "You should only work for 2/3 of the day and have days off to do fun shit like spending money in Topshop or going out."
Unfortunately, Lucy does not advocate cramming or all-day library sessions, saying instead that it was vital to come home for Love Island. Since graduating, Lucy has returned to her old part-time job, but come September will be working as an assistant editor at The Tab head office.
Jamie Dimery, Sport Coaching, Sheffield Hallam University
Jamie says: "I felt very proud to have achieved my first after all the hard work."
His words of wisdom are: "to choose a sport course, because they are piss easy." Jamie's current plans after graduation are, "to be unemployed for around four years because no one gives you a job from a sports degree."
Gaia Ward, Musical Theatre, Wessex Academy of Performing Arts

Gaia believes: "It feels amazing to have got a first," and especially because she: "went through some mad shit and to have come out the other side with the best grade I could have hoped for."
"Coffee and sheer bloody determination," is what Gaia believes bagged her her first. Setting herself goals and working towards them was Gaia's driving force as she believes: "there's no worse feeling than letting yourself down," but to also "not be too hard on yourself."
Gaia now lives in a bus and is traveling Europe as a free lance busker/festival performer. "Eventually I would like to settle somewhere abroad and work as a performer on stage, or with children in theatre in education but only once I've subdued my wonderlust a little."
Hannah Bowler, History and International Relations, University of Reading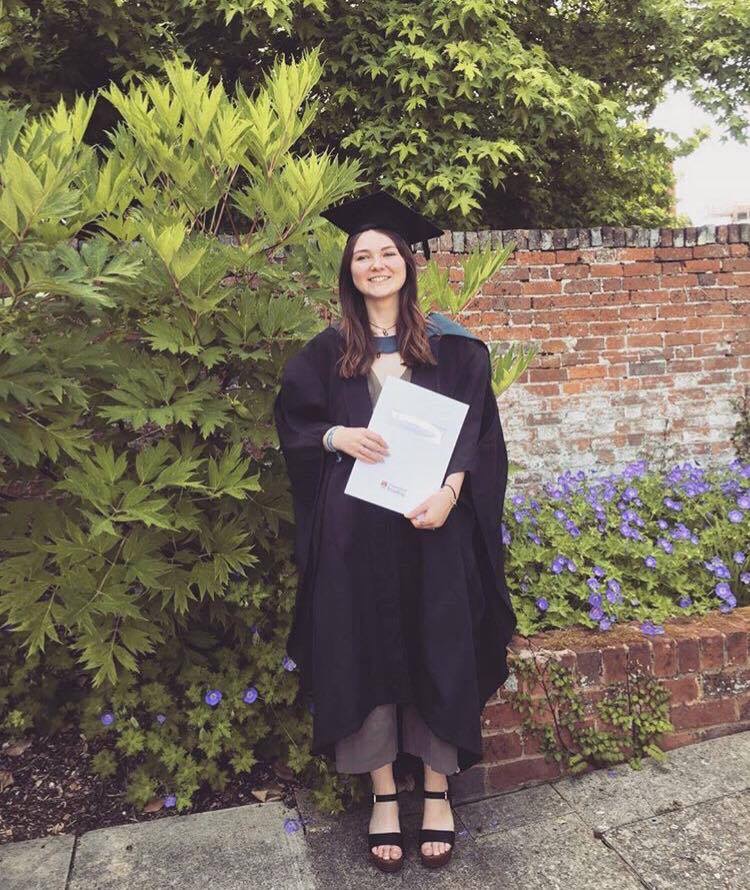 Hannah believes she was never a really good student, only until going to uni did she feel like she "massively improved," so her first was a nice surprise for her.
"I mostly winged uni so it was nice to pull it off without stress or effort," and helping achieve her first Hannah mostly "got quite pissed."
Jack Tooth, French & History, University of York
Jack was delighted with his result, after doing well in second year Jack says: "everyone kind of just expected me to get a first after that."
He believes: "there's no big secret behind doing well at uni, because in general you get out of it what you put in," but when there is time to switch off, "make sure you do it properly. It's only healthy to lose the plot and go on a mad one every now and then."
Jack has the intention of going into book publishing which he says: "is really competitive, and a lot of companies have removed their degree requirements anyway, which is pretty disheartening, as it just confirms how much more valuable experience is than a degree."
So Jack has currently moved back home and the job hunt continues, as "sadly it doesn't look like graduating with a first automatically translates into landing your dream job."
Sophie Crump, History, University of York. 
Sophie says her first "feels pretty good," and all those "horrific hours in the library are worth it."
Sophie said she just kept thinking it would be the last ever time she would have to do exams and studying so she wanted to leave education "on a high."
"Of course the though of a lot of alcohol and messy nights out was a massive push. Oh and the cake… I successfully tried every single JB Morrell cake/slice on offer from the cafe."
Sophie is now doing a bunch of internships and work experience placements, in marketing and social media. She doesn't believe panicking and rushing into a grad scheme job she ends up hating is the best move. So, right now Sophie works as a content manager for a UK based international yoga brand.
Bethany Francis, Mathematics, University of Leeds
"It's pretty cool to have a first, I feel really nerdy when I say it's in maths, peoples reactions are pretty funny/slightly insulting when they don't expect it to be in maths."
Bethany got through her final year with "lots of tears, support of my parents, friends and housemates," and of course "nights out at fruity at the student union in Leeds."
"My advice is to plan stuff to look forward to after each of your deadlines." Bethany also solidly advises "do not do a final year in maths."
Bethany is currently saving up so she can move out of England while she is young, and would like to go and volunteer and teach around the world.
Lucy Pokorny, Biochemistry, University of York

Laura says "it's pretty nice to have a first," although it took "lots of coffee and chocolate to get through those library days.
"Surviving on minimal sleep, and some big tunes to pump myself up on the way to the library."
Laura also believes "many litres of vodka, thoughts of that salvo dance floor as motivation for getting through exam season," secured her that first.
She is currently holidaying her way through the summer and then staring a PhD at UCL in September.