My life as a 24-year-old entrepreneur working all over the world
Adrien co-founded his own tech company and has worked in 15 different countries
For most people, working a 9 to 5 office job is just the way the world works. But what if that didn't have to be the case?
24-year-old Adrien Montcoudiol has described himself as a "digital hobo." After studying startups and learning to code, he now travels the world with the tech company he co-founded.
We asked him how he does it.
Hi Adrien. Can you tell us a bit about the "digital nomad" lifestyle?
Thanks to today's technology you can work from anywhere as long as you have an internet connection. This enables you to live a more intense life: being able to work on your projects while travelling, discovering new cultures, meeting really different kinds of people.
I'm so glad to have been born today because it's the first time in history when you can travel so much while still working efficiently. Personally I've probably worked in around 15 countries: Africa, the Middle East, all around Europe and the US.
Travel is becoming cheaper and WiFi is becoming more available, so it's an opportunity that more people should consider.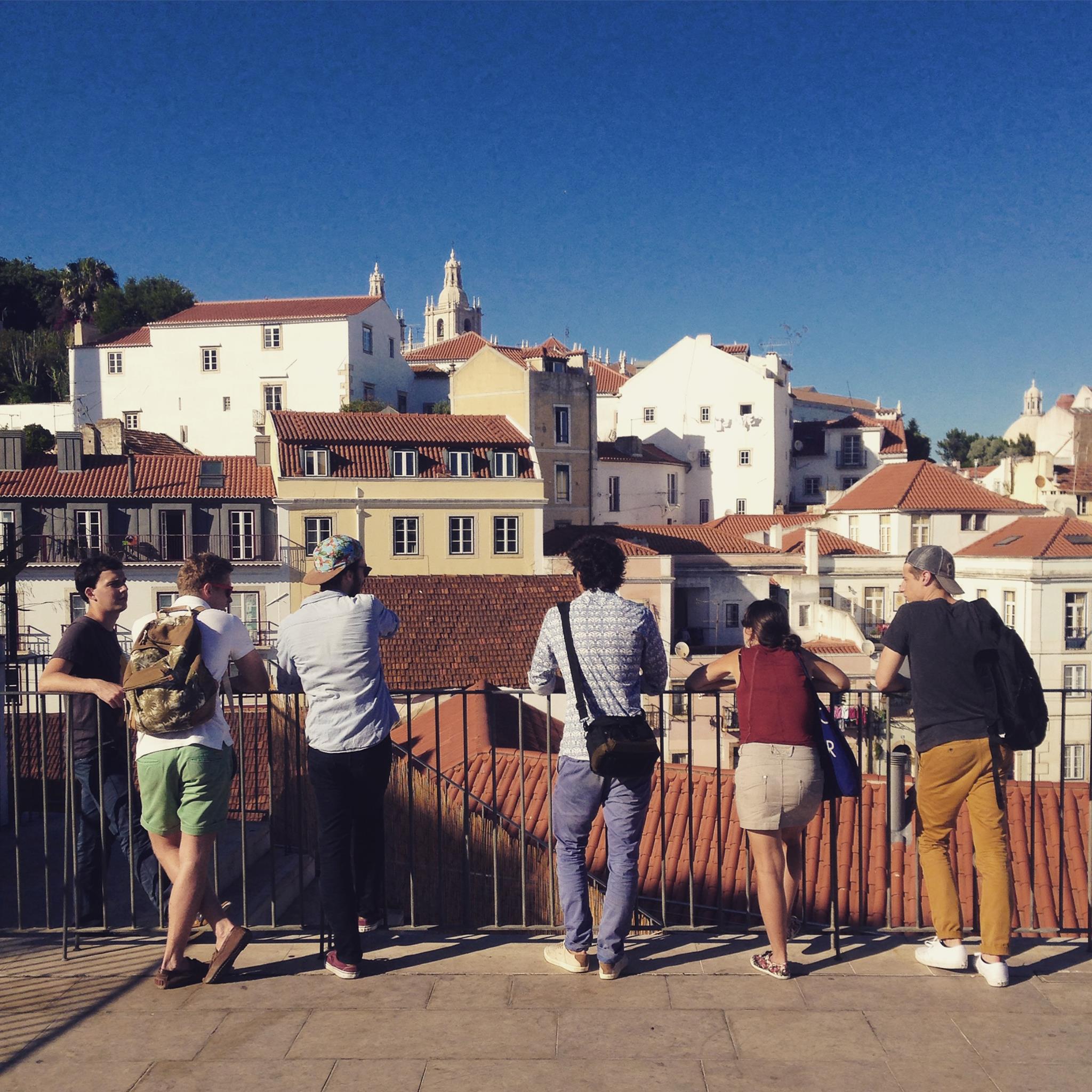 So how did you get into the startup scene?
I was studying Business in Paris and I became really interested in startups, so I started working with some of them in my spare time as well as making some apps with friends.
I decided to move to San Francisco to learn more and to be in the middle of the tech scene in Silicon Valley. I went there for a year and a half and worked for two startups over there as a "growth hacker".
Basically I'd help them acquire more users and build growth – we raised a few million for one of the apps, but eventually I decided to go back to France to learn coding because I felt I was a bit limited in my own personal growth because I didn't have the technical skills.
What made you want to learn how to code?
I think if you want to work in a startup environment and collaborate efficiently with developers, you need to have an understanding of the developers' culture and of the tools they use.
In September 2014 I went back to Paris and enrolled at Le Wagon, which is a two-month programme where you learn coding and database knowledge. It's a programme where you're in the middle of the startup scene in Paris, so I met a lot of entrepeneurs and future project partners there.
Basically after two months you have a knowledge of how to build prototypes, which enables you to really progress and have more freedom as an entrepeneur.
So what did you do next?
After I left Le Wagon I started freelancing as a growth hacker and web developer, and that's when I started my digital nomad lifestyle. As I knew the Parisian tech scene and San Francisco tech scene really well, I wanted to explore other areas in the world. I went to Nairobi, Kenya and Israel, living in each place for four months at a time.
My plan was to go to India and China and then back to San Francisco at the end, over eight months – but after three and a half months I got offered a job at a really cool startup called Molotov in Paris. I just couldn't turn it down.
How did you end up working abroad again?
I joined Molotov in April 2015, but after six or eight months I started to realise I wasn't the right fit for the company. The founders came from a business background and didn't share the same culture I'd found in Silicon Valley, so I decided it wasn't the best place for me to keep growing.
I quit my job and, along with some of my former co-workers, friends, freelancers and entrepeneurs, we decided to rent a riad in Morocco for three weeks in January. There were 12 of us, and we'd all started to question the way we wanted to approach our careers.
We realised we had three options: join another company as a 9 to 5 employee, build our own startup, or be freelancers. We didn't like the routine of working in an office job as we wanted to create and to travel but there were  also too many sacrifices involved in building a startup from scratch.
Then with freelancing there's the loneliness, which I experienced in Africa and the Middle East: in the morning, when you wake up, you don't have any colleagues to have fun with and you don't have anyone who's going to help you improve.
Our compromise was to create Mangrove, which is a community where we have a lot of processes to grow together and focus on our personal fulfilment while collaborating on tech projects.
So what do you do now on a day-to-day basis?
Two or three days a week I do freelancing, and thanks to my technical skills acquired at Le Wagon I can help startups really easily with growth hacking strategies. I'm very lucky with that, because it means two or three days a week are enough to make a living.
The rest of the time is spent with other Mangrove members, building projects together. We're like a startup studio: we're always building new stuff and focusing on growing our community. Right now it's about 70 people: entrepreneurs, freelancers, startup employees.
As a company we go on retreats – we spent three weeks in Portugal in May, where we rented a huge house and would go to the beach. Over three weeks we'd work together, surf together, do meditation. It was really cool. Because we were in a really isolated place, we could really have a healthy lifestyle and be far away from the excitement of the city.
What's been your favourite place you've worked?
Where we were in Morocco was a really good place to disconnect. We'd surf every day, it was super sunny, and we had this amazing cafe where we could work on the terrace under the sun. It was a great experience.
Even though we have these retreats and we travel to these amazing places, though, it's not to say I don't have an epicentre – I have a flat in Paris that I subrent when I travel. I like to keep that place because most of my friends are in Paris and so is a big part of my network. I don't want to be totally disconnected.
Actually having a physical space is helpful sometimes; it's just not mandatory 100 per cent of the time.
Would you say the idea of a company working from one office is outdated?
I wouldn't be so radical: you can't build a company, have 10-15 people in the office and then make it remote. If you have this mindset from the beginning and implement processes that will allow your company to grow while being remote, it can be amazing. Everyone should consider it, but it won't work for everyone.
I'm not saying it's outdated to have a single office. It's just that most people who are eager to grow and eager to learn are also eager to travel, so if you don't enable your employees to work remotely sometimes then you're isolating yourself from these great people.
So what's next for you?
This summer we're organising a learning programme in Berlin called "nomad education", where we're going to bring together 20 tech freelancers from all over Europe to share their knowledge.
The next step after that is to open a hub in San Francisco – some of us are going there for a few months at the end of the year. We already have a hub in Paris, so we're going to open one there and see how it goes.
Our five year plan as a community is to have 1,000 members, and to be spread across 15 countries, having a hub in all of them. I hope we'll birth some great startups too – we value the freedom and ambition of our members, and that'll allow us to grow fast and far.
I also hope we'll be able to organise some retreats spread over the world in cool places, and that we'll show people that it's possible to work differently: you don't have to make a choice between doing a 9 to 5 or being an entrepreneur and making sacrifices. There is an alternative.
Personally, my focus is always to learn as much as I can, and to be surrounded by people who inspire me. I'm not focused on building a billion dollar startup – maybe one day, but right now I just want to learn and get inspired.
Le Wagon has now launched in London – if you want to learn to code and work all over the world visit their site here