'Theresa May, sashay away': We talked to the protesters outside Downing Street
There were people dressed up as our new Prime Minister, dancing around and singing
Walking out of Westminster station I'm not quite sure what we were expecting to see. Crowds of journalists and news crews perhaps, who had been there since 5am all hoping to catch a glimpse of David Cameron's exit and Theresa May's entrance. We were also expecting protesters, and lots of them, brandishing banners and chanting, raging against the new Prime Minister.
Instead, we got out of the station and there was nothing. The streets were relatively quiet and only a handful of tourists were peering down at maps.
We walked along the road to Downing Street, hoping to find something more exciting. A crowd had accumulated at the black gates, with people putting their phones and cameras in the air trying to photograph any movement at Number 10.
An elderly man stood holding a large canvas depicting an artistic interpretation of the next female Prime Minister, presumably that he'd done himself.
What stole the show however, was some sort of political disco, if you like. Six people stood on the pavement sporting Theresa May masks and shaking their arses to Pharrel's Happy.
Amongst the group, a woman was dancing up and down the pavement wearing nothing more than a green jacket and a pair of bikini bottoms, complete with a sign saying "meet your new PM".  She embraced the crowd of people watching her, happily posing for photos whilst singing her own version of the song's lyrics.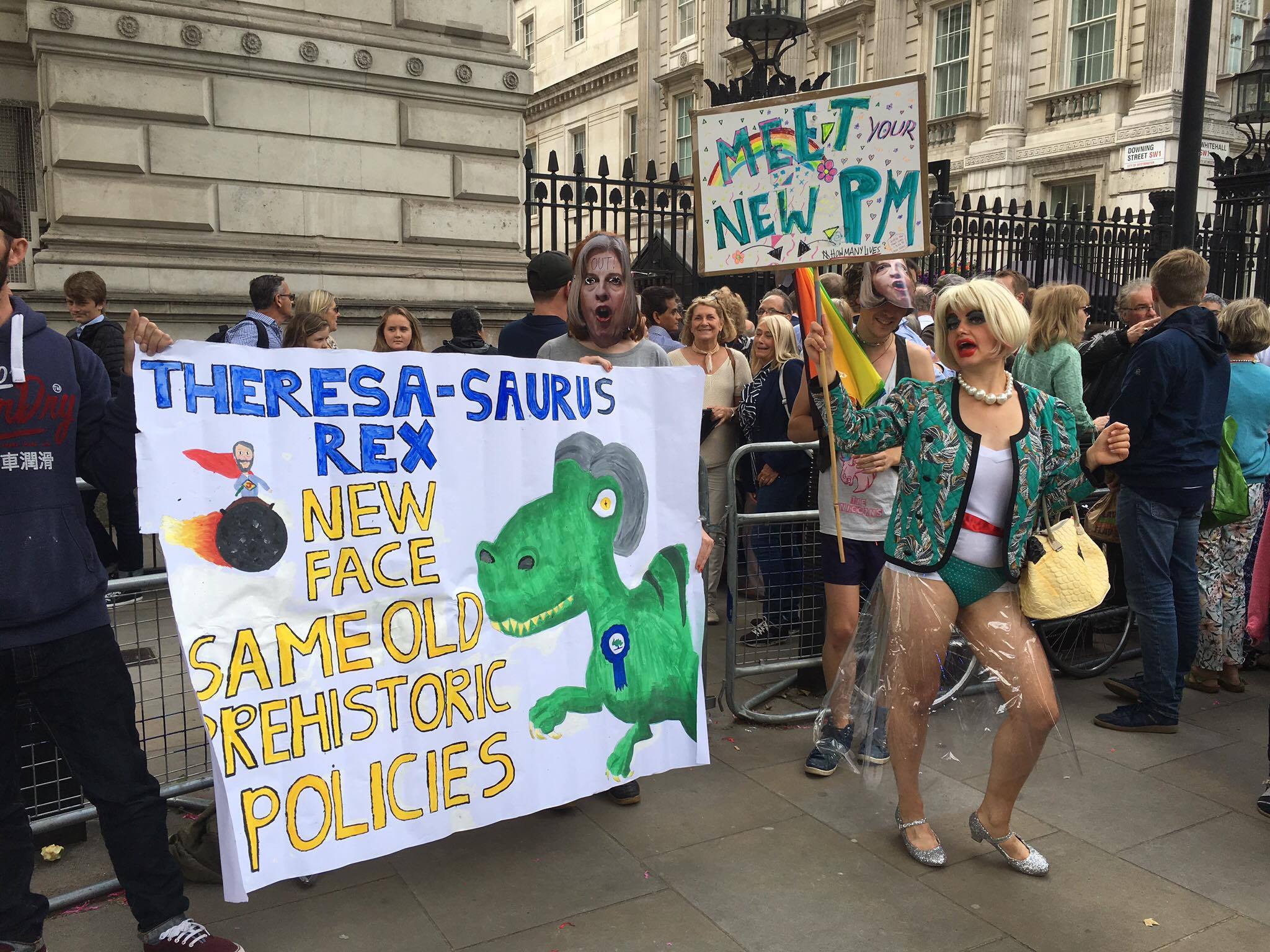 "Making changes day-by-day, doing thing Theresa's way" she would chant, finishing off her little ditty with: "Theresa May sashay away, overseas immigrants you can't stay".
We walked to the side of the demonstration and asked if one of the protesters in a Theresa May mask would talk to us – they happily abided. 30-year-old Elainr (pronounced Elaine) from Brighton removed her mask and started explaining why they were there.
"I'm protesting because Theresa May is our Prime Minister with zero votes and we have a Tory government that doesn't represent our country".
Elainr seemed to be most angry about May's policies on immigration, saying how she talks about immigration "as if it's something to be scared of, rather than something that's celebrated and embraced. The impact on refugees and immigrants is really detrimental".
Our conversation was interrupted by a man wearing a bright red "Corbynista" t-shirt, who came up to Elainr to shake her hand, praising the group for their humorous yet effective protest.
"We're linked to the English Disco Lovers", explained Elainr as she tried to shout over the beat of the music.
"This isn't an EDL demonstration, but part of a protest against the far right and to promote equality at similar events."
She added: "We are all about alternative ways of demonstration that are peaceful and not confrontational. People are protesting in other parts of the street but ours is a bit playful, it's a way of playfully mocking what's going on in our government."
As for her ideal PM, Elainr thinks, "Caroline Lucas and Jeremy Corbyn in a joint effort."
Whether you're a May supporter or not, you couldn't help but smile at what these guys were doing.  And all credit to them, it certainly takes some guts to mimic the new Tory leader and prance around outside her new home in your underwear.