These were the best dressed people at Sunfall this weekend
Prints and patterns were the order of the day
This weekend was the debut of new festival Sunfall which took place in London's Brockwell Park before branching off into various venues across London in the evening, where revellers could see acts such as Jamie xx and Studio 89.
It's safe to say that no one was disappointed by Sunfall – it proved with a bang that this festival is here to stay. You know when your mates are rolling around on the floor that its been a good day.
We captured a selection of the best outfits on offer, so you can see the bar that these lot have set for next year.
Expect glitter, wavy shirts and a whole lot of sass.
Max, 21, Yorkshire
Here Max dons a khaki patterned shirt from a vintage shop in Bath, complete with beer in hand. Effortless yet stylish.
Rosie, 20, Harrogate
Rosie pulls off this cheeky little number by keeping things fun, showing she isn't afraid to show some skin with her mesh top from Boohoo.
Mariesa, 29, Leicestershire
When asked where her outfit was from Mariesa didn't know, that's how casual she was keeping it. Her choker and trainers adds some edge to her all black ensemble.
Izzy, 20, Hertfordshire & Joe, 22, Newcastle
Joe slicks back his hair and prefers a relaxed look, wearing shorts and a plain white T – a chilled look for a chilled guy. Izzy shows us festival cool like a pro in her high neck top that was actually made by her own mum – what a fashion guru. She also played it safe with her glitter, keeping it just under her eyes, so you won't have to worry about coming out of a mosh pit like you've just been hit by a glitter bomb when with Izzy.
Elliot, 20, Surrey
Elliot told me that he acquired his shirt on his gap yah in Argentina before proceeding to tell me his life story: He dropped out of college and got a job at a recruitment, then he got fired and went travelling. When he returned the recruitment company begged for him back and now he has achieved his life dreams by appearing on the Tab. Thanks Elliot, what a beautiful story.
Niall, 22, Edinburgh
Niall clearly knows the phrase "when in doubt, pout it out", as does he know that his vintage Hawaiian shirt is a summer essential. This outfit and pose radiates sass.
Sam Maia James, 19, Brazil & Akaash Chawla, 21, New Zealand
These international party animals know how to dress and may even show us Brits up – Akaash wears a bright, summery co-ord, a camo bum bag and finishes her look with some Adidas Superstars. Sam, on the other hand, keeps his appearance minimal, dressing in a variety of greys and blacks, showing that sometimes an understated outfit is the best way to play it.
Jack, 24, Surrey & Daisy, 24, Nottingham
Jack's Mexican themed shirt and faraway look proves that this guy is clearly a joker and someone who has plenty of banter with his "boyz". Daisy exudes boho charm with her garms, in a floral skirt from a vintage shop in Asia (typical) and her lace up sandals.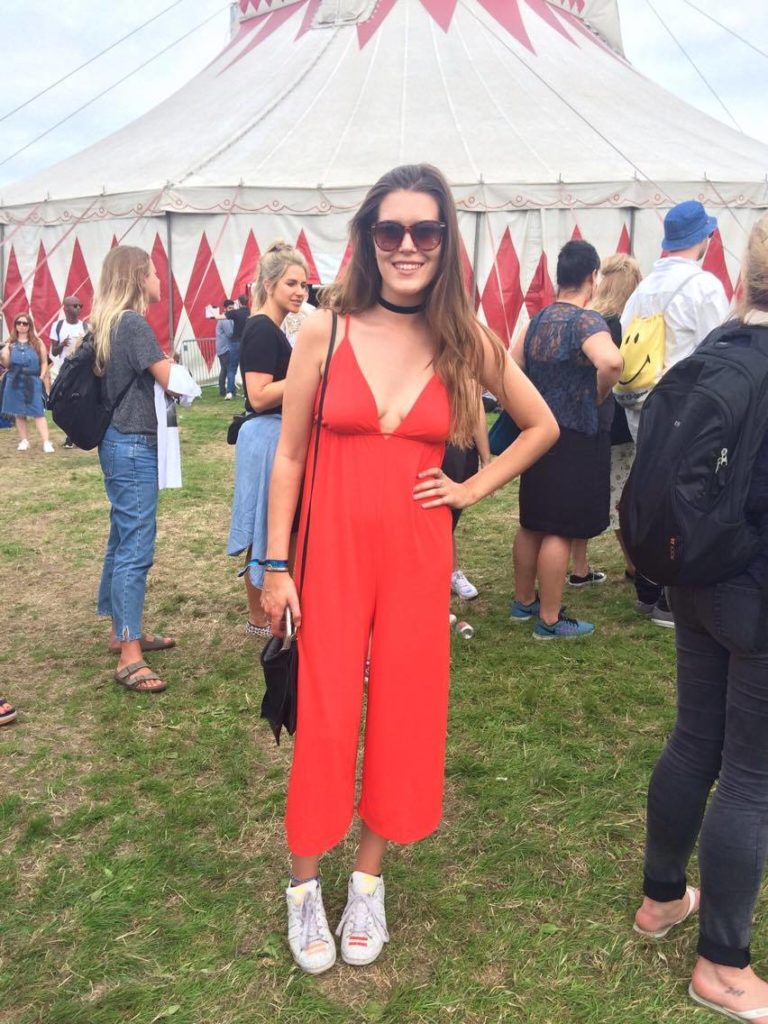 Blue and Daniel
Wearing clothes designed and created by Bleue, this pair stood out from the crowd. Both the clean cut shirt and the hand decorated jeans were vastly different to anything anyone else was seen wearing at the festival which is why they made the cut.
Pairing this sunflower print co-ord with french braids and navy Supergas is a fool proof outfit. The co-ord is made a little bolder with the tassles on both the crop and the shorts, and the sunnies give this look a polished finish.
Jacquef
Posing for just about long enough for me to take a quick snap, Jacquef was clearly on a mad wave, and i'm not just talking about his shirt. Dressed down with a sleek pair of black skinnies this look's charm stems from the bright colours and his cheeky half grin.
Sofia
This look is ALL about the attention to detail. Sofia's pin striped dress is spruced up by her commitment to festival accessories: metallic nail varnish, purple sunnies, dip-dyed braids, glitter and a cheeky bindi all contribute to her sassy appearance.
Amber
Pulling off such a statement pair of trousers is no easy feat. Amber keeps this outfit low key by wearing them with matching monochrome vans and a plain black crop. With such a bright, sophisticated bob (excuse the wind), its easy to see that Jess from MiC is her style icon.