I spent a week on the rainbow diet
The world of celebrity diets that all claim to have 'cleansing' and nutritional health benefits is a bizarre one. From the Beyonce approved master cleanse to baby food being the secret to eternal youth. I am not a serial yo yo dieter, I like to have fun with my food, play with ingredients and come up with something nutritious and delicious. In my personal opinion being on a perpetual quest for weight loss through fad dieting is pretty stupid, because it is not a long term solution for your health, both physically and mentally. So I when I stumbled across the seven day colour diet I decided to try it out just to prove it wrong more than anything else.
The colour diet has been around for a while, and it's pretty straightforward. It involves eating food of one colour every day (shocking, I know) to improve nutrition. Junk food is banned, so that's fun.
Day one – white food
As I needed to acquire all the requisite food for the diet I schlepped down to Lidl in order to be able to complete this challenge. £36.15 later I had three very large bags of shopping full of vegetables and was resenting the fact that I couldn't eat half of it when I wanted to. Once I got home I had my lunch (I forgot to have breakfast), which was goats cheese, wholegrain bread, a rice cake and mushrooms. It seemed a little premature for me to feel optimistic, but after supper, (which was chicken, cottage cheese, onion, mushroom, a lot of garlic and cauliflower on the side) I was quite surprised at how easy it was to incorporate with sufficient ingredients.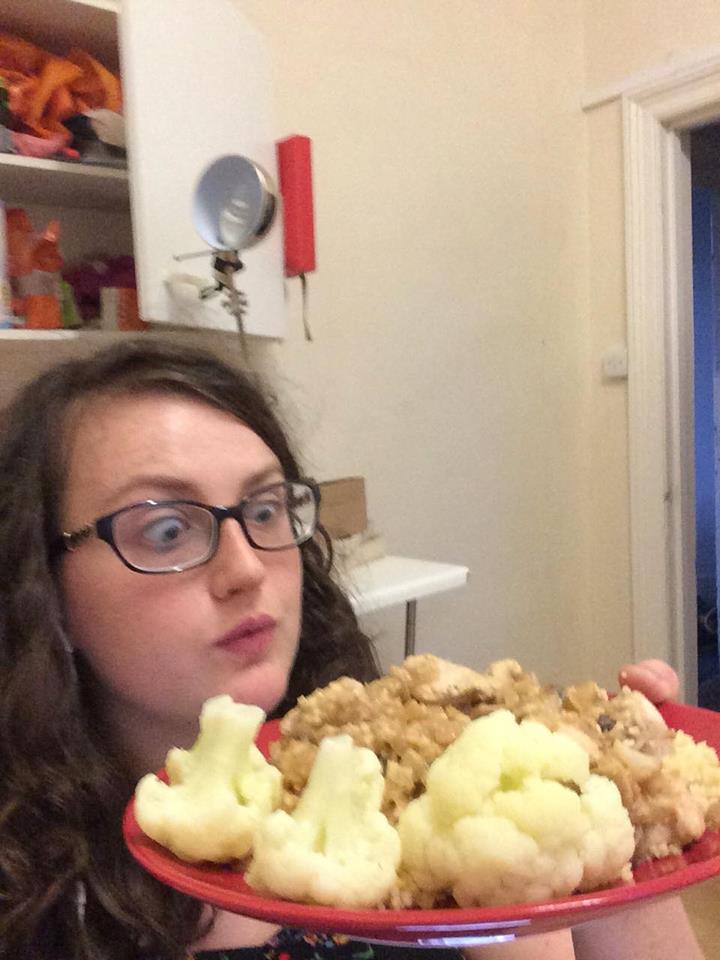 I managed to make a pretty decent meal out of my white things, which I was rather impressed by. But I did mess it up by accidentally eating couscous (well, it's kind of white).
Day two – red food
Red day was actually pretty good, and meant being able to eat copious amounts of foods like strawberries, tomatoes and watermelon, which always make me happy. Breakfast therefore, was a delight. A punnet of strawberries and a slice of watermelon later I was very happy. This day was somewhat complicated by the fact that I was due to work a ten hour shift. So like the good little dieter I am I made a chicken and tomato dish that ended up looking like a dodgy Chinese.
It tasted OK, but I wasn't able to eat it until I got home at 3am. On the whole though, it wasn't too bad, as not being able to eat refined carbohydrates isn't as horrible as it might initially appear if you are willing to get creative.
Day three – green food
I was very excited for green day, as a big fan of vegetables, with many coming under the green category this promised to be a fairly straightforward day. Being as I was travelling to Wales on this day, I brought all the coloured food I could find in the fridge to the train station and sat there eating grapes and pistachios whilst waiting for my train. This certainly has its charms, but not necessarily the most civilised way to live your life.
On the train I made my way through half a packet of spinach and an avocado, in a similarly uncultured manner, but I was happy enough. Supper was just broccoli, which weirdly made me feel really bloated and full. In general though, the hunger I expected to feel due partaking in a diet that was largely vegetables wasn't there. So I'm taking that as a win for the day.
Day four – orange food
I was pleasantly surprised by the fact that I woke up really energised and awake…at 7am. I would attribute this to the fact that I was eating food that wasn't really stodgy and heavy, so my body felt much better. As this day was orange food, there was a lot of variety and I could also legitimately snack by eating an unlimited number of carrots. I made the discovery of baked beans with fried onions. Try this, it is amazing and you will be forever changed by it.
Orange lunch was butternut squash and sweet potato soup that was a beautiful creation of culinary magnificence. (As you may have noticed, I like orange food) I usually feel exhausted around mid afternoon, and so it was surprising that I was still feeling awake and not really hungry at all (although that might be to do with all the carrots I ate). By the time supper came around I was feeling pretty good (butternut squash and chicken if you're interested).
Day five – purple
This was the day that I was most concerned about in terms of restriction. I had porridge with lots of cherries and blueberries in it, which was very filling and gratifying. I must say though, by this point I was getting quite tired and the energised feeling I had earlier in the week had subsided somewhat. Also eating an unholy amount of beetroot was not necessarily the best idea in the world. As much as I like beetroot, there is such a thing as too much.
Lunch was (unsurprisingly) beetroot and goat's cheese, and there was not much to it other than those two components. Supper however was a little bit more exciting, as I had an aubergine ready to pimp out. Frying up with some garlic and onion will make most vegetables pretty delicious, and this one was no exception. Despite my scepticism (and seriously craving red meat) it was a decent day overall.
Day six – yellow
Yellow was a struggle. One of the main benefits though, was having pineapple for breakfast. I am always going to be in favour of that so things could have been much worse. By this point though I was feeling very fatigued and quite low, which goes to show the impact that what you put into your body can have on your mood and state of mind. However I was sorted out pretty quickly by a banana and perked up. There was a very delicious yellow soup for lunch, which was most definitely a plus and contributed towards my five a day as it was full of vegetables. I also managed some yellow mushrooms.
Supper was corn on the cob and chicken with lemon, yellow pepper and egg, which is admittedly a bit odd as a meal, but it worked and actually tasted pretty good. I definitely felt much more lethargic than I had done on this day, but maybe that was the process of my body adjusting to what I was putting in my body.
Day seven – rainbow
I was about ready to leave the colour diet when I reached my last day, which had a twist – you had to eat as many different colours in your food as possible. Naturally I started with the very neutrally coloured porridge that totally epitomised the whole rainbow part of the whole experiment. I totally made up for it with my snack of radishes though, so I'm calling that a win. My lunch was also a little more colourful than breakfast, as the best I could do on a train was a salad. Once I returned to my abode however I did get going on the spiralizer and made courgetti with pesto, garlic and tomato. As my flatmate will attest, this was really good and to a certain extent fulfilled the colourful brief that was the final day.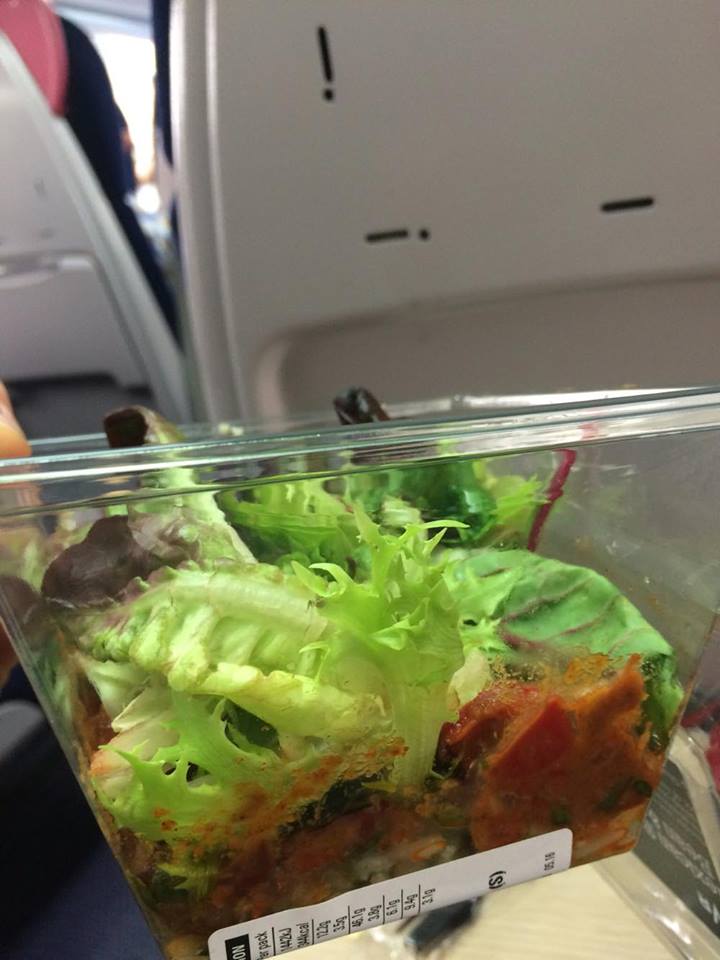 Although it was at times pretty restrictive, this was a surprisingly achievable eating regime. The limitations aren't so severe that you end up hating life and wanting to stuff your face with pizza while ugly crying at your inadequacy as a human being. At the beginning of the week I was feeling filled up, satisfied by the food I prepared and not hugely tempted by what I couldn't eat. It was a little more tricky towards the end of the week, as I began to really crave red meat and get quite tired. However, as you can diversify what food you eat pretty easily this is definitely the sort of diet you could to long term without killing yourself.
If you want to mix things up, challenge yourself, or even incorporate more fruit and vegetables into your diet while still eating food that tastes nice then try this, because despite the fact that it is a little bit mad, and requires a certain degree of planning, despite everything it was quite fun.