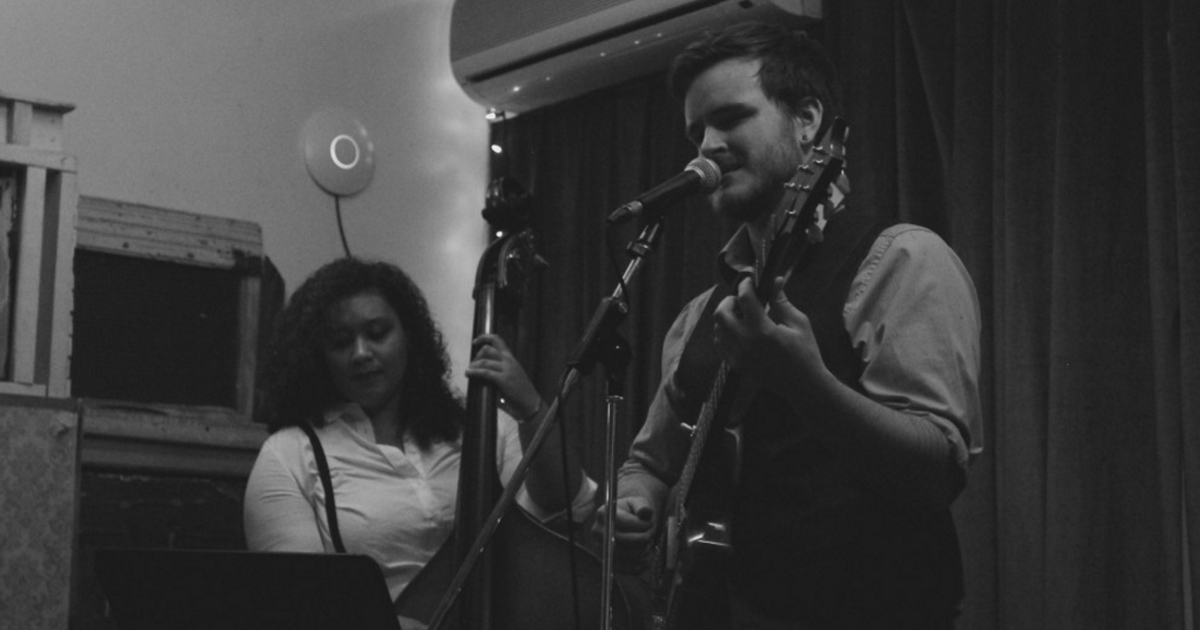 McGill music grad creates an escape with North Country Towers
He brings the calmness of northern Ontario to the middle of busy Montreal
Born and raised in pine-filled northern Ontario, McGill music graduate Caleb Smith understands the importance of finding an escape from the city. And he hopes you'l find your own personal escape in the tunes of North Country Towers. His ever evolving solo project.
What began at five years old with fiddle and step dancing soon became a love of music that led Caleb to pick up his dad's guitar in the second grade. At 12, he discovered the upright bass and (as many 12 year olds would) became enraptured with the idea of playing an instrument nearly twice his size. Six years later, Caleb was accepted at McGill's music school and is now a graduate with a Bachelors of Music Performance in Classical Double Bass. North Country Towers owes it's start in part to the contributions of Thomas Beard, who completed the duo before Caleb decided to become a solo artist in September.

The name "North Country Towers" is a nod to Caleb's upbringing in northern Ontario, a constant source of inspiration for his music. 'Towers' is his mother's maiden name. Caleb's musical influences for NCT have changed as he himself has grown, starting out with Jack Johnson, then Jason Mraz and John Mayer and most recently Alabama Shakes who inspired him to make the switch to an electric guitar for solo shows.
Songwriting began for Caleb with tenth grade heartache (which appears on one of his albums) and then at 18 when he was asked to write a song for his cousin's wedding, which subsequently became "The Difference" included on his first album "Stranger". Caleb released a second record entitled "Along the Way" this past July, which included tracks like "North". The tune talks about a place away from the city where you don't have to worry about feeling ignored or in danger; a place where you don't have to reach for your keys in self defence. "Hold On" begins like a love ballad. The lyrics make it seem like the track is about holding on to someone you love. In reality, Caleb wrote it about holding on to memories and his past life in northern Ontario, far away from the bustle of Montreal.
On March 25th, NCT performed at Le Cagibi, backed up by fellow McGillians Alexa Dumont on upright bass, Paul Carter on sax and Peter Colantonio on drums.
"That's the best part of being a music student." Caleb explained. "You are surrounded by so many unreal musicians. For both albums it was never hard to find talented people to work with from McGill."
(Jesse Daniel Smith, another Montreal solo artist opened for North Country Towers at the most recent show.)
For North Country Towers, creating an atmosphere for listeners is the goal. Caleb's songwriting process involves a lot of visualization and the creation of imagery that is meant to instill calmness and relaxation as opposed to feelings of intensity, in the minds of listeners.
"I saw the music as this clearing you walk into and it's beautiful. Outside of that line of trees might be your normal life or city but when you're inside of it, it is an escape."
At a recent show, Caleb got to watch that atmosphere in action. He'd prefaced his performance of his song "First Dance" with an invitation to pull someone on to the dance floor. The response was immediate, the whole room seemed to be taken in. It was three minutes where the audience had the chance to forget about the emails they had to send, the papers they had to write, and the bills they had to pay; and maybe even the hectic energy of Montreal all around them.
"I want to create a moment where if you really look you can see the city in the distance, but if you focus inside, all that's going on is the music."