All the reasons why Cornwall is the most charming place on earth
Why would you go anywhere else?
There are few things in my life more precious and nostalgic than memories of trips to Cornwall. Let's face it, if you don't get quite emotional at the mere mention of the West Country you probably haven't been there. Whether you're lucky enough to live there or you've gone on holiday there, this is an attempt to encapsulate the joys of Kernow in one place.
Beach BBQs
You're sitting in the sun and you cannot believe your luck. Your burger is probably sandy but you don't care.
Beach BBQs in the pouring rain
Of course it's raining, you're in Cornwall. What did you expect?
Going for a walk in the pouring rain
"WE'RE LEAVING!" Mum, it's raining. Can you please chill? Fast forward 20 minutes and you are clinging to each other as you push forward over the headlands, but somehow you are enjoying yourself.
Surfing in the pouring rain
And getting a hot chocolate afterwards because you don't think you have ever known such coldness.
Having the same conversation every time you are about to get in the sea 
"Now, if you get caught in a riptide you must swim parallel to the shore, not towards the shore."
Seeing dolphins off the coast and in the estuaries
It's one thing seeing dolphins in the middle of the Caribbean. It's another thing entirely to see them bobbing through the estuary, following boats (fun fact: they like the sounds of the engines) and playing around them. Bottlenose dolphins are known to frequent estuaries around the Cornish coast.
Drinking Doom Bar
Yes, it's ale, and ale isn't for everyone – but this is different. Doom Bar is the nectar of the Cornish gods. Another fact: it is called Doom Bar because of a ridge in the seabed off the coast of Polzeath beach. This "bar of doom" kicks up the waves to make for better surf.
Going surfing at sunrise
There is nothing quite like the feeling of being the only person or group in the sea – especially as the beaches can get pretty hectic in peak times.
Eating Cornish mussels
They. Are. Just. So. Delicious. Bang some bread in that marinière and drain the bowl dry.
Watching the sunset over Fistral beach in Newquay
This is a real life photo I took two weeks ago on my phone:
Wearing a wetsuit
The first time you don that neoprene – whether it's a wet, sandy one you've rented from a beach stall or, if you're really lucky, your own – you will wonder why anyone would put themselves through such a thing. In time it becomes one of those comical outfits you're really quite fond of (just don't wee in it).
Biking the Camel Trail along the estuary from Padstow to Wadebridge
When you were little you used to sit in the little bike-trailers like a queen, then you progressed to the tandem with your dad (meaning you sat on the back, not doing a huge amount – sorry, Dad). Then you were old enough to go solo and ride it with your friends, and you didn't have to stop at the birdwatching hut and wait for your parents.
Eating Rick Stein's fish and chips
Sure, they're more pricey than your average fish and chips, but everyone should have them at least once.
Dog walking on the beach
(Obvs only if you have a dog.)
Walking over the [insert any coastal area] headland
It doesn't matter where, they're all jaw-droppingly beautiful. Even in the rain.
Not minding that everything takes about an hour
This is one of those things that should drive you to your wits' end, but in Cornwall there's just something really endearing about the fact that everything takes hours. 
Having a picnic in a boat of some description
These faces say more than words could.
Getting a cotton braid or spray-on tattoo
Because '90s.
Crabbing
It is legitimately the best pastime.
Rockpooling
With those bamboo or plastic fishing nets. If you don't know what this is I feel really sad about it.
Buying stuff you don't need in Padstow
So many souvenirs.
You feel like part of an Enid Blyton novel
So many adventures – whether you're playing "Jeopardy", pretending you're in the Blair Witch Project, or making mud pies.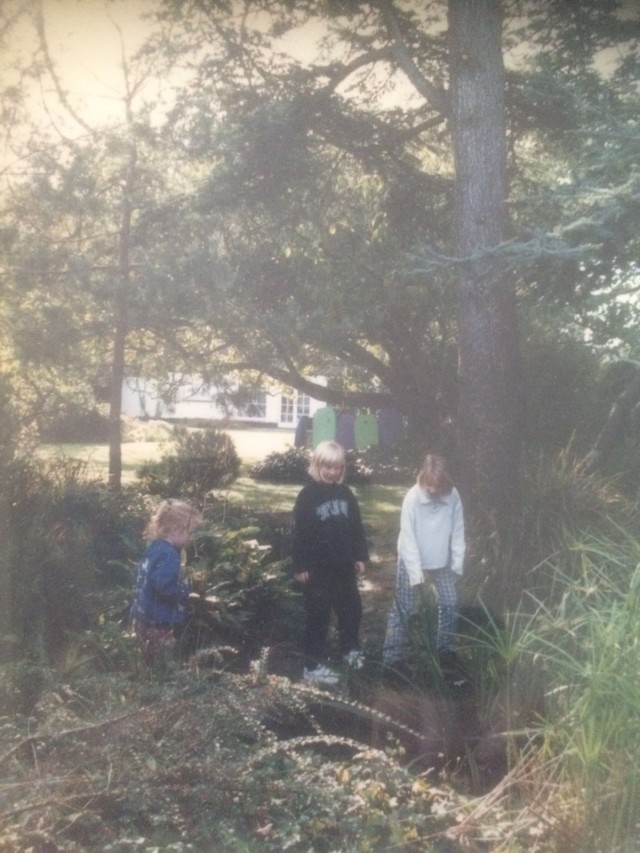 Eating proper Cornish Fudge
It just tastes completely different.
Eating proper Cornish ice cream
See Cornish fudge. Kelly's <3.
Playing beach cricket
And your dad showing off and diving every other ball. He makes at least one amazing catch so it's worth it.
The sunsets
'Rowboat' is a legitimate form of transport
You can keep your Tubes and red buses, thanks.
Sitting behind a 'windbreak' thinking it actually helps to break the wind
It won't.
Going bodyboarding (and calling it 'surfing')
Let's face it, bodyboarding – although uncool – is just more fun and less stressful than surfing.
Being completely stunned when the sun comes out, and talking about it constantly
You will sit outside, even though it's still only ten degrees. The sun is rare so you have to make the most of every ray.
Getting in the water no matter what the temperature is outside
Sure, it's December, but I'm fine without a wetsuit thanks very much.
Digging a sick moat/dam/hole
Every castle needs a moat, and there's nothing like the challenge of stopping a stream on a beach reaching the sea.
Going to Lizard Point
Everyone knows this is the real bottom end of England, not Land's End. "Fools", you can say smugly.
There are SEALS
There's a sanctuary in Gweek, and wild seals all around the coast. This fella is in Cornwall, why aren't you?
The pasties
There's a reason they're called Cornish Pasties. Fun fact: the reason they have the thick crust on the side was for the Cornish miners, so that they didn't ingest the coal on their hands. They used to throw that bit away.
The pathways, cafes and shops in St Ives
They are so wonderfully quaint.
I'm going to finish with some pics of the scenery, if you still aren't sold: