A short defence of footballers who dive
You'd think losing 2-0 to Wolfsburg would've been the most embarrassing thing to happen to Real Madrid in their Champions League quarter final first leg last night. But after a quick dissection of the shock loss, the focus shifted to the antics of Brazilian left-back Marcelo. In the 69th minute he did this: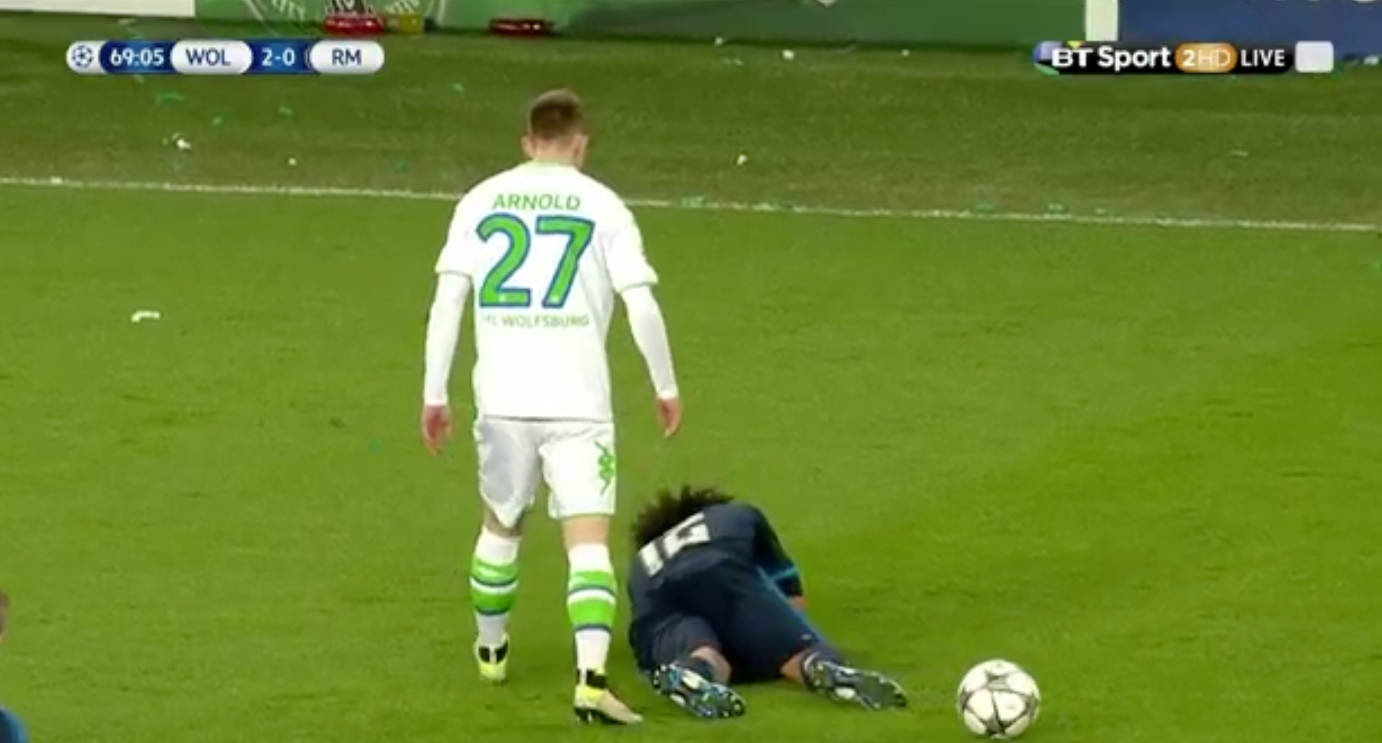 It's undeniably one of the weirder passages of football. Play is stopped as Marcelo and Arnold pursue the same ball, Marcelo delicately flicks out his leg at Arnold, runs further forward, picks up the ball, and in the same movement, brings his head up against Arnold's chest. As soon as he makes contact he falls to the ground as if it's Arnold that pushed a chest into his face, and not the other way round. Rather unfairly, the German is booked.
Former England manager and low key spiritual energy nutter Glenn Hoddle was scathing about it. "The way he goes down there, it's like he's been shot, it's embarrassing," He leaves no diving cliche unused: goes down (check), been shot (check), embarrassing (check).
It's a popular bugbear. Last year, Roy Keane exacted a rhetorical bloodletting on Ashley Young's tendency to fall over with every passing breeze, in what was possibly the ultimate example of a pundit hating on diving. From the comfort of ITV's studio he said:
"I think the guy's a disgrace and if he's a Man United player I'm a Chinaman. Absolute disgrace, he's done it far too many times. Look at that. Absolute disgrace. And I just hope players are getting a hold of him, whether it be the manager or some of the senior players. That shouldn't be accepted at Man United. That's absolutely disgraceful."
What unites Marcelo and Ashley Young is a simple truth I'm sure Hoddle and Keane are very  familiar with: they want to win football matches. And isn't that really all there is to football matches? Once you scrape away the context, sport is about beating another side. Sure, you might have fun in the process, but the process itself is undeniably brutal. One side wins, the other loses. If Marcelo had managed to get Arnold sent off, and Real Madrid had scored an away goal as a result, he would have done his job.
Roy Keane can sit there doing his punditry, with the tenor of a man quietly wishing for the means to eradicate everyone on earth so he can be left alone with his dogs, but watching the bearded hard case and his sympathetic cohorts espouse the weepy and pathetic notion that football should be fair or honourable doesn't play well with me. Football is rarely fair or honourable. England won a World Cup with a goal that wasn't a goal and the only people who really remember it are the Germans. Argentina knocked England out of a World Cup with a hand ball and the only people who really remember are us.
And strangely, cheating, whether it's inadvertent, or theatrically cuntish like Maradona or Marcelo last night, adds a rich and important texture to the sport. Try and imagine football without villains. It's half a game, a game without talking points, a game you wouldn't be very interested in.