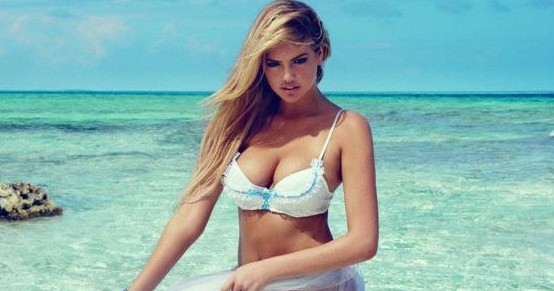 I would much rather have small boobs than get a boob job any day
We've celebrated big bums, curvy girls, and ample chests, and taken on the body-shamers. So why has no one stuck up for small boobs yet?
As a girl with a small chest – 30C to be exact – I'm tired of the world telling me that big boobs are the be all and end all. I have spent the majority of my life yearning more up top, and doing everything within my power – except surgery – to give myself some more shape there. I spent my school years buying bras with extra padding and have contoured my cleavage more times than I care to admit. But after years of pretending, I've finally accepted my boobs for what they are: small, round and perky.
Yes, Kate Upton is incredibly sexy. But for many, big boobs are an inconvenience. A friend of mine is a G cup, with a tiny frame. Her boobs give her nothing but back pain and she cannot find feminine underwear for her "udders" (her words, not mine) that deliver the requisite support. Although I struggle to find anywhere that stocks a 30 back (not even Elle Macpherson's range does, and you can forget about Victoria's Secret), I don't require an underwired bras – indeed, often I don't need a bra at all. Those little lacy numbers in Topshop? They're all mine.
Having a small chest means I get the best of both worlds. I can go braless if it suits what I'm wearing better; I can wear backless dresses; I can wear flimsy bits of lace that bill themselves as bras but are essentially decorative flags of fabric that make me feel pretty. On the other hand, I can buy a bra with added boost to create a curvier shape, and I can wear a push up bra without worrying about my boobs touching my chin. I have a wide range of shapes and styles to chose from without worrying about compromising on support or aesthetic.
The variety of underwear isn't the only benefit of bijou boobs. You also don't have to worry about them losing their shape – I could run a marathon and they wouldn't hurt or sag, and I can run downstairs without them bouncing over my shoulders. Life is less painful. There are many things that scare me about growing old – but ending up with saggy boobs isn't one of them.
But ultimately, we shouldn't prize one body shape or size over another. There are many benefits to big boobs, but I love the freedom of small ones – and you should celebrate those too.