Daniel Cordas is making the most incredible custom sneakers in the UK
And he's working on a pair for Stormzy right now
Daniel Cordas graduated from business school at UWE in June 2015. Since then he's combined a passion for sneakers and a talent for art to make a series of incredible custom pairs. I spoke to him about his story, his art, his clients and the future of sneakers and streetwear in the UK.
I first saw your stuff in The Basement, and I thought  you were seriously fucking brave taking incredibly expensive shoes, and painting them. And you made them look even better. Could you tell me a bit about yourself? 
I did a business degree at uni, started doing my art in second year, graduated in summer 2015 and I've been painting trainers for less than two years. It grew really quickly – mainly thanks to Instagram – and I started making money from it almost instantly. I got a job when I graduated with Nike at Harrods, but I'm now working there part-time because of the amount of art I'm doing.
2016 has been a crazy year so far. The Yeezys I've been working on are part of a much larger project I'm working on. That'll involve every single pair of Adidas Yeezys that they've released. Anytime Yeezys get released I'll be getting them and painting them.
Is that in conjunction with Adidas? 
Nah, I know a lot of people basically. I'm not saying I can get Yeezys for anything that's not considered a ridiculous price but I can get them quickly.
Sweet. You've got such a big following on Insta now – I guess you've become quite well-integrated within that online sneaker world. 
Yeah [especially] with events like Crepe City and pages like The Basement – even though it's a worldwide community it remains tight-knit, [and] London [is] at the centre of it. Generally, there are 100 or so people who are regular in that scene.
Let's just rewind a little bit. What were the first pair of trainers you customised, and when did you realise you were good at it? I'd be scared to try in the first place. 
I was always decent at art at school but I didn't go to art college. So I effectively gave up on it when I went to uni to do business. Art isn't one of those things you can ever really stop though, I started getting really into trainers at uni as well.
It started when I literally just drew a pair of trainers, paint on paper. I put it on Instagram – the first drawing I ever put on there – and it went big. Highsnobiety, KicksOnFire and things like that shared it. My account started growing straight away. People started requesting drawings and I was selling them instantly as well.
I had an alright pair, Nike Air Force, a really classic pair. I found out the process of how to do it properly, which is one of the hardest bits and again, once I did it, the whole thing blew up. It all developed from there.
Could you talk me through that process a bit, you can be as technical as you want, especially in terms of how you make the designs durable? Unless it's like a trade secret?
A lot of sneaker customisers or artists, would just say: "I'm not telling you." But it's tricky because if I explain how it works to you then people will understand that it's not a simple or easy thing to do. If you just paint on a shoe it will crack and it will ruin it.
What I say to people, effectively, is that you have to firstly get to the leather, removing the wax layer that protects the factory paint. Then you use a leather bonding paint rather than a normal paint – even this requires a process – small layers, not too thick, and lots of other tricks that differ from artist to artist.  Finally you finish and waterproof it. My work should come out exactly the same way as if it the trainers were factory painted.
How long does the entire process take?
It can take anything. But roughly about ten to fifteen hours a pair.
Right, that's pretty labour intensive. How many do you manage to do in a week? 
At the moment it's something like four or five pairs. It does fluctuate a lot, and its meant that I've had to change my pricing structure quite a bit from when I've started.
So how much are you charging right now? 
When I first started, the first pair were for a mate, and I charged him £60 for them –
Fuck that, that's fourteen hours work, mate.
That was right, right at the start. Let's just say a standard pair takes ten hours: a month ago my base rate would have been £180, not inclusive of the shoe. Since 2016, working with a partner who has their own client base, we've had orders ranging from £500 upwards.
I feel like with the work you're doing, it could so easily not be "right", do you know what I mean? But when I looked at your Insta I saw your work as bringing something out of the shoe, rather than overpowering it. 
There's some quote out there which says there's a fine line between genius and idiocy isn't there?
Yeah, something like that. I think you're on the right side at the moment. Have you ever had anyone famous buy from you? 
I did a pair for Chipmunk a few months ago. He wore them in one of his videos, which had about 1.5 million views. I'm currently doing a pair for Stormzy. Professor Green follows me on Instagram, there are a few other people but I always forget. Actually, Rick Ross shared me on Insta once.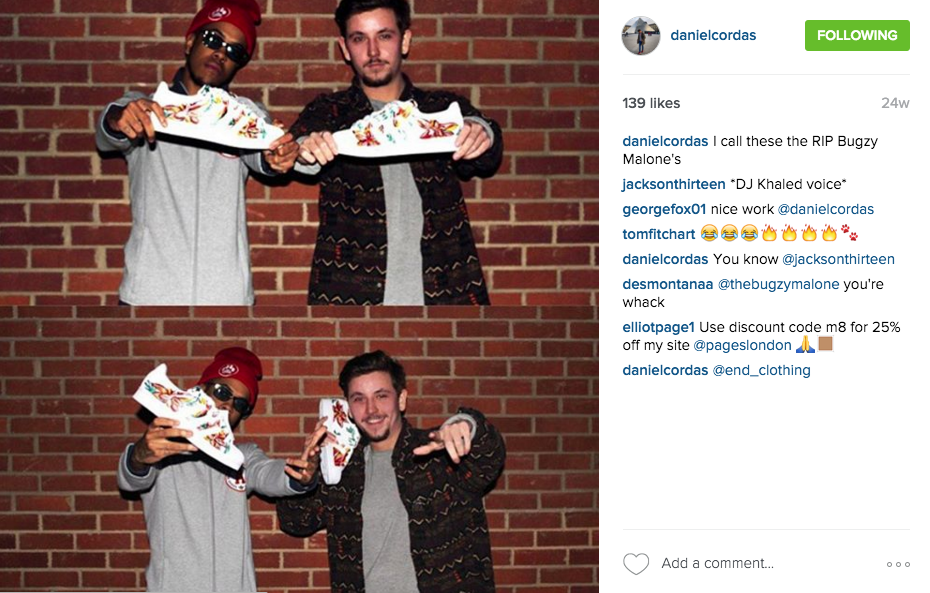 To have someone like Rick Ross basically giving you legitimacy, it must be great. 
Yeah, it is a crazy thing. Obviously I have a big passion for Art. It's a consuming thing.
How would you describe your aesthetic and your approach to the trainers? 
It's not an easy question. Similarly, people often ask me what inspires me, things like that. I'd say it's very simple in that, things that inspire me are cool things; I don't restrict it. It's not limited by anything except the desire to make something. Looking at technical things, like what I can paint on, what designs I can use, doesn't really infringe on the possibilities. These are bespoke, handmade pieces, you can just do anything.
What are you favourite brands at the moment? 
My trainers are always a big part of my general outfits. As a whole I like brands like Supreme and I own a few items but usually I wear quite plain clothes, boutique things, things I've found online, very standard colours. I'm not too brand-y when it comes to my fits. And then I have a pair of trainers as the centrepiece. I wear quite a few of my own shoes, like a walking advertisement.
Do you get compliments in the street?
Yeah, I do, sometimes.
Then you say I made them right?
Yeah exactly, then I hand them a business card. If I'm wearing floral trainers I can't get away with too much in the rest of my outfit.
Streetwear is big at the moment. Trainers are big. Do you have a theory for why this has happened? 
I think social media has played a massive part. It's obvious I know, but things like The Basement, which has grown massively, are big influences. It influences London streetwear and everyone is influencing each other. Things like Reddit were big as well. The growth of streetwear is aligned with the growth of these groups on social media.
The sneaker scene has been around for many years. People's dads may have collected sneakers. Michael Jordan Lifetime pretty much kicked it off. It's huge right now, and people do ask the question: could it all die? It could all stop tomorrow. But personally I don't agree. The sneaker scene is at a peak, but I think in five years it will be even bigger.
There are fewer than five good sneaker customisers in the UK. In America there's quite a few more. I think what we're doing at the moment is bringing the UK up to that level. Sneakers and streetwear here can keep growing. You're seeing that with the way Drake is embracing UK music – he's seems to be the most obsessed with the scene. But you also have Kylie Jenner being styled by Ian Connor. The UK is going up and it's great to be a part of it.
Who would you love to sell a pair of trainers to? What's the dream?
Last week I had an interview over Skype with some American TV producers who're interested in making a documentary about sneaker customisers. I told them that if I was on the show I'd have to give a shoutout to DJ Khaled, he's the one. I think that would be a cool one to do.
Your business is booming to be fair. 
Yeah, exactly.
If you're interested in Daniel's work you can contact him here: dcordas@gmail.com.