Amazon UK reviews of Donald Trump memorabilia are as weird as you'd expect
'If you love the unmistakable smell of Trump, this is for you'
With the American elections hotting up, interest in Donald Trump has crossed the Atlantic.
You may love him or loathe him (it's likely the latter) – you have certainly thought about him. If you need any proof that he has captured the UK imagination, look at the 40 pages of Donald Trump listings on Amazon UK.
These are some of the weirdest British reactions to Trump memorabilia.
His best book
"ANOTHER FABULOUS BOOK, WHEN I LEFT THIS BOOK FOR WHATEVER REASON, I ACTUALLY FOUND MYSELF 'RUNNING' BACK TO IT, I HAVE NEVER DONE THIS MY ENTIRE LIFE – I WAS JUST HUNGRY FOR HIS KNOWLEDGE. FABULOUS." – buttrerfly, ★★★★★
His worst book
"Read about 5 pages, felt sick, put down." – Robert, ★☆☆☆☆
His smallest book
"Bit of a joke when I received it, this book is a miniature, could fit inside a cracker" – Mr N J C Wyatt, ★☆☆☆☆
"its small like a matchbox i was shocked when i had it come in a big box and it was there up the corner very small i paid the price if i new i wouldnt have even paid 5p for it no information small it would get lost in your pocket its that thin and tiny but the words inside are quite biggish compared to the book you can read it in 5 mins and its boring dnt telll you anythink i wasted my money so dnt waste yours i say!!!!!" – addy, ★☆☆☆☆
His aftershave
"If you love the unmistakable smell of Trump, this is for you. I can only describe it as having been produced by an arse with a smell of intolerance and moral decline. Delicious." – Goddenzilla, ★★★★★
His game

"It was very cheap at a small loan of a million dollars and extra bonus there are no muslims!! Just kidding kill yourself DT" – Laing Family, ★☆☆☆☆
His biggest fan
"I havent actually bought a copy of this book. But from what i can see from the book preview options it is a perfect purchase for any trump supporter." – Amazon Customer, ★★★★★
His foray into Scotland

"What a ridiculous lot of tosh. It's not even built yet. Trump is not a purveyor of dreams, but is destroying paradise. Hideous, hideous hideous." – Jenny, ★☆☆☆☆
His campaign T-shirt
"Way to go Don Trump. ( Mr President ) !!!!!!! Great Product For A Great Man" – paul .t, ★★★★★
His self-help manual

"I didnt really understand how do people get sucssesfull in work or private before i lissning too this book. Now i know wish hard work i need too do. My belife in life is:Learn from the best." – Bengt, ★★★★★
"Good stuff, diamond geezer the Donald is !" – alex, ★★★★★
His high-quality mask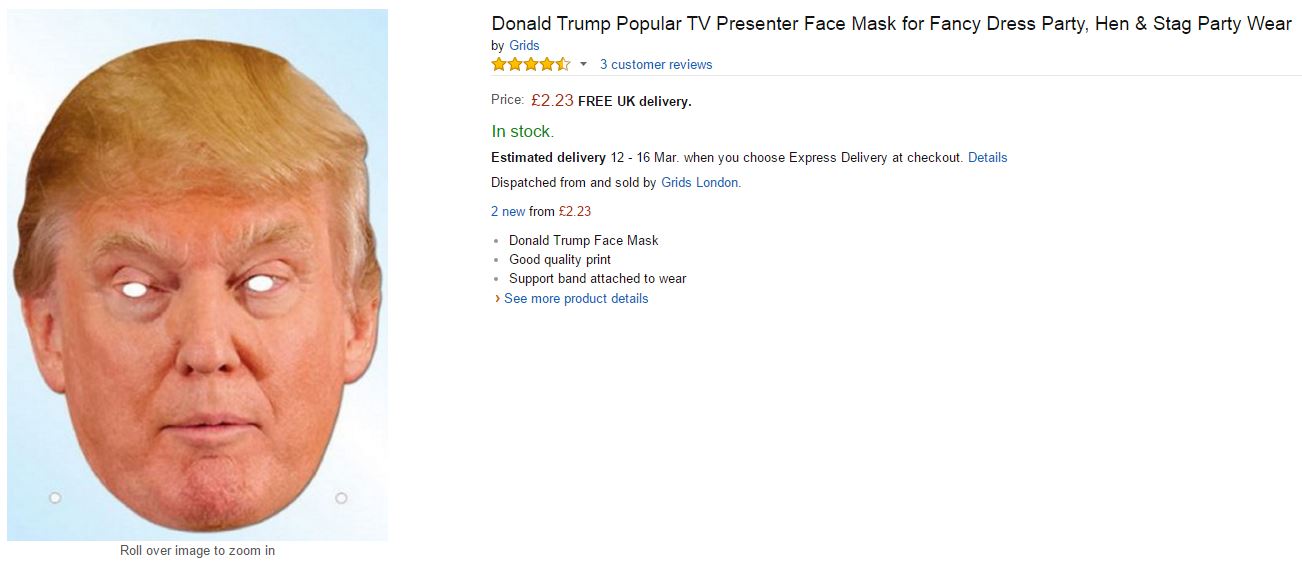 "Was a great likeness. Good quality card and quite robust." – Maggie, ★★★★☆
His low-quality mask

"MISLEADING. Extremely disappointed with this mask. Looks nothing like the image shown. Poor quality and looks nothing like the man himself." – Chris, ★☆☆☆☆
And of course, his coasters
"Good sturdy mats. nothing fancy. just does the job!" – Nath, ★★★★★
"Good solid cork mats. I have bought them before and was happy to buy more so I would recommend them to other folk." – carolh, ★★★★★
"great in the caravan" – Marion, ★★★★★