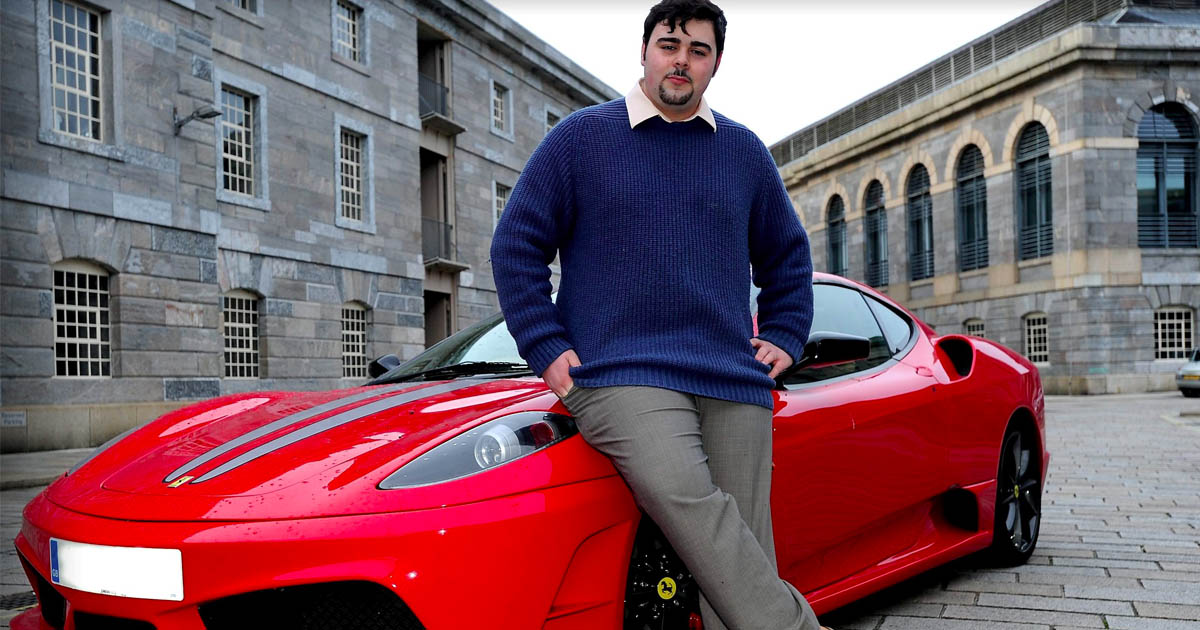 Showoff teen who bragged about self-made £21 million jailed for 26 months
The judge said: 'You should be ashamed'
A teenage fraudster who boasted about turning £2 into £21M has been jailed after an eagle-eyed detective spotted he was driving a FAKE Ferrari.
Devious Sam Cook, 18, lied about his extreme wealth to con more than £100k from unsuspecting clients.
And now the judge has sentenced Cook to 26 months in jail.
The blagger told The Tab in December how he dropped out of school at 16 and made his millions on the stock market.
The court heard how he presented himself as a successful investor and promised to invest his clients' money into stocks and currency.
Instead he pocketed the cash and used it to create a lavish lifestyle including a swanky flat, overseas holidays – and a £25k fake Ferrari.
And he was only rumbled when a police office noticed that the super-car he was pictured in the media posing with was in fact a kit-car based around a Ford Cougar.
He admitted six counts of fraud at an earlier hearing.
A judge jailed Cook, of Okehampton, Devon, for 26 months at Plymouth Crown Court today and told him he should be ashamed of his actions.
Appearing in court in a sharp blue suit with a yellow shirt and red tie, Cook stood with his hand shaking, comforted by occasional glances of his father Peter at the back of the court, as the case was read out to him.
The court heard that Cook was caught out after DC Dan Parkinson read an article about the defendant in the local newspaper the Plymouth Herald.
Suspicion aroused when the officer read that Cook bragged that he had made his fortunes on the stock market, and planned to open his own financial business.
DC Parkinson began looking into the claims and the chink in Cook's armour was also his crowning jewel, his fake Ferrari.
The officer was quickly able to identify the car as a counterfeit after running the registration plate through the force's computer system.
After further probes were made into his business, six potential victims emerged and Cook was arrested for fraud.
Kelly Scrivener, for the Crown Prosecution Service, said: "(DC Parkinson) found at least six people who had parted with money under the false impression that this defendant would invest the money in the stock market.
"(Cook) had a lavish lifestyle, to all intents and purposes they had no reason not the reason not to believe he was investing their money."
All the victims were introduced to Cook through his parents and between them invested £110,200.
They were Mr Sarle, who invested £9k, Mr Harrison, who invested £35k, Miss Hollyman, who invested £6,200, Mr Reed, who invested £5k, Mr Clemens, who invested £5k, and a sixth victim who cannot be named for legal reasons, who invested £50K.
The court heard how the money invested in Cook was precious to his victims.
Mr Harrison, who invested £35K, did so by raiding his savings, and invested in Cook instead of paying off his mortgage.
While Miss Hollyman, who invested over £6k, did so instead of replacing her old car.
Ms Scrivener said: "The defendant was arrested by DC Parkinson and was cautioned.
"The police found that he did not have a legitimate business at all but pocketed the money and lived a lavish lifestyle."
Michael Green, for Cook's defence, said: "There are victims that were taken in and handed over vast sums of money. They thought they were investing in the defendant.
"Whatever the impact, each thought they were undertaking in a business opportunity which involved some degree of risk.
"It was a bogus company, it was a bogus investment. It was inevitable that this would come to light, and so it did.
"He is 18-years-old, and suddenly found himself with quick money in his bank account and he gave into temptation and spent it.
"The defendant is now involved in an auction with his father, to raise money to repay his victims.
"In the grand scheme of things it is a very modest sum, but it is a start."
Mr Green said the defendant's father has his own business and has offered to repay the victims at a monthly rate.
He said: "The defendant hopes to gain employment, and repay his victims himself."
Matters were complicated further for Cook's defence, when the prosecution produced a picture sent in by one of the victims.
The picture showed the defendant and his father, dressed up as a judge and a criminal in fancy dress, at a wedding function.
The prosecution presented this photo as evidence that neither the defendant nor his father treated the proceedings with adequate respect.
Mr Green said: "I have spoken to the defendant about the picture this morning, and it is something he deeply regrets.
"He wasn't responsible for bringing the props or the photo booth, and was unaware that the photo would be shared online."
Sentencing Cook to 26 months in prison, Judge Richard Powell said: "You are a man of previous good character, but these offences are serious, so serious that a custodial sentence is inevitable.
"You heard about the impact to your victims, but let me remind you that your offending involved sums of money which were very important to your victims.
"It is plain to me that this company you set up was fraudulent from the start.
"You used the money to find a lavish lifestyle.
"You used money that was not yours to go on overseas holidays, and present an image of success.
"You should be ashamed."