Which musical superstar is your uni?
noad
Choosing which university to go to is like choosing which music artist to listen to – whatever your decision you'll be judged by a mate with better UCAS points and Spotify Premium. Whether you're stuck at a one hit wonder poly or an absolute legend, at least you can share the pain or glory with your musical soulmate.
Taylor Swift – Birmingham
There's a pretty high female to male ratio at Brum, which means there are probably a fair few angsty T-Swift songs being blasted in halls at any one time. It's also red.
Nicki Minaj – Bath
They spend a lot of time dancing like her in the library. 
Britney Spears – Plymouth
Arguably past their time, both Britney and Plymouth have been slowly declining in some league tables. They both seem to like shaving their heads too, even if it's not for charity. 
Tom Jones – Cardiff
Both from The Green Green Grass of Home – Wales – and just about holding onto their reputation.
Kanye West – Oxford
Both know they're pretty good at what they do (and they don't let you forget it), but both these powerhouses have resting bitch face. Lighten up a little Oxford – Kanye even came to visit you lot.
Miley Cyrus – Leeds
For Leeds students waking up naked on wrecking balls after a wild night at Fruity is standard. And just like Hannah Montana toned it down around Billy Ray, this wavy lot ditch the act when they go home to mummy and daddy.
Beyonce – Cambridge
They both basically run this world. Let's be honest, everyone's either Crazy In Love with Beyonce or want to be her, which however much we might deny it, is the same for Cambridge. Plus they both think they're pretty Flawless.
Jay-Z – Brookes
Brookes have 99 problems and Oxford ain't one – or so they'd like to tell you, it doesn't even bother them being the Poly. They wish they could run this town, but of course, their neighbours, Oxford do. But it's fine, deep down everyone loves  Brookes more than flashy Oxford (Kanye).
Paloma Faith – Reading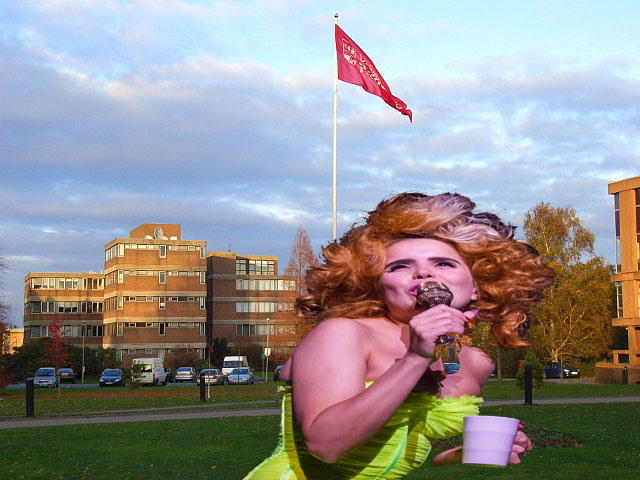 Thinks they're a bit different, decently talented but not good enough to have worldwide or Russell Group recognition. Just can't rely on Reading.
Lily Allen – Bristol
Both a bit edgy and very successful, but try as they might can never quite shaky the shady implication they've only got this far because daddy's got lots and lots of money.
Justin Bieber – Bath Spa
68 per cent female, and a bit shit.
Olly Murs – Exeter
Like to think they're cheeky and preppy, like chatting to their mum a lot, wear really shit trousers.
UEA – Alan Partridge
Going to UEA is a bit like listening to Alan Partridge singing Roachford's Cuddly Toy on repeat for three years – a bit repetitive sure, but absolutely great banter.
Rebecca Black – York
Both get a fair amount of abuse, particularly from angry Lancaster students or Youtube commenters. Rebecca Black came back for more with Saturday after her Friday abuse, York just showed Lancaster what for in this year's Roses.
Snoop Dogg – Manchester
So what we get drunk, so what we smoke weed – pretty much every lyric of Young Wild and Free is relevant to Manchester
James Bay – Sussex
With Sussex having jumped 24 places in the guardian league tables and James Bay coming through as a breakthrough artist of 2015 they've both had a pretty successful year. But it doesn't mean you have to brag about it Sussex, you're hardly a Russell group yet, let it go.
Rihanna – Durham
Durham wishes they were Cambridge (Beyoncé), but they never will be. It's pretty rainy in Durham too, so there's an inescapable umbrella connection.
Chuckle Brothers – Lincoln
Both seen as a bit laughable but ultimately harmless, the Chuckle Brothers love their kindred spirits at Lincoln so much they're often seen at The Engine Shed for a dose of Quack craic. You'll get there eventually Lincoln, but for now, like The Chuckle Brothers, you're so bad you're kind of good and loved for it.
Tinie Tempah – Nottingham
Notts students are wavy and certainly not afraid to party. They're guaranteed to get a bit frisky or pass out after a night out in Ocean.
Sam Smith – St Andrews
I'm not the only one that knows that St Andrews is full of annoyingly talented public school kids with money on their mind.
Bruno Mars – Bournemouth
Originally from Hawaii, Bruno Mars probably loves a good day at the seaside, and that's pretty much the best part of going to uni at Bournemouth.
Coldplay – Imperial
Full of scientists who can probably fix you, Imperial students are undeniably talented, but ridiculously boring. It also makes you look cool if you hate them.
Tom Odell – Royal Holloway
Both quite pretty in a weird way, RHUL is considered a great London uni even though it's not technically in London, just like Tom Odell is considered a great musician even though he looks as nondescript as the people you bump into from primary school when you're back from uni for the summer.
James Blunt – Trent
Don't take themselves too seriously, and are quite funny. Just a shame they're not that great and what they actually do.
Robbie Williams – Sheffield
Keeps popping up again when you think they're done, just like Aslan's takeaway.
Lady Gaga – Nothumbria
Both Northumbria and Gaga are desperate to have their own unique identity, and their appearances on the toon are just as outlandish as Gaga's party get-ups. Unfortunately both overshadowed by outlandish costumes and a much better uni in the same city.
Adele – Warwick
Rumour has it that they both keep themselves to themselves. They're extremely talented and we all know about it when they decide to perk up, but ultimately a bit shy and hidden away.
Meghan Trainor – UWE
Pretty annoying and not as good as Bristol/literally anyone else in the charts. But they're inescapable if you're listening to shit car radio or out for a night out anywhere near Bristol