Seen but not heard: New dating site bans girls from messaging boys first
Girls are allowed to send handkerchief icons instead
A prissy new dating site has sprung up where girls can't message anyone first and boys have to take the lead.
Chivalry Not Dead bans female members from approaching potential matches –– but they are allowed to send a handkerchief icon to show their interest.
Oxford grad Beth Murtagh, 29, set up the site as "the home of good old fashioned dating", and comes with an extensive list of cutesy dating tips.
Lovelorn Beth, who graduated with a degree in English in 2007 and now lives in Colwyn Bay in Wales, felt passion was lacking from the online dating scene –– so she set up Chilvary Not Dead and found her new fiancé.
"The new way of doing things isn't really working and it's leaving a lot of women really unhappy.
"If they want to find good quality dates, it's better to take things slowly and to give them time to assess how they want to be treated.
"I used dating sites and apps like Tinder but didn't enjoy them. There was no dating site for people who wanted to date slowly and be more passionate.
"There are similar dating services but they're limited by religions. Chivalry Not Dead is for all religions and no religions.
"I used Chivalry Not Dead to find my fiancé, so it's worked for me. He lives locally and he's 30. He's absolutely lovely."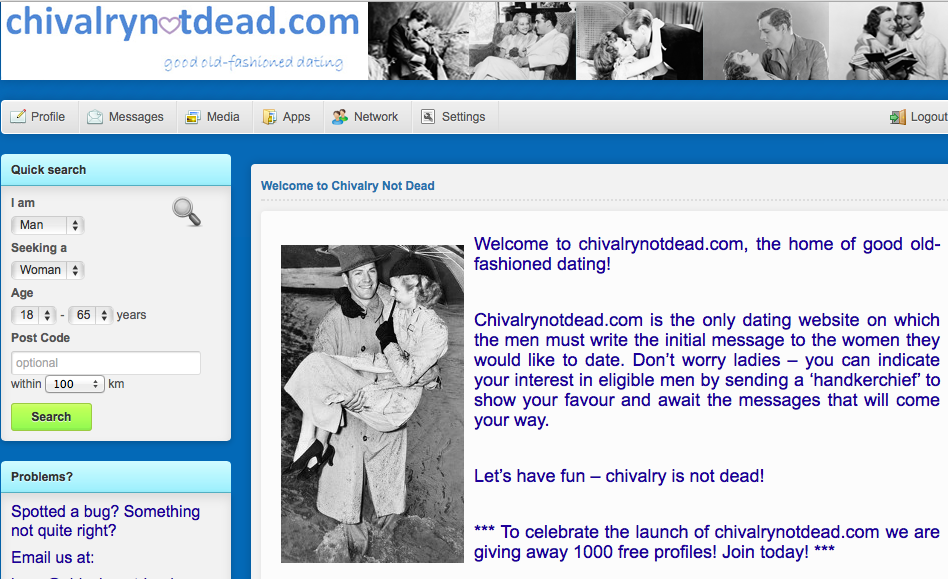 Twee users can sign up for free and start chatting to people online whose main interests include opening doors and placing their clothes in puddles.
The site also offers dating tips for girls which stress the importance of sending messages to suitors with proper grammar and how you should "let the man plan the date".
---
Top tips for girls
"Let the man pay for the date if he offers. Have money with you just in case he doesn't.
"Smile and say thank you. You can begin to offer later on in the relationship.
"Remember your manners and your language. Don't eff and jeff."
Top tips for boys
"Asking what she would like to do or what she would like to eat or drink, opening doors and offering her your jacket if she is cold.
"Gentlemen should walk on the kerb side of the road to protect their lady.
"Don't ask any prying questions that might make her feel uncomfortable.
"Remember your manners and watch your language. Don't be vulgar."
---
Beth explained she created her site because "every woman loves to be pursued".
She added: "I would define chivalry in the romantic sense of the word, that is, men respecting, protecting and cherishing the woman they are dating.
"There's been a bit of discussion on Twitter about what 'chivalry' actually means: I am aware of course of the knightly code of chivalry but we are referring to what people mean when they say 'chivalry is dead' or 'chivalry's not dead', hence the name of the site.
"Every woman loves to be pursued. It doesn't have to be expensive –– it's not to show off, it could be simple. The man has to be make sure she's enjoying herself.
"I'd revisit my first date with my fiancé. Romance is less about showing off and more about the atmosphere."