The London clubs you'll hate yourself for going to when you graduate
Sorting out a flat in the big smoke, so you could escape the gnawing demands of your parents, is usually the biggest hurdle of moving to the capital. But what you don't realise is how terribly spoiled for choice you are when it comes to nights out.
It's London, the pinnacle of everything, what you've been dreaming about for so long, and the nightlife will be the best you've ever had. No more shirt swinging to the Baywatch theme tune. No more sticky dancefloors. No more terrible try hard basements full of kids on the worst kind of drugs.
You're wrong and actually, it's a bit rubbish. London is just a bigger version of your uni town, and with this melting pot comes even more knobheads and even more loathsome stereotypes hell-bent on ruining your night out. Here's some of the finest establishments in London you'll undoubtedly end up in, only to wish you never did.
Cargo, Shoreditch
If you still eat microwave meals, buy a bottle of Glen's for a night out and get so blind drunk you don't care about the music, Cargo is where you want to be. The club with zero panache is situated in the heart of Shoreditch, and it's the epitome of the rubbish place you come to thinking this is what London is about.
With a huge sprayed logo opposite and a young gap year girl offering you flyers every time you walk past, you think this might the club that gives London such a good name for its nightlife. It isn't. If you're a guy, go with girls or you won't get in. If you're a girl, don't go, or groups of guys who can't get in will latch onto you like a leech just for entry. Unless you're a woo girl who will only drink gin and tries to booty shake to Beyoncé, then you're in your element.
Either full of tourists or just all the people from uni you wish you'd never see again, don't be fooled by the amount of people here. They don't know what they're doing, you don't know what you're doing. Carry on walking and go somewhere half decent.
Nest, Dalston
Mandy? Check. Septum bar? Check. A deep set rage at David Cameron's ignorance of The Arts? Check. Pack your party backpacks, you're off to The Nest, East London's clammiest basement. Once at the forefront of the trap music era, The Nest has now become just another one of those clubs on Kingsland Road. Like the rest of them it's a tongues out, sunglasses on kind of place only slightly more garish than the rest.
Thursday nights are like a Central St Martin's S/S end of year showcase of gurns. Boys are relentlessly camp, think allblackeverything, mesh football vests and high white socks. Your average girl will be fit but in that boyish way, with doc martins and purple hair.
In summary, if you select your clubs on how try hard they are, go here. People who don't "get" fashion shouldn't step foot inside, or go anywhere near Dalston for that matter.
Dogstar, Brixton
The Yates's of the London nightlife scene. It's going for that big pub kind of look, just with more expensive drink, groups of guys buying Snakebite and loads of Topshop clothing.
It's sticky floors and busy queues. It's pillars in the dancefloor for you to swing round and grind on. It's a smoking area built big because that's where people meet and talk, and that's where everyone is, because the music is so bloody awful. And don't forget the two extra floors you'll never be able to find.
Situated perfectly nestled by four chip shops, the only thing you can think of is the greasy chicken burger you'll by chomping on in the Uber home. It claims it's Brixton but it's a bit like the poly saying they're the main university.
XOYO, Old Street
Went to uni and found yourself a bit didn't you. You've dabbled with some pingers, but your septum isn't quite falling out. You've only just bought your first oversized Ralph Lauren shirt because your Dad's wardrobe just didn't prove fruitful when you had a little dig around before fleeing the nest and you wake up to your own embarrassing a four minute long snapchat story of flashing lazers and massive pupils. You'll be going to XOYO then.
Faux-chic decor like the neon sign you see as you enter the basement, standing out like a parody of a Dutch strip club, elevate it beyond your usual dingy basement in Dalston. Drinks are your usual price, but what hits you the most is the suspicion when you ask for your third bottle of water and the atmosphere still clinging onto a student night.
And forget it if you fancy a smoke to catch some fresh air. What can only be compared to an Asda trolley park, covered in fishing nets to stop the pigeons landing on you, the smoking area takes the crown for one of the worst in London. 
Mahiki, Green Park
If the Medieval practice of trials by ordeal existed in the 21st Century, they would be carried out in Mahiki. Everything about this pit of despair makes you want to burn it down: the bouncers who try to turn you away because you're wearing sneakers, the Eurobrats posing in their Maseratis outside and the hateful bar staff serving ostentatious treasure chest cocktails to brittle low-level aristos.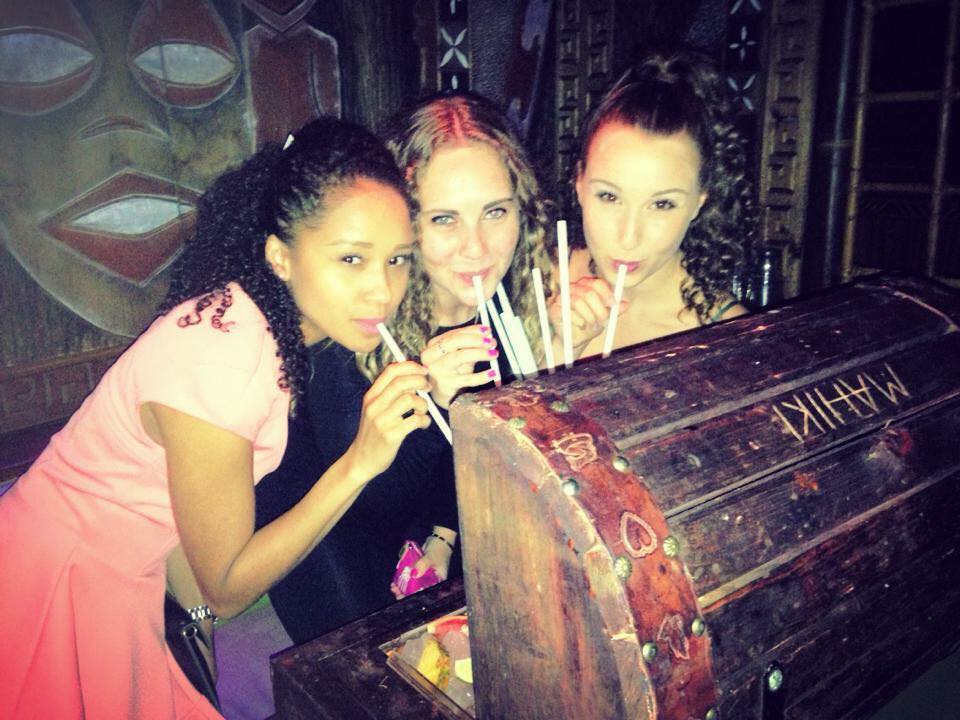 At some clubs, you might have to duck bottles thrown by battered squaddies but here you have to contend with actual officers, squaring up to you in their red mess jackets — the worst kind of stash.
If you stay long enough, you'll feel the shattering of an illusion that clubs frequented by poshos and princes were in any way fun, but with any luck you'll be on the next bus home, marvelling about how such a small club could fit so many chinless wonders inside.
Bodos Schloss, Kensington
Lederhosen. Lederhosen everywhere. Who actually wants to wear lederhosen on a night out? You're not at uni anymore, dressing up for a night out is lame.
People only go to Bodos for three reasons: they couldn't get into Mahiki, Goldman Sachs won't give them enough time off to go back to their chalet in Verbier or they've just turned 18 and read on the Daily Mail that Prince Harry goes there, therefore they're hoping to find/marry him.
After extensive clubbing at uni by the time you graduate you'll realise a club is only as good as it's smoking area. It's where you actually get to meet people and get a breath of "fresh" air. You can't even enjoy the smoking area in Bodos. Standing outside attempting to flirt you'll be bombarded by randomers. I want this guy to buy me a drink dammit not a rose, what the fuck am I supposed to do with a rose? Nothing quite kills the mood like listening to a French banker talk about his chateaux in Bordeaux while quietly refusing to give a homeless guy money despite being asked three times.
Also note that people are too snobby to dance there. Girls just sit around pouting while they attempt to make eye contact with guys in hope they'll buy them drinks. It's awkward and expensive. Good luck.
Infernos, Clapham
You've graduated. Matured. New job, new you. Left all the infantile "unay banter" behind for good. Time to move on. What if there was a superclub which heard those voices and said "it doesn't have to be this way"? Which entices you with the promises of sticky dancefloors, unremittent chart music, and everyone else from your uni and every Russell Group uni?
"Come here and drink k2s, they're like VKs except they're £4.50", it whispers, "don't worry about the cleaners in fluorescent tabards litter-picking as you try to get in thrusting range of the girl from halls you never stopped gunning for."
Infernos straddles the odd boundary between being the cheesy clubs from Durham, Exeter, Cambridge and Nottingham blended into one godless wasteland, and the "grown up" London club which charges £10 entry and lets you come straight from work, Tokyo businessman-esque, in your sweat-stained pinstripe suit and sip champagne with Gavin from accounts.
If you work in PR and don't have any interesting friends, this is where you'll go every Friday or Saturday for the next eight years until you find a dull QBE drone to marry and make boring kids with before moving out to Hertfordshire and sending them to the same uni you went to. Infernos is full of people who made the Tories win the election. Do you want to go clubbing with them?
Tiger Tiger, Piccadilly Circus
There will be haters of Tiger Tiger who'll dismiss it as the worst club in London – but maybe for the wrong reasons. It's not just the horrid combo of sticky floor cheapness and overpriced booze, nor is it the celebrity appearances from Made in Chelsea stars, pointing their fingers as they pretend to DJ.
It's not the desperate smell of this pit off Piccadilly Circus, where moneyed Swiss teens dance in circles and flash their bracey-smiles for their Instagrams. Nor is it the only place where I've ever met a clubber on their own, who just came back from a solo week in Zante.
It's much simpler than that and it's not possible to put into words. But if you look at this picture and into the thousand yard stare of the bearded loser on the left, you'll catch a glimpse of a man trapped in horrid despair of a Monday night out at Tiger Tiger.
Passing Clouds, Haggerston
Every time you walk into Passing Clouds, there's something totally original and incredibly niche on the stage. A Senegalese percussion troupe. An aggrocore reggae rap duo.  A hermaphrodite beat poet from Buenos Aires.
If you don't use Resident Advisor, you will consistently be surprised when you go out here. The only true constant is the crowd – they're awfully young, and awfully posh, and no amount of glitter, leopard print and face paint can hide it.
This is where your sister took mandy for the first time with all her mates from UCS. Look at how she's discovering herself. Passing Clouds is a gap year in a room – a club for people who love to talk about themselves and their vibrant experiences. If you're a creative in advertising, it'll probably give you some really great ideas.
151, Chelsea
Possibly the only place in the world where you can experience "regional clubbing" on a road with £10 million houses, 151 is an oasis of cheesy music and even cheesier-smelling carpets on the King's Road.

Descend into this humid Chelsea basement, and you'll find teenage public schoolboys in too-big blazers dancing to The Killers while old Arab men leer at their girlfriends. Which, to be fair, sounds like any other club in west London, but 151 has the added benefit of decor that makes you feel like you're in Slough.

Known affectionately as 1-Dive-1 (or just The Dive), by everyone from Ollie Locke to the owners themselves, the club has somehow outlived several upmarket rivals on the King's Road to become London's least likely institution, mainly because it's where everyone goes when they can't get in anywhere else (see: Embargos). It's still a tenner to get in though.
Queen of Hoxton, Shoreditch
One word for this place is obvious. It is literally the first place you will visit in Shoreditch, the club you imagine in your suburban dream. Mainly because it's got the word "Hoxton" in it (p.s. it's not in Hoxton), also because of its admittedly beaut rooftop overlooking the most metallic, soulless part of The City.
With a view of London though comes the sort of people who love views of London. They are the unbearable purveyors of food markets, infused Gin, cafes where you pay for time, £5 bowls of imported cereal and anything to do with brick lane. In they pour, talking about their latest ad account, looking at the city with a glass of Sauvy B and thanking God they work in what they think is the "creative industry".
To QoH's credit, the music in the basement is alright and for every Spanish person in tech, there's a girl who's dressed for Chelsea because tbf the vibe is quite dressy for East. I once saw fit Millie from Skins there. Then again, it closes it 2am. What's the point?
Ministry Of Sound, Elephant and Castle
The sort of club you imagine as you drive home, with a compilation cd blasting dated dance musis, windows down, crying as you leave uni for the last time. But you're clanking for London, all the big DJs play there. All the old drum'n'bass heads too.
Imagine going to a rave and meeting your mum's nutty mate who still lives in Camberwell. This is where you'll meet them. The only people close to the legal drinking age will just annoy you and jump into you when the beat drops.
It's dated. The smoke cannon malfunctioned during a Gareth Emery set. It channels that super club vibe while trying to maintain some element of South London grit. But set in the midst of council estates, the price for entry and drinks make you stick out like a sore thumb, and it's got as much grit as your smoothly moisturised clean shaven chin. Don't forget to do your top button on that Fred Perry polo.
MODE, Notting Hill
Is your friend from Sherborne a house DJ? Want to watch him perform, but think Dalston and Brixton are a bit…you know…ethnic? Don't worry, there's MODE.
You can stand lithely in a room of other white people who consider themselves "a bit different" and admire the choice vintage shirts of the coked-up well-bred, while sipping on a cocktail you wait 30 minutes to pay £10 for – all in the comfort of cosy Notting Hill.
For the punters here, alternative culture means "under a tube line…in West London". Our sales team go there all the time, need we say more?
Embargos, Chelsea
Look, we all hate bouncers. We all hate being told you're too drunk, or you have the wrong shoes on, or you can't scream the lyrics to Angels at 4am because you might wake the residents and actually it would be quite nice if you didn't piss on their doors. But most people behind closed doors will admit the men with fluorescent armbands serve some sort of purpose.
Does anyone genuinely feel the same way about those clipboard-wielding, sour-faced Jemimas who run the guestlist at clubs like Embargos? For a tribe which boasts more eating disorders than A-Levels, they have an awful lot of power and an awful lot of spite.

Should you have the dubious honour of finding your name on the guestlist, prepare to stand in a room filled with clipboard girl's friends, talking to no one except the group you came with.
The Dolphin, London Fields
A static caravan, Steps' "a deeper shade of blue" blaring, middle-aged men on their own. Am I in an underage disco in the middle of a traveller's site? No, you're at The Dolphin, East London's answer to the classic uni cheese night. It's simple, dirty, and everyone's DTF.
When the pressure of keeping up appearances at curated canal side parties and warehouse raves get too much, Clapton's creative types head here for some late night grinding. After 3am of course – it's a "last resort", they'll insist.
Drinks are beers, beers and more beers (cans not bottles). I'm not sure they even sell gin. But don't be fooled by the market town feel, like every lucrative London club there's a loo bouncer waiting for you to slip up and get caught sniffing. The going rate is £100 to keep your bag and they've taken the locks off the doors so there really is no hope.
If this hasn't put you off, take our advice: prepare to be scorned at when you tell people you're going, and don't expect to leave with anyone above a five or below the age of 35.
Fabric, Farringdon
A quick google search for top clubs to go to in the big smoke will unveil Fabric. The staple part of the London scene, you'll see it on Rinse FM posters, hear it mentioned on Radio 1 and it's even known to release albums off its record label.
It doesn't matter. You'll go, expecting big things. Which is what you'll get. Massive corridors, even bigger bouncers and staircases that make you think you're in a casino. You'll get nervous going through security scanners akin to Heathrow Airport, almost enough to get you to pay the £20 entry. And stood face into the perspex shield, normally reserved for Post Offices in Essex that get held up at gun point, you dare not say no.
It's a superclub without the big room feel. It's just gargantuan. Don't lose anyone, you'll never find them in the sea of paralytic tourists. You can't take any good narcs either, they have sniffer dogs now. You'll be home by 3am.