I dropped out of uni and now I make clothes for princesses
While her friends at university prepare for their finals, Phoebe Gormley is busy launching a new collection and dressing top businesswomen and royalty.
Having dropped out of Nottingham Trent where she was studying Costume Design and Making, she is now Managing Director of Gormley & Gamble, London's first made-to-measure tailors exclusively for women.
And if that wasn't enough to make you feel painfully inadequate, she's only 21-year-old.
Between meetings in her office in the City of London, she admits she has no regrets about her decision to drop out.
Phoebe said: "I think it was the right thing at the right time for me. I learnt a couple of things to do with tailoring, but nothing I couldn't have just learnt from doing an apprenticeship.
"But there's obviously certain parts of university lifestyle that everyone will always miss: the waking up late, the being able to say 'no I'm not going to to lectures today' and that kind of security – you're still in a little comfort blanket in which you don't have to fully look after yourself yet."
Having worked on the world famous Jermyn Street and Saville Row every summer from the age of fourteen, she sees apprenticeships as a more favourable option to university in some cases.
"I think that university should be saved for students following a career that you need a degree for. Someone was asking me this morning if they should go to university to do textile design and I replied 'absolutely not.'
"That is in no way going to benefit you anymore than three years of internships would. By the time you've done three years, you've got £30,000 of debt whereas you could've been doing an apprenticeship, working and creating a really good network. I think you'd easily learn everything you learn at university over three years in an apprenticeship in certain degrees.
"I was in Hampden halls – not proud of it! I was in the film society and we'd watch arty movies no-one really understood. That was fun. I still keep in touch with friends from my course – who all had their final hand in last week – housemates, tutors, etc. Everyone was very supportive of my decision to leave, so no bridges were burnt."
In her case, by the time she turned 19, although she stresses that she still has "a million and one things to learn", she'd already picked up many tricks of the trade having been underestimated by many of the male tailors on Jermyn Street. Now, she's made clothes for the CEO of Virgin Money Jayne-Anne Gahdia and a Spanish princess – she wouldn't say who.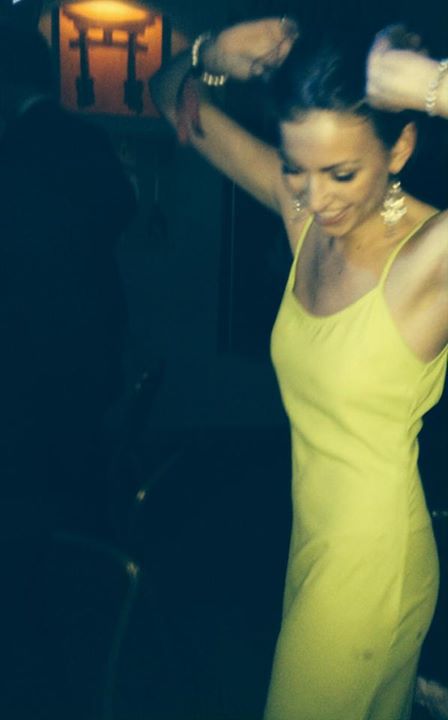 "Being a teenage girl surrounded by sixty-five year old men, they didn't see me as competition. They didn't say 'Oh I'm not going to tell her the ins-and-outs of all the trade secrets, because she's only little'.
"It was the power of underestimation – and I didn't mind being underestimated, it meant that I could learn everything from the inside out. Worse things have happened to better people."
Nevertheless, in comparison to the average student, her days are considerably more strenuous. She regularly leaves the office at ten, only to wake up at midnight with a new idea, although she insists this isn't strange for her.
"As a child I remember my Dad working, always working. Weekends, during the week, always. He normalised the 100 hour work week.
"People grow up and their Dad's a Doctor or an accountant or a lawyer and it's normal for them. For me it was just normal for Dad to be a risk-taking entrepreneur. When I was starting G&G people said 'oooo it's such a big risk' and I just thought 'this is all I know!' so it didn't see it like that.
"That's how my company got it's name. Gormley is my second name – understandably – and 'Gamble' is the verb. I effectively gambled what would have been my final year of tuition fees on starting the business."
Yet despite her father's influence on her, she is keen to stress her self-reliance as a businesswoman.
"There is a certain part of anyone which is like 'I want to do it by myself'. I don't want to be like 'Dad, can you do this for me? Dad, can you do that for me?'. I want to prove to him that I can do it. I can graft and I can sweat my balls off. It's all worth it in the end when you've got happy clients."
And as she talks through the process behind the creation of her custom-made womenswear, it's clear that she's succeeding.
"People find out about us – either by us doing a pop-up in their office, or seeing some PR, and treat themselves – they make great uni interview suits. Anyway, clients go to the website, they specify a time for a fitting and their favourite flavour of macaroons – all the essentials.
"Then they come to see us here in the City or on Savile Row. We sit back, relax and peruse hundreds of fabrics and customisable options. They can choose to either have it back in four weeks which is standard, or in nine days which is an extra £100."
So how does Phoebe summarise the image? She pauses and repeats the question to herself.
"We're curing Britain's epidemic of shitty tailoring for women. It's so normal for a man to be able to walk into a store and be able to buy a good looking and well fitted jacket. But not for a woman. Most men haven't even got boobs to contend with."
She says that the one person she would love to dress is the Duchess of Cambridge and vehemently defends the Duchess' fashion decisions.
"She has so much media attention, people watching her. If she dared put a foot out of line people would be talking about it for weeks. It's much better that people focus on the positive work she's doing as opposed to what she's wearing.
"I think she's a really good advocate not only of wearing high-street and designer but also of a really classic dress sense that works. She'll look back in ten years and think 'I still like that, I still wear that'."
Phoebe provides a quick tour of her office, talking through everything, from the colourful Lulu Hayes bespoke linings of Gormley & Gamble's suits, to the Chanel tweed of a dress hanging on the wall and the 'emergency' high-heels she keeps lined up under the clothes rails.
"I try to steer away from calling what we do 'suits'," she says. "I try to call it 'custom made womenswear'. In the next year we're trying to roll out a more widely acknowledged tailoring presence in the market. Because everyone goes to a shop and thinks 'nothing fits me.' We're also planning to quite literally roll out an emergency little black dress. It will fit into a tube the size of a small water bottle and live at the bottom of your handbag, ready and waiting."
Outside on the streets of the City, it's clear that more than one woman has that problem.
---
Dressing classically on a budget
Be really colour conscious. Dressing in orange shoes, green trousers and a pink top is just never a good look. I personally always stick to monochrome – you'll very rarely see me in colour. I'm in black, white and grey all the time and I think you'll always look classic in those colours.
Also, always try to dress in a way so that if you look back in ten years time, you don't think "Oh my god, what was I doing." In this day and age, trends come and go so quickly and you can see the people who follow them. You can see the people who are drawing on their eyebrows really badly, you can see the people with those horrible nineties chokers round their necks. In ten years time, you're just going to be like 'what was I doing?!' and why bother?
Finally, I would always rather buy one thing that I know I'll wear for ten years than ten things that are in this season.