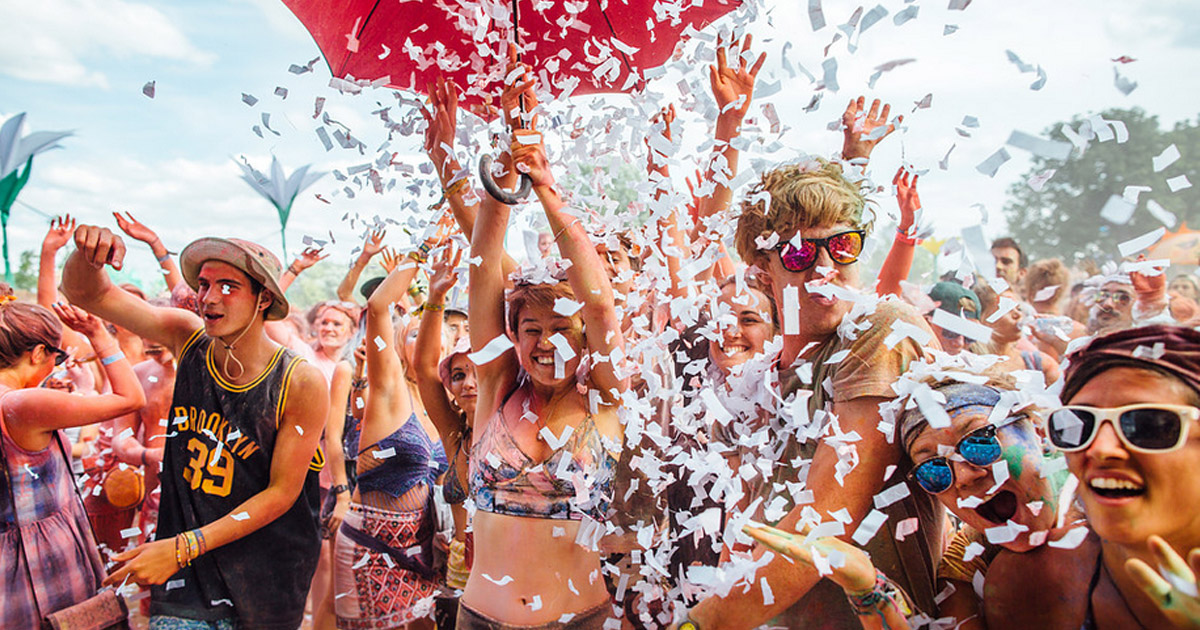 Ultimate summer festival guide
Stuck on which festival to go to this year? Here's our pick of the best
noad
The UK festival scene is getting bigger and bigger, and whatever your vibe you'll always find the right place to cater for your musical needs.
With official partners like Big Green Coach and Planet Festival, it's easier than ever for you to book tickets and turn up with their 'one stop' service.
Here's our guide to the best summer festivals in the UK and Europe.
Does a boutique festival famous for dressing up and breaking quirky world records (such as the world's largest disco ball) sound like your thing?
Check out the Chemical Brothers, Duran Duran and Jurassic 5 at Bestival on the sunny Isle of Wight.
Don't let travel costs put you off, just book your ticket through Big Green and get your transport included.
Take your coffee black just like your metal? Think Download is too soft? Bloodstock is the festival for you.
Mosh-on straight to the site by bus and cut the hassle.
Sun, sea and a bit of surfing, your thing? If you also love extreme sports and fancy catching Faithless, Rudimental, Bastille and more – this is the festival of your dreams.
You don't have to go to extreme lengths to get there. Get to Cornwall from 15 different locations.
Missing Oasis in your life? Noel Gallagher will be here at this classic rock festival on Clapham Common
Joining him are a host of other rockers including The Hives. Avoid train and tube pains by taking a direct coach.
Bestival's quirky family-friendly little sister is a more than good enough reason to soak up the sun on the Isle of Wight.
See Clean Bandit, Kaiser Chiefs, Professor Green and more. Forget expensive travel, get down to the island with Big Green Coach.
It's the holy grail of the UK electronic scene and is consistently voted the best dance festival in the country.
Channel the Ibiza spirit on home turf without blowing your student loan. Get a ticket with transport to Creamfields included here.
Taking the yearly plunge to this rock, alternative and metal haven?
See Slipknot, Muse and Kiss and make your pilgrimage in style using Big Green Coach.
The visual explosion of the Electric Daisy Carnival rolled into London two years ago, and now it's moved to the massive Milton Keynes Bowl.
EDC is an electronic feast for your eyes, ears and soul.
See big name cake throwing DJ Steve Aoki, Hardwell and Sub Focus with hassle free travel.
Peacocks, macaws and other exotic wildlife are a common feature of this folk fest at the Lamar Tree Gardens.
Big names this year include Laura Marling and Tame Impala, get involved here.
Set to a backdrop of the beautiful Portmeirion beach with palm trees and neoclassical architecture, you can catch Belle & Sebastian and Grace Jones in scenic North Wales.
Don't worry about changing trains and deciphering local bus timetables, you can hop on a bus straight there.
Fleetwood Mac, Blur, Pharrell and The Prodigy – this year's line up just speaks for itself.
Since its triumphant revival in 2002, the Isle of Wight Festival is quickly establishing itself as one of the UK's biggest festivals.
Bag the official ticket and travel package from Big Green Coach.
Extreme sports lovers and music fans will unite at this skate and BMX fest in Bath this year.
Topping the line up are Public Enemy and Enter Shikari, and you can even catch sporting legend Tony Hawk pull some tricks out the bag.
But you don't have to skateboard there in order to travel cheaply, just take the coach instead.
Don't let the lack of camping put you off, expect hoards of Mancunians going mad for it at this massive outdoor gig blending hip hop and dance perfectly into the mix.
Get great accommodation, travel and ticket deals here. It's all the fun of a festival with the comfort of a real bed, not a soggy tent.
Think Glasto vibes but a little smaller and even more chilled, the UK's most vibesy festival is back this year in Cambridge.
Expect pounding reggae, relaxed folk and house all in one big party this July.
Tickets have sold out, but if you're lucky enough to be going you can book low cost hassle free travel with Big Green Coach.
V Festival has a winning formula that attracts the cream of the pop and rock crop.
This year's big names include Kasabian, Sam Smith, Calvin Harris and loads more making it one of the most exciting yet!
Don't let travel problems put you off, buy a ticket with your journey included.
This multi-award winning mash up of theatre, arts and good music is headed up by Björk, Ben Howard and funk legend George Clinton.
Avoid getting lost in the Wilderness and use Big Green Coach.
One for the hip-hop heads and RnB lovers alike. This year you can check out Kendrick, Drake and more at Finsbury Park this year.
Travel direct by coach and avoid the hustle of London and long delays on the underground.
Check out Big Green coach on Facebook, or give them a follow so you don't miss out on the latest festival offers, discounts and competitions.
If these festivals have got you excited, we've got the perfect competition for you! Big Green Coach are offering one lucky winner and a friend a summer of free festivals.
Forget bland lads holidays in Zante and bland city breaks, the best way to travel to Europe is by experiencing the music you love along the way.
From electrifying rock to Ibiza trance, some of the best festivals with the very best weather can be found on the continent.
Eliminate all the hassle by using a service like Planet Festival, and you can merge your summer holiday with a festival by soaking up the sun and seeing all your favourite acts.
Celebrating its fifth birthday this year, Hideout is at the forefront of the electronic music scene set on the beautiful Croatian island of Pag.
As if a festival with beach, pool and boat venues wasn't enough – their 2015 line-up is pure gold with DJ sets from Duke Dumont, Eats Everything, Sigma and loads more.
Tickets are officially sold out everywhere! The good news is you can get your hands on a few exclusive package deals for a limited time only.
Another stellar Croatian festival, held in an abandoned fort in the ancient town of Pula – this is one for the real electronic lovers.
Check out Four Tet, Floating Points, Dubstep legend Mala and a whole host of other DJ talent at Dimensions.
With return coach travel from £179, Planet Festival is the simplest way to get to the site.
Four days, six stages with well over 200s bands and DJs, this year you can check out Snoop Dogg, Lauryn Hill and SBTRKT at this Belgian summer blowout.
Hop over to Belgium with your wallet intact by taking the coach.
Held in Landgraaf in the Netherlands, don't let the name fool you.
With acts like Muse, Pharrell, Above & Beyond, and The Foo Fighters, it's not quite the sugar coated festival you might think.
Pinkpop tickets are like gold dust across Europe, having sold out apart from a handful of special travel and ticket packages on Planet Festival.
It's a festival steal with a European break thrown it, but get your ticket quick.
One of the five biggest rock festivals in Europe, the Belgians really know how to do festivals properly.
Muse and Mumford & Sons lead the line up this year, and you can turn your summer gig into a holiday experience with Planet Festival.
It might be a secret, but it's easy to get there if you're in the know.
Head over to The Netherlands to catch The Libertines, A$AP Rocky and Alt-J and do it like the Dutch.
Potentially the most versatile festival in the world, at Belgian festival Pukkelpop you can hear hip hop, metal, dance and pop across a multitude of different stages.
Grab an entry ticket with your entire travel included for just £244.
Our final Belgian-belter, this is the biggest electronic music festival in the world, fittingly placed in a town named Boom.
Tickets are sold out, but you can still book low cost direct travel only with Planet Festival.
This bass music bonanza can be found in scenic northern Croatia.
You can catch the likes of SBTRKT and Wiley and more on the stunning beach setting.
Get your ticket and travel all in one here.
Heading to a festival this summer? Comment below to tell us where you'll be going.
For all the latest updates and deals on European festivals, keep up to date with Planet festival on Facebook and Twitter.