Revealed: These are the best exam fuel takeaways delivered in your city
Everybody is eating their way through exams – but which city does it best?
We've all been there, room covered with last term's lecture notes stacked even higher than your dirty plates and greasy takeaway boxes everywhere – exam season is bleak.
Whether you're housebound cramming like a crazed insomniac or just staying in claiming to be revising on Facebook, it's even worse when you're running on fatty pizza and Pot Noodles.
It's the age of the healthy takeaway delivery and we're all changing up crisps for curly kale to get by, but which city does it best?
Ok, we cheated a little bit.
We used Deliveroo, the service which brings you food from the places who never normally deliver.
But it's all good. From Nando's in London to Bread and Meat in Cambridge, you can enjoy food from famous local eateries in the comfort of your own bedroom  – for exactly the same price you'd pay in the restaurant.
What's more, you can win £100 to spend on delivered food from your favourite restaurant on the form below.
Fiery Exam Fuel – Nando's, London
Now you don't even need to leave the house to get your flame-grilled Nando's fix. Whether you fancy trying the brand new sweet and smoky Churrasco Thigh Burger, or crave a cult classic Butterfly Breast with crunchy Fino Coleslaw, you can now order online and straight to your bedroom.
Rating
The Convenient Champion – Gourmet Burger Kitchen, Everywhere
Top notch from the first bite to the last, get 100% prime beef without even having to switch on the stove.
No need to ride the bus or take an Uber, GBK's 'The Taxidriver' special will show up right on your doorstep.
Rating
Deliveroo's menu prices are exactly the same as the restaurant's, meaning the only additional charge you pay is the £2.50 delivery cost.
Health Boost – La Choza, Brighton
Need a pick-me-up after that surviving that two hour practise paper with your soul barely intact?
Our pick for getting through the day is this chicken and homemade chorizo burrito with Pico de Gallo.
Smothered in refried beans, sour cream, green rice and cheese, you won't find a fresher hangover cure in Brighton.
Veggies don't despair. The spicy squash, feta and sweet potato burrito should blow away any after-effects of the night before with its XXXtra hot Naga salsa.
Rating
Using
Deliveroo
, food arrives hot and fresh and in an average time of just 32 minutes, meaning the only time you're spending away from revision is the time it takes you to navigate their easy-to-use site and pick your order.
The Sophisticated Snacker – ZIYA , Manchester
Want something a bit more fulfilling from a takeaway? Even something worthy of an Instagram snap?
You don't even have to shift from your house to the curry mile to get a slice of Manchester's first modern Pan-Asian restaurant.
Our pick is the Makhni chicken, lovingly prepared with silky butter, aromatic spices in an irresistable creamy sauce.
Rating
Deliveroo are adding new restaurant partners all the time, so whether you're craving curry or calamari, you'll easily have enough dinner options to get you through the whole of May.
The Energiser – Mission Burrito, Reading 
Sometimes the quest to get a meal when you're cooped up revising can feel like an uphill battle.
Make the mission easier and get this super ancho chile beef burrito delivered to your crib. It's filled to the brim with healthy black beans, guacamole, pico de gallo and hot chipotle salsa to get you through.
It's filled to the brim with healthy black beans, guacamole, pico de gallo and hot chipotle salsa to keep your spirits high throughout exam season.
Rating
All-Nighter Special – The Plough, Birmingham 
Aston and Uni Of students, you're missing out if you're not getting in on this luxury stone-baked prosciutto, sun blushed tomato, black olive and rocket pizza.
If you're up all night cramming, it's always best to treat yourself to a takeout with an irresistable difference.
What's more, using Deliveroo you can have it delivered right to your door.
Rating
The Posh Patty – Handmade Burger co., Everywhere 
More than a bit of beef in a bun, our pick from your local Handmade Burger Co. is the notorious American cheese.
Proper beef patty, onion rings and Swiss cheese, delicately garnished with handmade American mustard and gherkin relish – don't miss out and order on Deliveroo tonight.
Rating
Sunday special – Bread & meat, Cambridge
Fancy a posh roast but don't want to spend half your weekend prepping meat?
Cambridge students, here's the answer. Get this delectable overnight roast pork rolled with garlic, rosemary, thyme and sage, presented with fresh salsa verde.
Rating
Break Time Beast – The Burger Joint, Bristol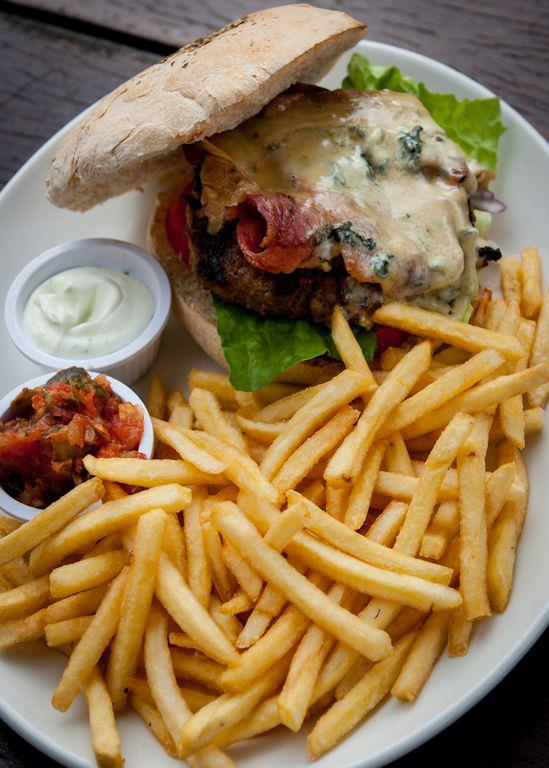 Greased up takeaway burgers and soggy old fries dragging your revision down?
Bristol and UWE students can get this 6 oz prime beef burger with bacon and blue cheese served at their front door.
It's easy to devour while you're cramming last semester's scribbled out lecture notes.
Rating
All of the mouth-watering meals above and more are available using the app Deliveroo.
Click here to place your first order.